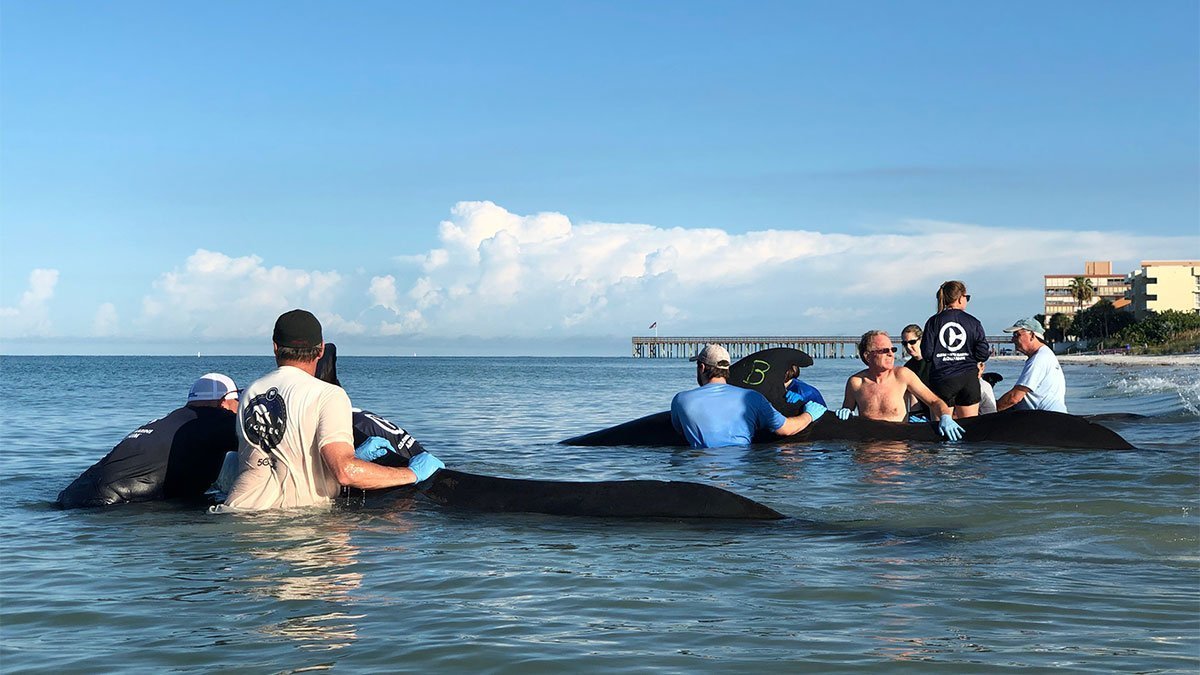 Three Pilot Whales Released Back Into the Gulf, Two Taken to New Rehab Facility in Tarpon Springs
On July 29, 2019, five pilot whales stranded in the shallow water off Redington Beach, on the Gulf Coast of Florida. Clearwater Marine Aquarium's Rescue Team responded along with wildlife agencies and local authorities, including the National Oceanic and Atmospheric Administration, Florida Fish and Wildlife Conservation Commission, Pinellas County Sheriff's Office and other partner organizations. After careful assessment from veterinarians and marine biologists on scene, it was determined that three of the pilot whales were healthy enough to be released back into the Gulf of Mexico. The other two pilot whales required more attention and were taken to Clearwater Marine Aquarium's new rehabilitation facility located in Tarpon Springs. (The rehab facility is not open to the public.)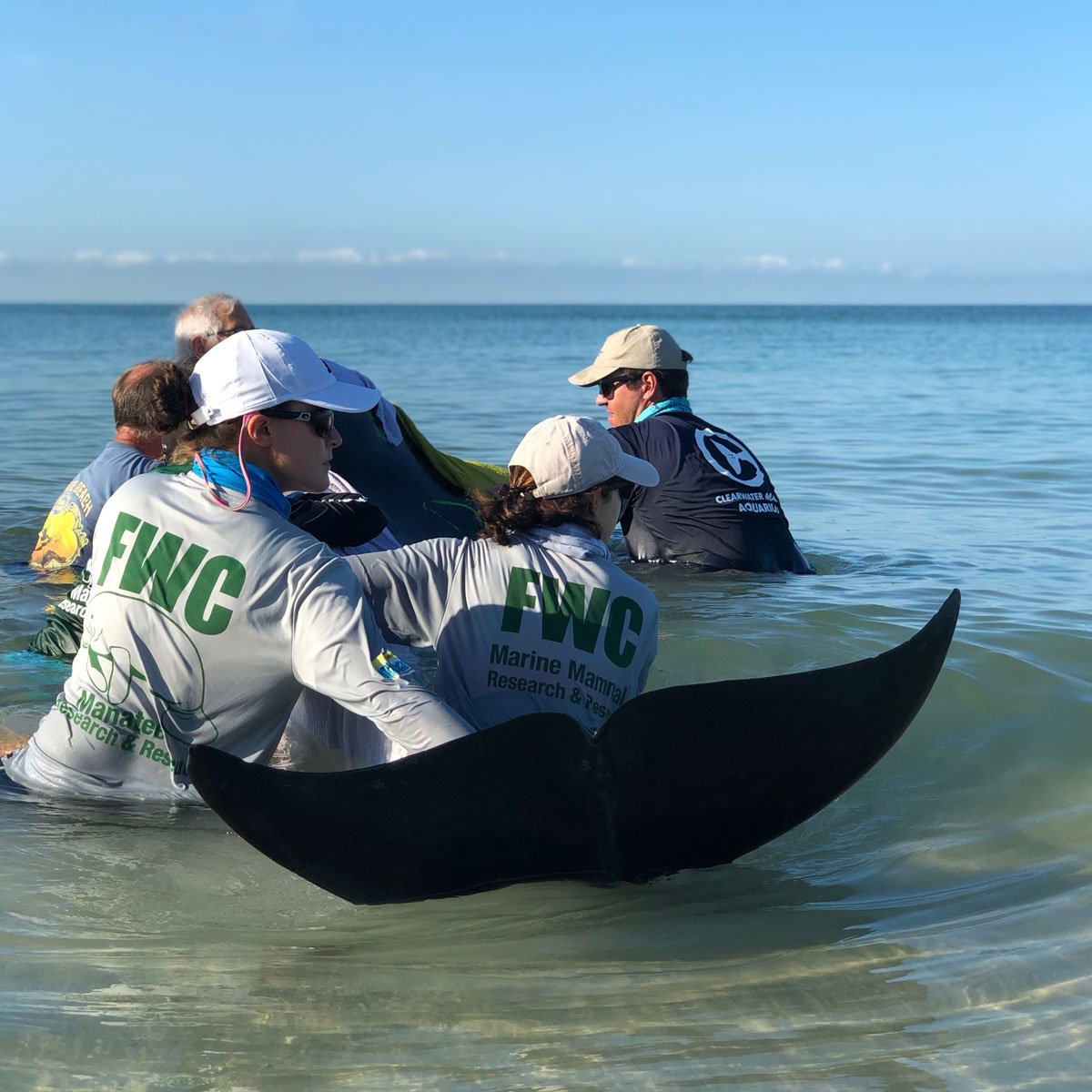 Rescuers from Clearwater Marine Aquarium, FWC and the Pinellas County Sheriff's Office responded early Monday morning after receiving reports of the stranded pilot whales in Redington Beach around 6:30 a.m.
Clearwater Marine Aquarium CEO David Yates said the pilot whales seemed to be healthy, but they don't yet know why they beached themselves.
"Our goal is to get them offshore as soon as we can," Yates said.
These short-finned pilot whales are deep-water marine animals, who mostly feed on squid at depths of 1,000 feet or more, and are not commonly found close to shore. It was not immediately clear what caused the small group of pilot whales to beach themselves, but due to their social nature it is possible that if even one animal is ill, the other companions may follow it to shore. Pilot whales are a species of cetaceans related to dolphins, which live in stable groups of 15 to 30 animals but can gather in social groups of hundreds. They may be dispersed over an area a half-mile wide while swimming together in search for food.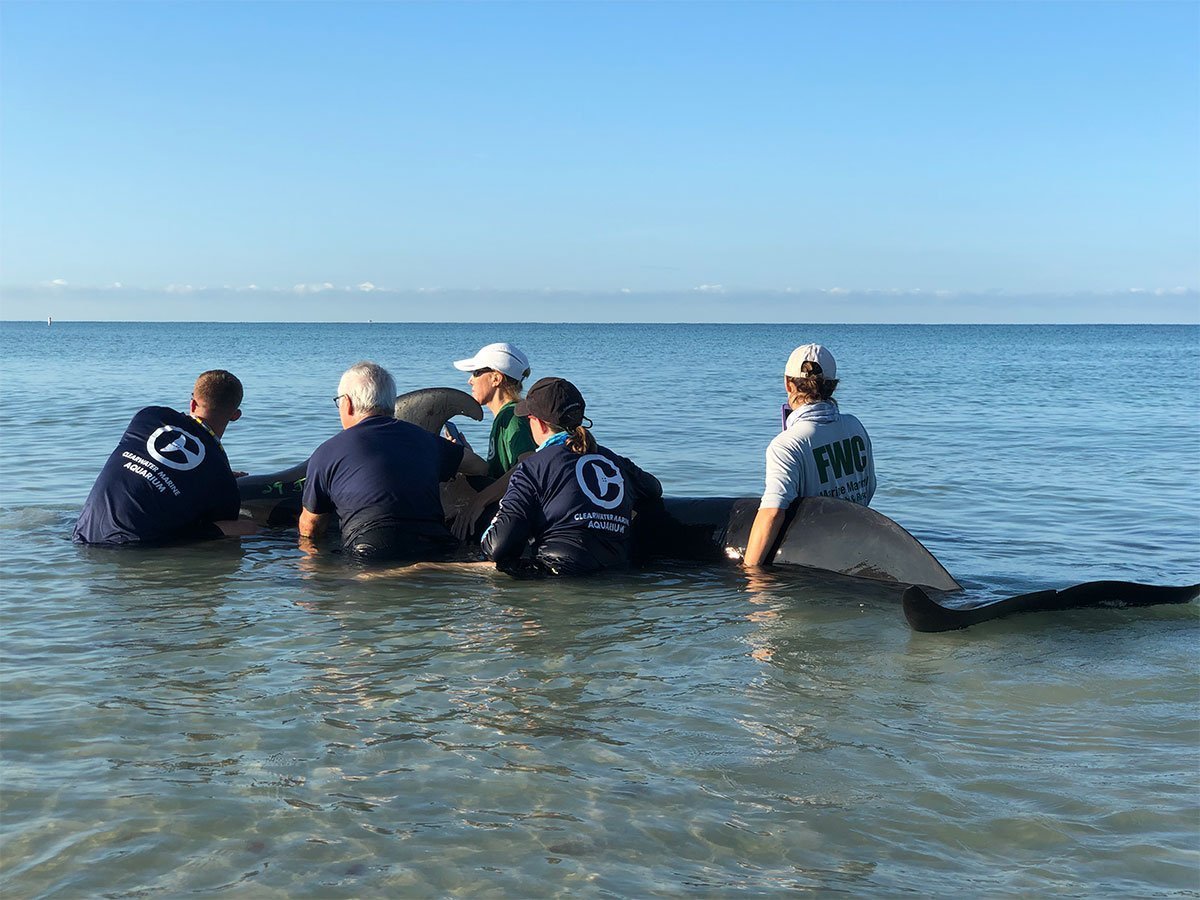 Laura Engleby of NOAA said when offshore species like pilot whales get into shallow water, they tend to get disoriented.
"It's hard for them to find their way out," Engleby said of the distressed whales.
The rescue was a strong display of team effort from multiple agencies with support from the local community, volunteers, and beachgoers who were nearby and willing to help provide supplies and assistance when needed. Beach tents and cold towels were offered and utilized to help shelter the marine animals, and rescuers, from the rising summer sun. Cetaceans have extremely sensitive skin and would be otherwise vulnerable to severe sunburn while stranded in the shallow water.
"This amazing community has been coming together bringing towels and water and food and being so supportive of everyone here," said Engleby.
After several hours stabilizing the distressed animals, and a thorough assessment from veterinarians, NOAA determined that two of the pilot whales would require more care and would be transported by land to Clearwater Marine Aquarium's newly completed rehab facility at Fred Howard Park in Tarpon Springs, Florida.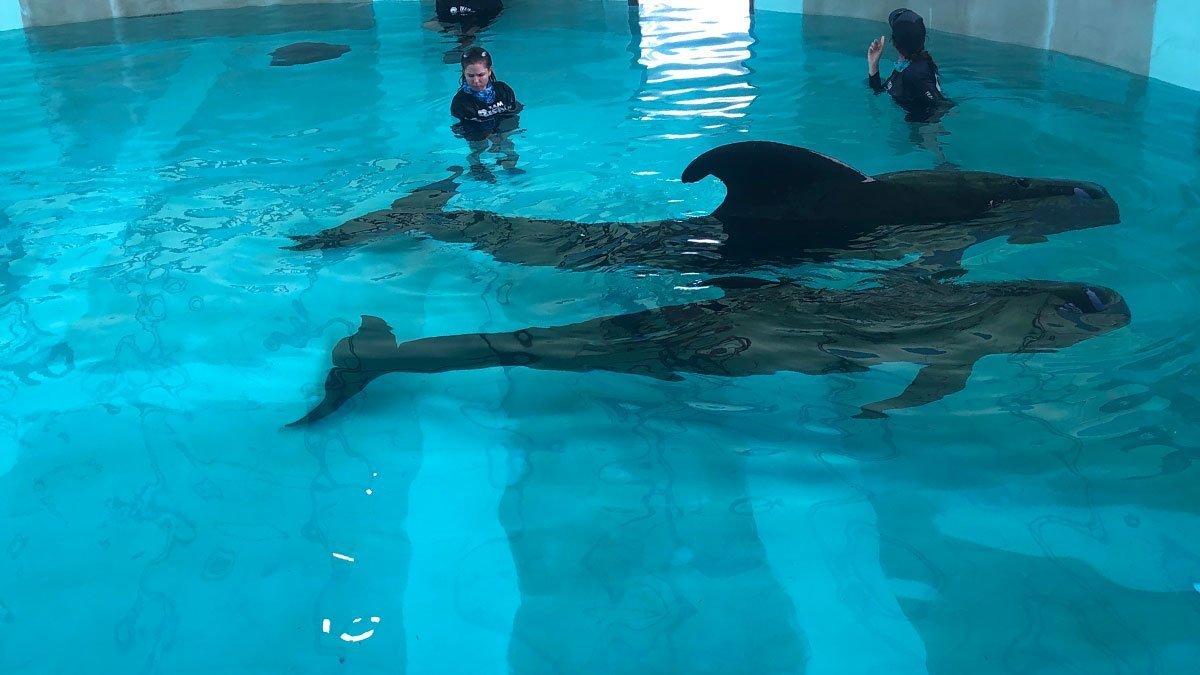 The other three pilot whales were deemed healthy enough to be immediately returned to deeper water in the Gulf of Mexico. They were transferred to three vessels in the water and transported miles off shore where they would be at least 30 to 40 feet deep and able to safely swim away. They were tagged with satellite transmitters to track their progress and ensure they do not attempt to strand near shore again. The latest tracking data showed the three pilot whales heading southwest away from the coast. It is hoped that the two pilot whales will be able to be released and head out in a similar direction to deeper water like the others.
Jessica Powell, a marine mammal biologist with NOAA, said that it's hard to pinpoint what may have caused the five pilot whales to come to shore.
"The other two whales have been transported to Clearwater Marine Aquarium rehab facility for a few days, where they will receive additional medical treatment," Powell said. "Hopefully, this will just be a few days of holding for them and they can be transported back out like the previous three."
The two remaining pilot whales will be temporarily held and continue to receive care at CMA's private rehab facility in Tarpon Springs until they can be released.
---
UPDATE – August 14, 2019
Pilot Whales Continue their Journey
The pilot whales are tracking west towards deeper waters. One of the whales has not pinged since August 6th which can be for a variety of reasons.
UPDATE – August 5, 2019
All Five Pilot Whales Heading in the Right Direction!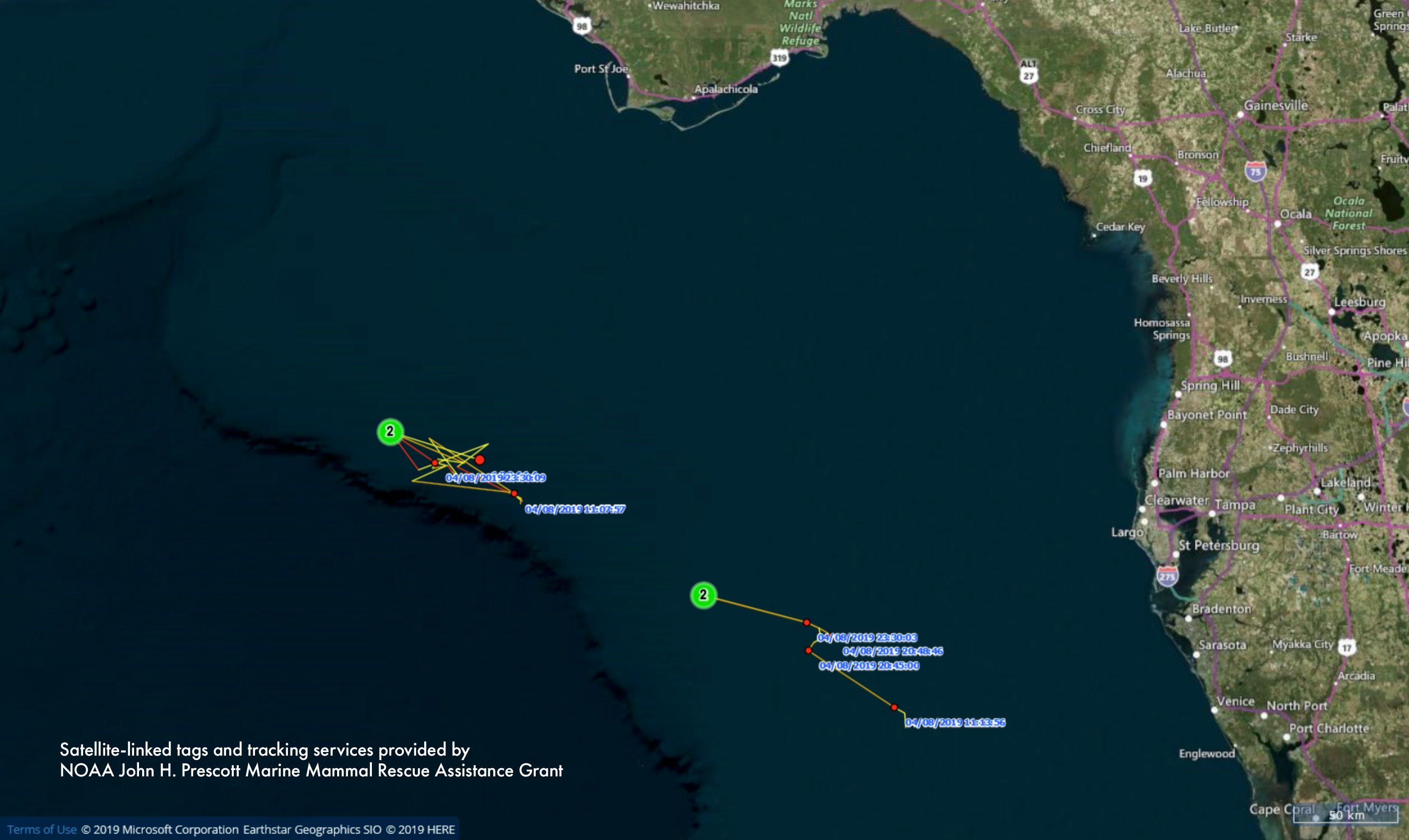 Great news! The latest satellite tracking data from the five released pilot whales shows the three pilot whales released on the rescue date are together and traveling NW toward deeper water. The other two released on Thursday are also together and headed quickly in the direction of the other three, apparently getting a lift from the prevailing surface current. They are currently traveling SSW and approximately 69 km off Venice, Florida. We are very happy with the continuing progress of all five amazing whales!
UPDATE – August 1, 2019
The Pilot Whales Have Been Released!
The two pilot whales that were recovering at CMA's rehab facility in Tarpon Springs were cleared for release and transported into deeper water in the Gulf of Mexico. The whales were transferred from Fred Howard Park in vans to a large boat at Anclote River Park on Thursday morning. The release was conducted by Clearwater Marine Aquarium under the direction of NOAA with assistance from FWC, Pasco County Sheriff's Office and the U.S. Coast Guard. The two pilot whales were taken approximately 20 miles away from the coast to get them closer to their natural habitat off the continental shelf. They have been satellite tagged to track their progress following release.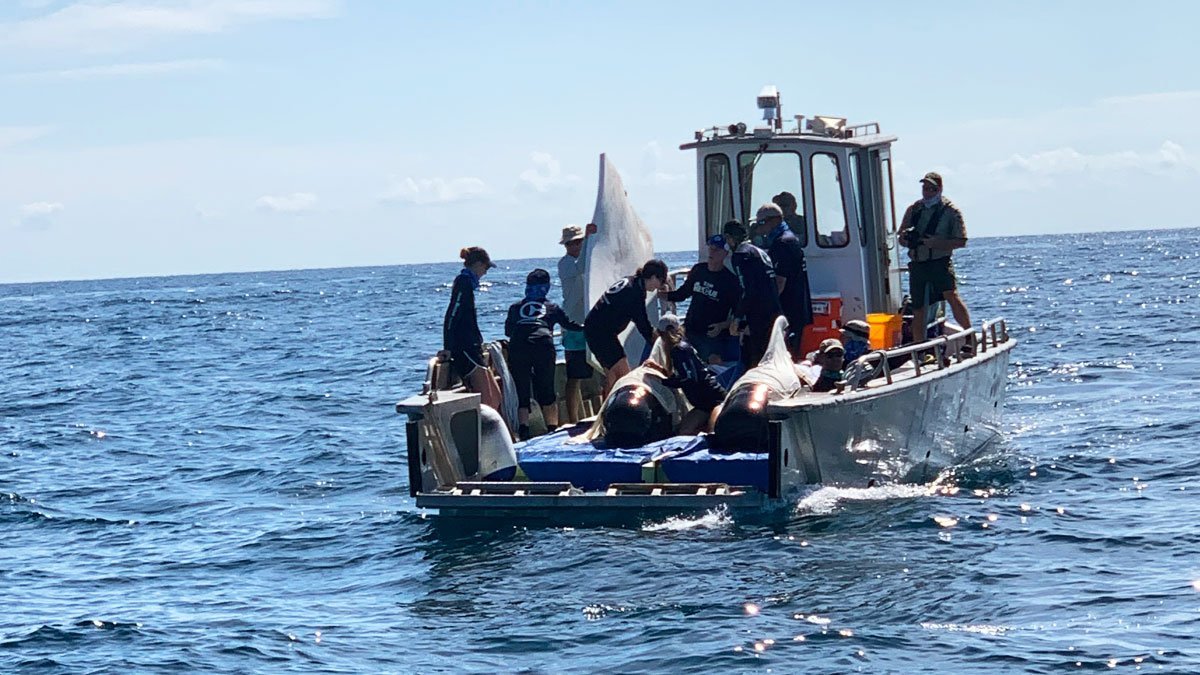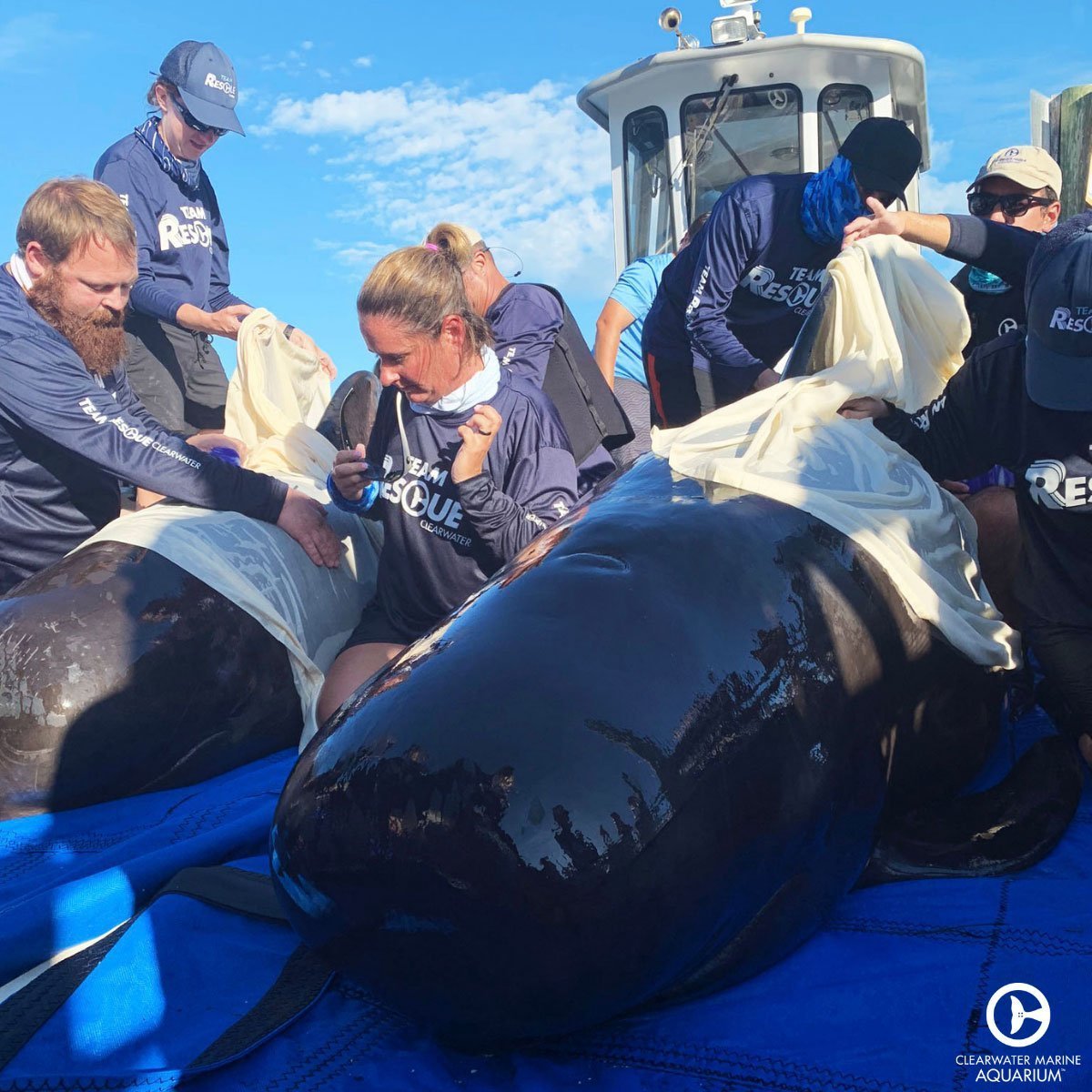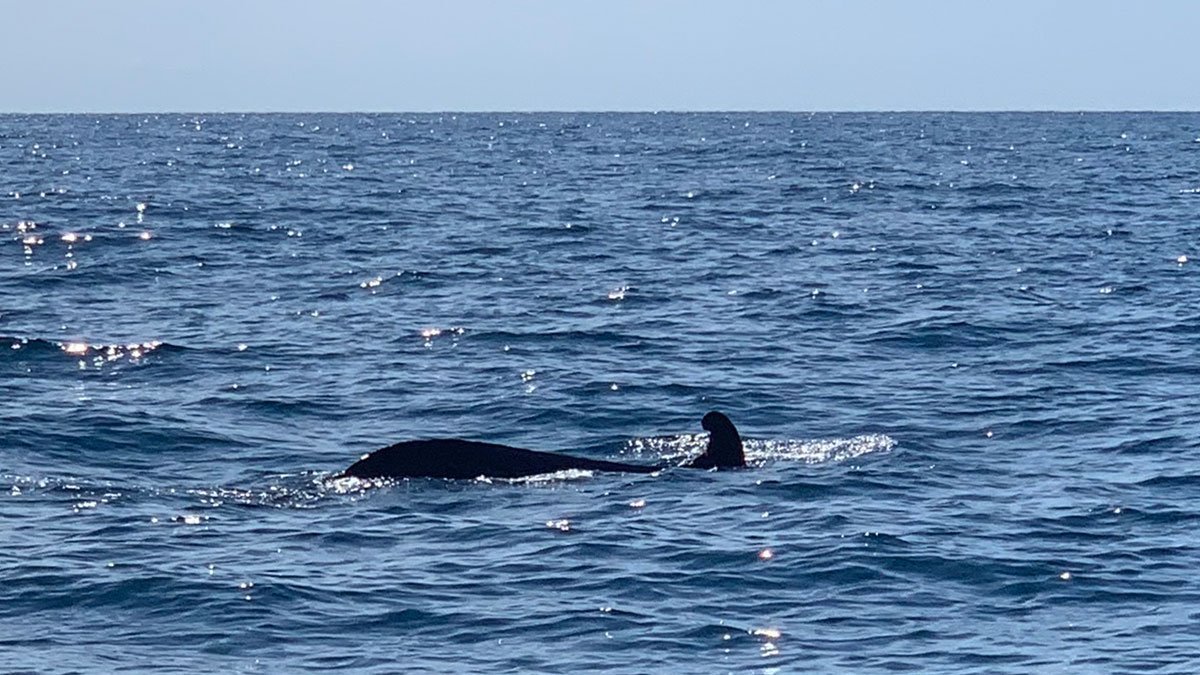 This is a developing story. Updates will be provided as they become available.
---
How You Can Help!
You can help us provide care for rescued marine animals like these pilot whales! Caring for these whales is incredibly costly, and we would not be able to do this important work if it weren't for you. Become a symbolic member of our Rescue Team when you donate $75 or more and we'll send you a free Marine Life Rescue Hoodie, or donate $50 or more for a T-shirt! Any donation amount will help us continue our mission. Will you help us save more animals?
---
If you observe any distressed marine animal in the Tampa Bay Area, please call our 24-hr rescue hotline at 727-441-1790 ext. 1. All photos featured taken acknowledging the following – stranding response conducted under stranding agreement between NMFS and CMA under the authority of the Marine Mammal Protection Act (MMPA).