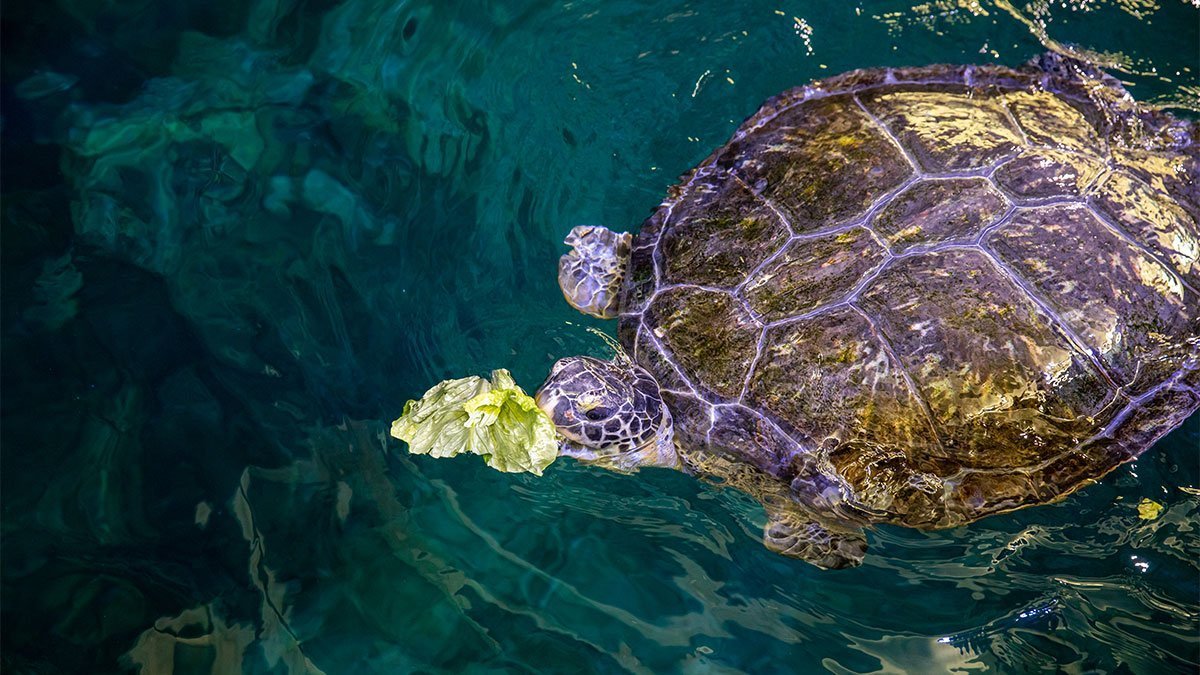 Different Sea Turtle Diets
Have you ever been curious about what sea turtles eat? There are seven species of sea turtles in the world, five of which are found around Florida, and they all have different diets. The foods that they eat are determined by their species and age. It's important to know the natural diets and nutritional needs of each sea turtle species when they are rescued in order to help them make a healthy recovery.
Clearwater Marine Aquarium typically rescues and rehabs green sea turtles, loggerheads, hawksbills, and Kemp's ridleys off the Gulf Coast of Florida. Leatherbacks, the largest and deepest diving species, are also found in this area but are less common here. They have delicate, scissor-like jaws, so they feed almost exclusively on jellyfish and other soft-bodied animals but will also consume algae. Loggerheads and Kemp's ridleys share similar diets and like eating invertebrates such as shrimp, crabs, clams, and mussels. They also eat different types of fish and squid. Green sea turtles tend to transition their diets as they grow older. When they are juveniles, they are omnivores and eat a mix of fish, invertebrates, and leafy greens. As they grow, they typically become herbivores, eating almost entirely plants, such as seagrass and algae. The shape of hawksbills' jaws allow them to reach small places and have access to food such as sponges, squid, shrimp, and anemones.
Flatback sea turtles and olive ridleys, which are found in other parts of the world, are both omnivorous. Olive ridleys tend to feed on algae, lobster, crabs, shrimp, and fish. Flatback sea turtles, only found off the coast of Australia, have a similar diet.
---
Unfortunately, sea turtles may also accidentally consume plastic marine debris and other items that they confuse for their food in the ocean. There have even been cases of rescued sea turtles found with ingested balloons. It is important to reduce single-use plastic and properly dispose of trash and other debris so that sea turtles and other marine animals do not end up eating these harmful items.
---
Food For Rescued Sea Turtles
There are many variables for our animal care teams to consider when determining a turtle's diet such as species, age and current condition. Diets and feeding habits also vary between our rehab and resident sea turtles. Sea turtles in rehab will likely have diets that change based on their progress and specific needs to prepare them for release back into the wild, whereas our resident sea turtles will maintain a more consistent diet. The sea turtle team arrives early each morning to prepare every turtle's meal and enrichment, measuring and weighing each type of food. Our Aquaponics exhibit often supplies enrichment lettuce for the turtles. The size of the diet is determined by their age, size, and species of the turtle.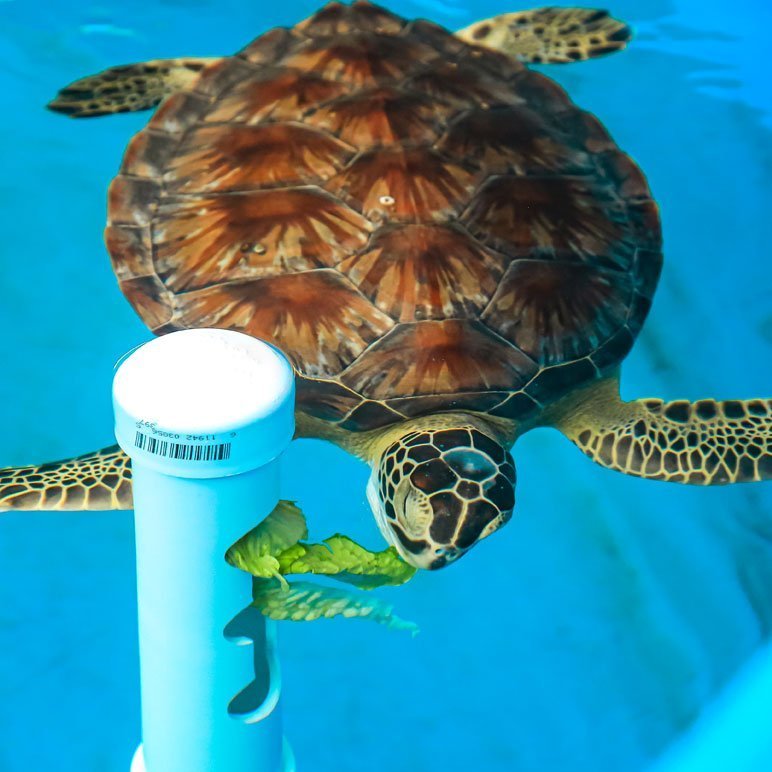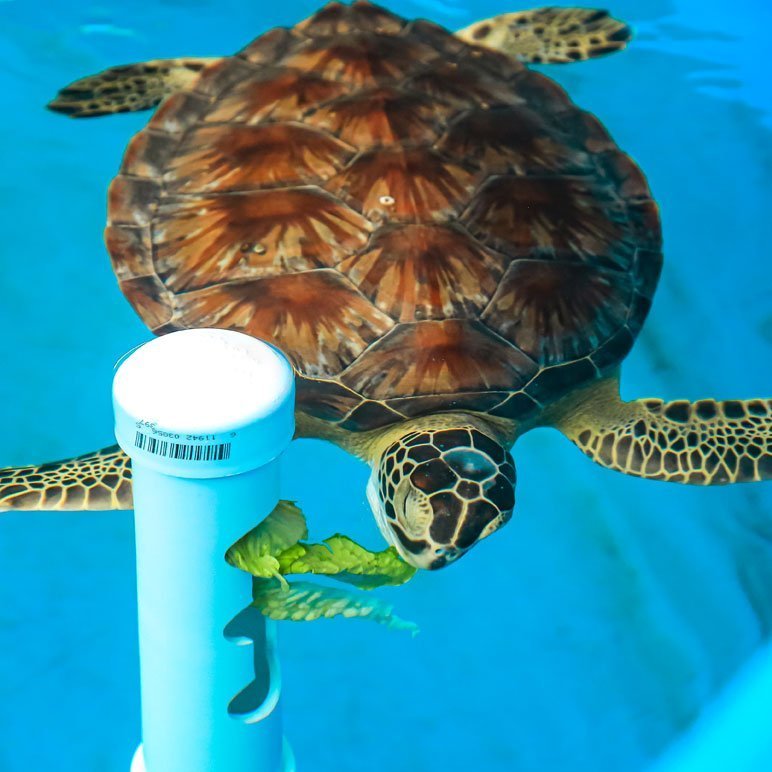 There are twelve resident sea turtles at Clearwater Marine Aquarium. Most are green or Kemp's ridley sea turtles. Snorkel is currently our only loggerhead resident. The residents all eat different assortments of greens and fish. Each resident turtle came to Clearwater Marine Aquarium under different circumstances and continue to have varying needs, especially when it comes to feeding.
Feeding Sea Turtles With Special Needs
Our visually impaired sea turtles – Cocoa, Snorkel, and Max – are unable to see their food, so they require special feeding methods. Cocoa and Snorkel have been trained to come to the surface during feeding time to receive their diet. Max's food is given to him using tongs and a triangle target. The reason for this method is that Max is blind in one eye and farsighted in the other. Harold also has feeding accommodations because while he has perfect vision, his brain cannot process what he is seeing. All other resident turtles are given one meal per day at feeding stations, however they receive different kinds of enrichment throughout the day that may include additional lettuce.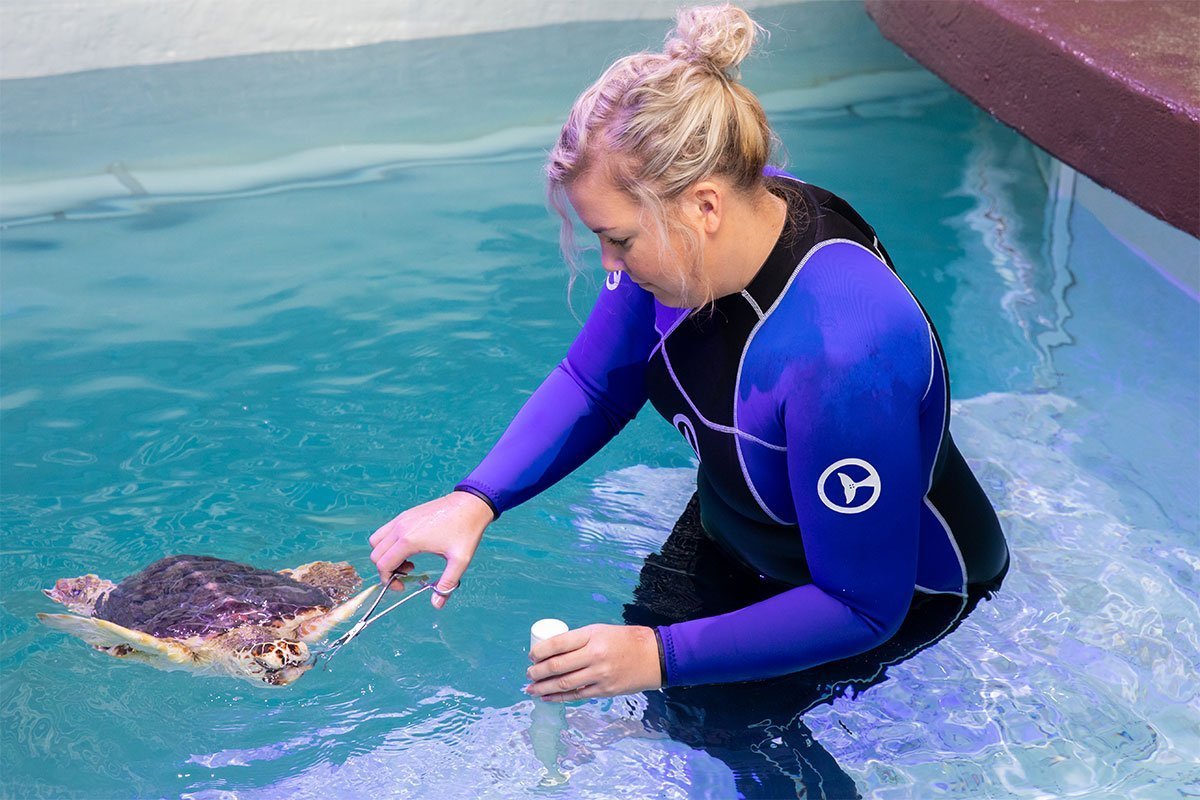 Rehab turtles each have their own unique story. Their conditions play a large role in the amount and what type of food they will eat while under care at Clearwater Marine Aquarium. Many sea turtles come in underweight or with severe wounds so in order for them to heal properly, they will often require more calories daily than what they would normally eat. Rehab turtles are fed different kinds of fish, shrimp, squid, and greens such as romaine lettuce and bok choy.
Whether a sea turtle is in the wild, in rehab, or a resident of Clearwater Marine Aquarium, their diet will change based on many different variables. You can learn more about each of our resident sea turtles and keep up with our current rehab patients on our website.
Explore our critical care facility and discover more about food preparation for our rescued sea turtles on a Behind the Scenes Tour when you visit Clearwater Marine Aquarium!
---
All marine turtle footage taken in Florida was obtained with the approval of the U.S. Fish and Wildlife Service and the Florida Fish and Wildlife Conservation Commission (FWC) under conditions not harmful to marine turtles. Footage was acquired while conducting authorized conservation activities pursuant to FWC MTP-19-172.