Because of human interaction, Izzy can no longer live in the wild.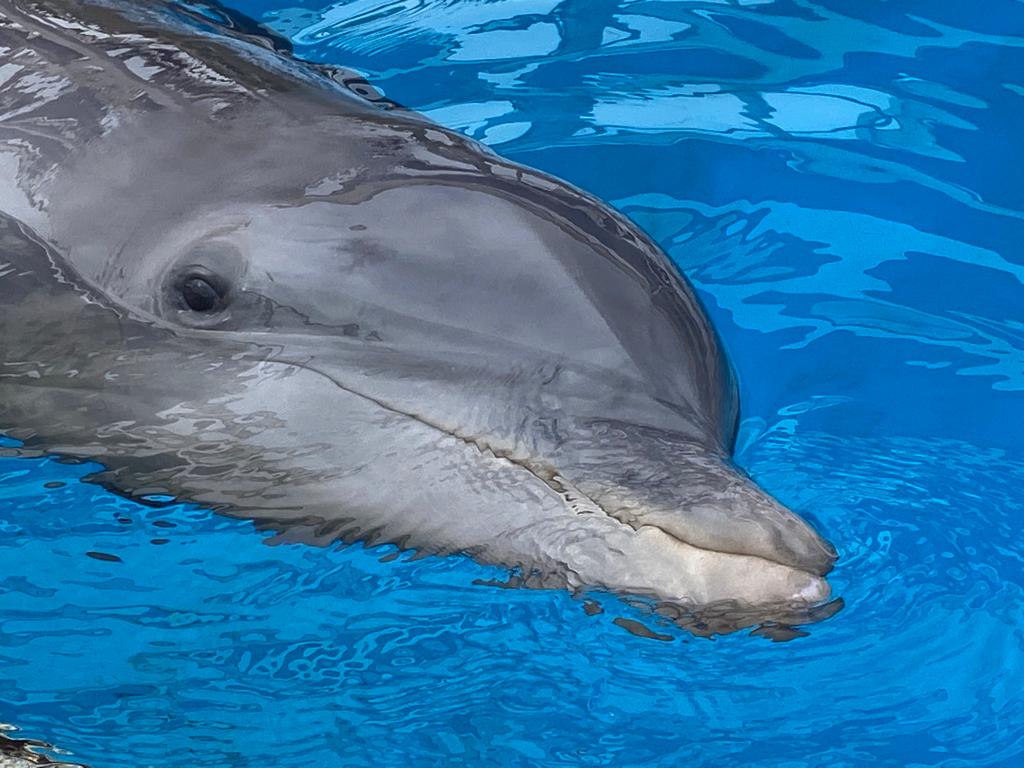 Clearwater, FL (November 4, 2022) – Clearwater Marine Aquarium (CMA) is now the forever home to a new non-releasable juvenile bottlenose dolphin. Estimated to be 5-years-old and known as "Izzy," the female dolphin was rescued in June of 2022 by NOAA partners – the Texas Marine Mammal Stranding Network, Texas State Aquarium, and SeaWorld San Antonio – after years of illegal human interaction caused her health to decline to the point of requiring intervention and medical attention.
"We are so pleased that Izzy now has a safe place to call home and that she will stand for something," said Heidi Whitehead, Executive Director of the Texas Marine Mammal Stranding Network. "Izzy belongs in the wild but despite our persistent efforts to protect her over the course of three years, she became increasingly habituated to humans and boats putting her at high risk for serious, life-threatening injury."
First spotted alone in December of 2019 in canals adjacent to a nearby neighborhood in North Padre Island, Izzy became a popular attraction where the public would seek her out to swim with, ride, jump on, feed, and pet her. Their experiences were being shared via social media which encouraged others to interact with her. Eventually, Izzy, named after the Island or Isla, started showing dangerous behaviors towards people and had signs of injuries likely caused by a collision with a boat.
"It's extremely disappointing that human behavior took away Izzy's ability to live safely in her natural habitat," said Kelly Martin, VP of Zoological Care at Clearwater Marine Aquarium. "Our expert Animal Care team is familiar with cases like Izzy's as our own resident PJ demonstrated behavior which may have also been due to habituation to humans. We will take our time with Izzy and let her tell us when she is ready to be introduced to her new social group with Hope and Apollo," said Martin. "Above all, we want to establish trust and ensure she is safe and healthy."
Clearwater Marine Aquarium is home to four resident bottlenose dolphins and two rough-toothed dolphins, all have been deemed non-releasable and whose stories serve as an educational opportunity for guests.
"We knew Clearwater Marine Aquarium would be a great fit for Izzy because of their experienced animal care staff, veterinarian team, and also because of the social group already established with Hope and Apollo," said Erin Fougères, Marine Mammal Stranding Program Administrator for NOAA. "CMA's dedication to educating their guests and followers about the lessons to be learned from each of their resident's stories is encouraging. We know that Izzy's experience will serve to teach others about the dangers of interacting with wild dolphins. "
Izzy joins her new pod at the Ruth & J.O. Stone Dolphin Complex at Clearwater Marine Aquarium's facility in Clearwater, Florida. In 2020, CMA opened an $80 million expansion including the brand new 1.5-million-gallon dolphin habitat. Learn more at cmaquarium.org.
"We want to thank the Texas Marine Mammal Stranding Network, NOAA, SeaWorld San Antonio, Texas State Aquarium, Texas Parks and Wildlife, and the concerned citizens of North Padre Island for their tireless efforts to protect Izzy and get her the medical attention she needs," said Joe Handy, Clearwater Marine Aquarium CEO. "We are so appreciative of the attention and care she's received thus far and look forward to giving her the loving, safe forever home she deserves."
Dolphins are protected federally under the Marine Mammal Protection Act. The Act provides for both civil and criminal penalties for harassing, feeding, or disturbing the animal. Please view wild dolphins from a safe distance and do not feed or attempt to feed them–it's illegal and harmful. If you see a marine mammal in distress, do not intervene. Call trained responders at (877) WHALE-HELP. Please remain at a safe distance and, if conditions allow, take photos to share with biologists once they arrive on scene.
MEDIA CONTACT Kelsy Long, Clearwater Marine Aquarium, media@cmaquarium.org.
###
About Clearwater Marine Aquarium

Clearwater Marine Aquarium (CMA) is a 501(c)(3) nonprofit working marine rescue center dedicated to inspiring the human spirit through leadership in education, research, rescue, rehabilitation and release. With a mission to preserve the environment and its marine life, CMA is home to rescued dolphins, sea turtles, river otters, stingrays, a nurse shark and more. Through Clearwater Marine Aquarium Research Institute, CMA conducts important global research focused on protecting manatees, North Atlantic right whales and sea turtles. Major motion picture Dolphin Tale (2011) and its sequel Dolphin Tale 2 (2014) features the true stories of rescued resident dolphins Winter and Hope, inspiring millions around the world. The mission and potential to change people's lives differentiates Clearwater Marine Aquarium from any other aquarium in the world.
© 2022 Clearwater Marine Aquarium | 249 Windward Passage, Clearwater, FL 33767 | 727-445-1139 | 727-441-1790 | mission.cmaquarium.org | cmaquarium.org

We believe in preserving our environment while inspiring the human spirit through leadership in the rescue, rehabilitation, and release of marine life; environmental education; research; and conservation.
A Florida non-profit 501(c)(3) organization