Guests of CMA's Inspire Program were honored for their perseverance.
Clearwater, FL (November 7, 2022) – On Saturday, November 5, Clearwater Marine Aquarium (CMA) celebrated diversity and inclusivity by honoring the amazing guests of its Inspire Program with the first annual Inspire Awards. Recipients were praised for conquering their own challenges while making a positive impact in their community.
There were six awards given, five of which were named after rescued residents at CMA. The event was co-hosted by Miguel Octavio, a reporter with 10 Tampa Bay, Savannah Dahan, a deaf performance artist, and an interactive digital fish named Gill and his sidekick Da-Worm.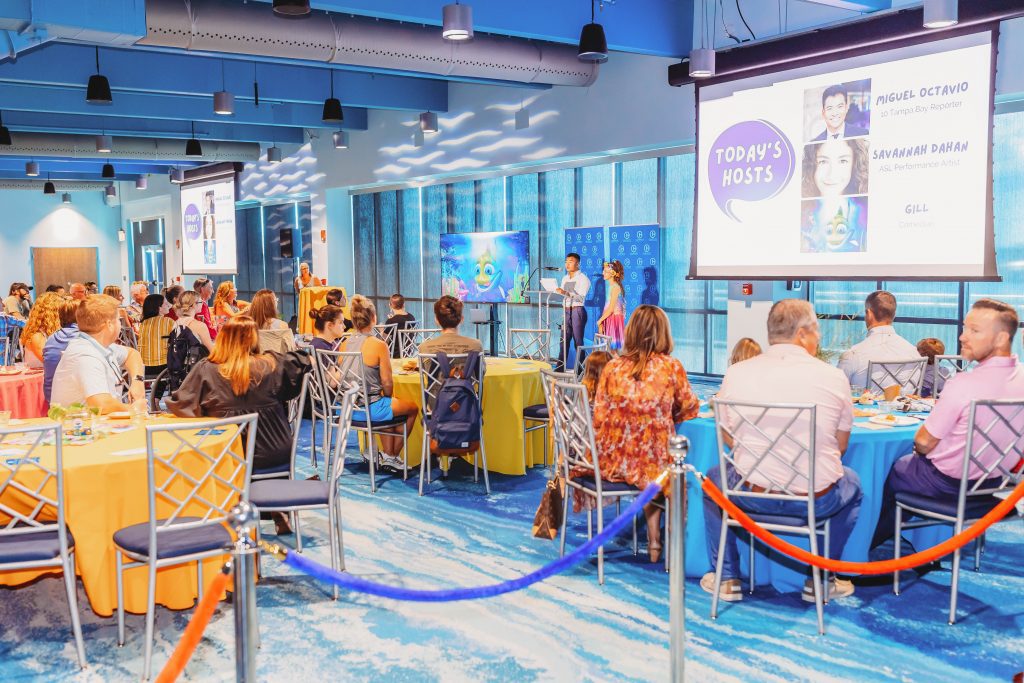 Nicholas Award, sponsored by ValPak
Recipient: Liberty Griggs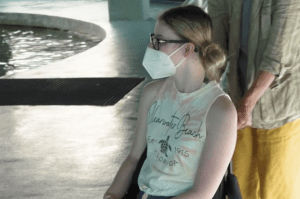 Just like Nicholas, Liberty has a playful and fun nature that puts all those around her in a good mood. Liberty has an aggressive form of Friedreich's Ataxia, participates in research regarding her disorder, and is such a wonderful role model for others. She brightens everyone's day and never passes up the opportunity to have fun.
Snorkel & Cocoa Award, sponsored by International Diamond Center
Recipient: Meghan Schmidt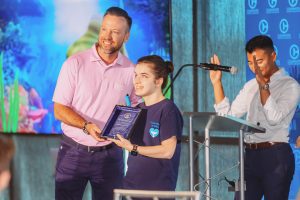 Like Snorkel and Cocoa, Meghan teaches us about adapting to your circumstances and finding your own way in life. Meghan was born with retinopathy of prematurity (ROP), due to being born 3 months early, weighing only 1 pound 11.6 oz and being completely blind. Meghan now has light perception only but she doesn't let her eye disease stop her from living her life and being a positive influence on everyone she meets.
Rex & Rudy Award, sponsored by Crowe
Recipient: Savannah Dahan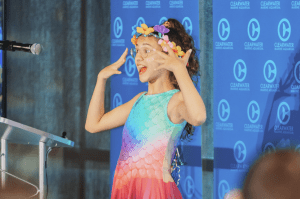 Rex and Rudolph are rough toothed dolphins who both experience hearing loss, impacting their ability to survive in the wild. And just like Rex and Rudy, Savannah reminds us that togetherness and finding friends along the way helps us through anything in life. In 2019, Savannah's ASL version of Carrie Underwood's hit song "The Champion" went viral and landed her interviews on national shows like Good Morning America. Savannah loves marine life and uses her platform as an advocate for ASL and marine animals.
Hope Award, sponsored by Johns Hopkins All Children's
Recipient: Levi LaRochelle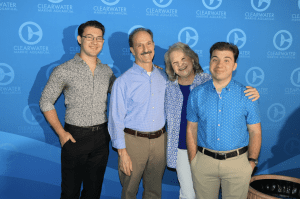 Hope symbolizes a free and strong spirit who doesn't follow the pod. And just like Hope, Levi finds his own way to shine. Levi is a past Inspire Guest, volunteer and current CMA employee in Guest Experience. He is on the Autism Spectrum and as a child was diagnosed with Asperger's Syndrome. Levi lives by the motto "Never let your disability define you!" and has certainly found his own way to shine here at CMA!
Winter Award, sponsored by BayCare
Recipient: Ellie Challis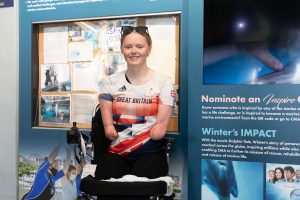 Winter inspired the world that no matter what life throws your way to keep on swimming. Ellie, who had both arms amputated below the elbow and both legs amputated below the knee after contracting viral meningitis as a baby, became inspired by Winter after watching the Dolphin Tale movies to learn how to swim. She made her international debut at the 2019 World Para Swimming Championships and recently won a gold medal in the women's 50-meter backstroke at the 2022 Para Swimming World Series inc. British Para-Swimming Meet. For carrying on Winter's legacy through her swimming, Ellie is the embodiment of Winter's passion and is an inspiration herself. Like Winter, she found a way to overcome and to triumph despite her challenges.
Community Award, sponsored by Kaleidoscope Services
Recipient: Hero to a Child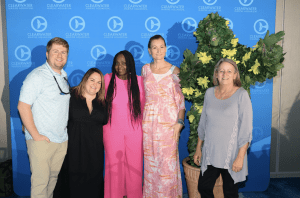 Clearwater Marine Aquarium's Inspire Program relies on groups who help underserved communities to expand our reach to lift up these groups and provide them with experiences they can take with them for a lifetime. Hero to a Child supports the Guardian ad Litem Program in Pinellas and Pasco Counties raising money to help meet the needs of children in Foster Care. They help provide voices to those who may remain silent and provide opportunities to those who may have remained without.
About CMA's Inspire Program
Since being founded in 1972, Clearwater Marine Aquarium has served as a place of refuge and joy to millions. From the most dramatic and publicized story of Winter's survival after losing her tail to the tenacious personality of Nicholas, our animals touch the hearts of those experiencing or overcoming their own challenges. CMA's Inspire Program was built on the foundational need to embrace the impact the resident and rescued animals at our facility have on individuals.
This program is dedicated to working with groups that help underserved communities, those experiencing physical and medical challenges, and educational programs inspiring the next generation of marine conservationists.
CMA's Inspire Awards were sponsored by: Morton Plan Hospital BayCare Health System, ValPak, Crowe, Winter the Dolphin's Beach Club, Clearwater Marine Aquarium, Johns Hopkins All Children's Hospital, Griffin & Van-Pelt, PA, International Diamond Center, and Kaleidoscope Services.
MEDIA CONTACT Kelsy Long, Clearwater Marine Aquarium, media@cmaquarium.org.
###
About Clearwater Marine Aquarium

Clearwater Marine Aquarium (CMA) is a 501(c)(3) nonprofit working marine rescue center dedicated to inspiring the human spirit through leadership in education, research, rescue, rehabilitation and release. With a mission to preserve the environment and its marine life, CMA is home to rescued dolphins, sea turtles, river otters, stingrays, a nurse shark and more. Through Clearwater Marine Aquarium Research Institute, CMA conducts important global research focused on protecting manatees, North Atlantic right whales and sea turtles. Major motion picture Dolphin Tale (2011) and its sequel Dolphin Tale 2 (2014) features the true stories of rescued resident dolphins Winter and Hope, inspiring millions around the world. The mission and potential to change people's lives differentiates Clearwater Marine Aquarium from any other aquarium in the world.
© 2022 Clearwater Marine Aquarium | 249 Windward Passage, Clearwater, FL 33767 | 727-445-1139 | 727-441-1790 | mission.cmaquarium.org | cmaquarium.org

We believe in preserving our environment while inspiring the human spirit through leadership in the rescue, rehabilitation, and release of marine life; environmental education; research; and conservation.
A Florida non-profit 501(c)(3) organization