Kemp's ridleys
Juvenile, Kemp's ridley
(Lepidochelys kempii)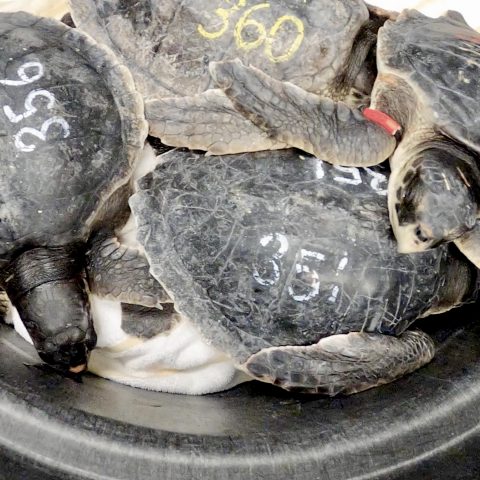 Patients' Status

Current

Transfer Date

December 10, 2021
Location

Cape Cod, Massachusetts
Reason for Rescue

Cold-stunned.
Initial Assessment
Exam Findings

Quiet but responsive.

Treatment

Vitamins, antibiotics, and fluids.
Their Story
On December 10, 2021, Clearwater Marine Aquarium received 8 juvenile Kemp's ridleys transfers from New England Aquarium. These turtles were part of a recent mass cold-stun event in Cape Cod Massachusetts. This facility treats hundreds of sea turtles every year due to cold-stunning. When their facility reaches max capacity, New England Aquarium transfers out their patients to other sea turtle hospitals to make room for new intakes. Sea turtles can experience cold-stunning when water temperatures drop below 50 degrees F. This can lead to decrease circulation, lethargy, and hypothermic conditions. These turtles can develop pneumonia as well.
Interesting Fact: New England Aquarium does not name their cold-stun sea turtles. Instead, they write numbers on their carapace's (shells) to keep track of their patients! These numbers also correlate to the number of strandinds at the time. We nicknamed these turtles after characters from "Elf": Jovie, Papa Elf, Walter, Francisco, Deb, Miles Finch, Ming Ming, and Leon.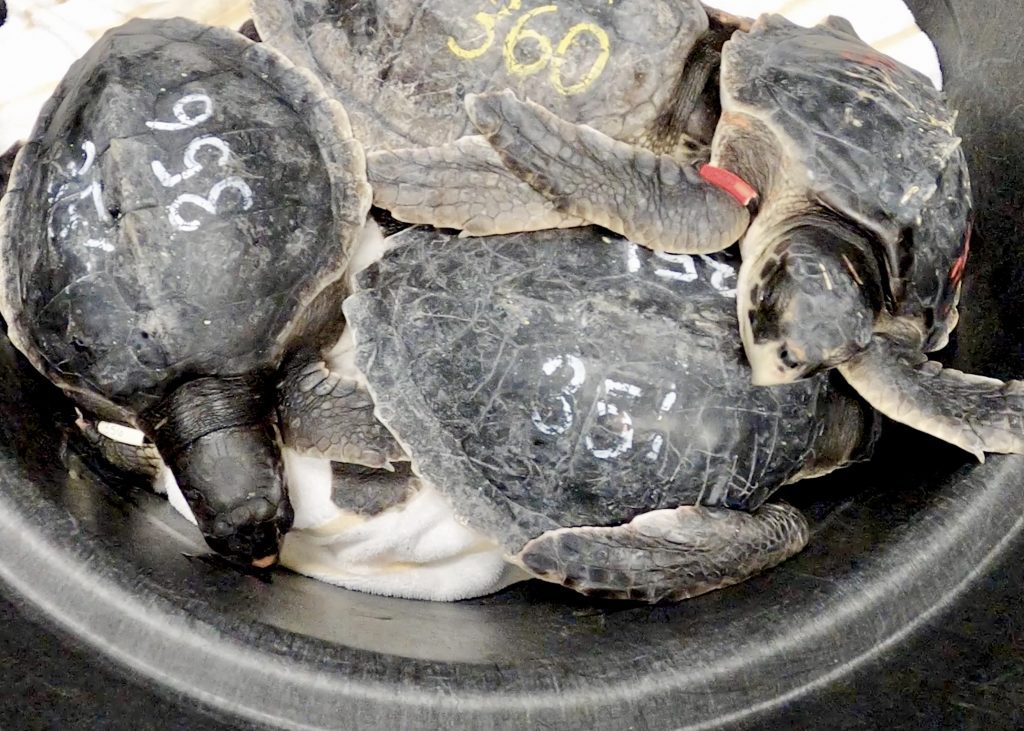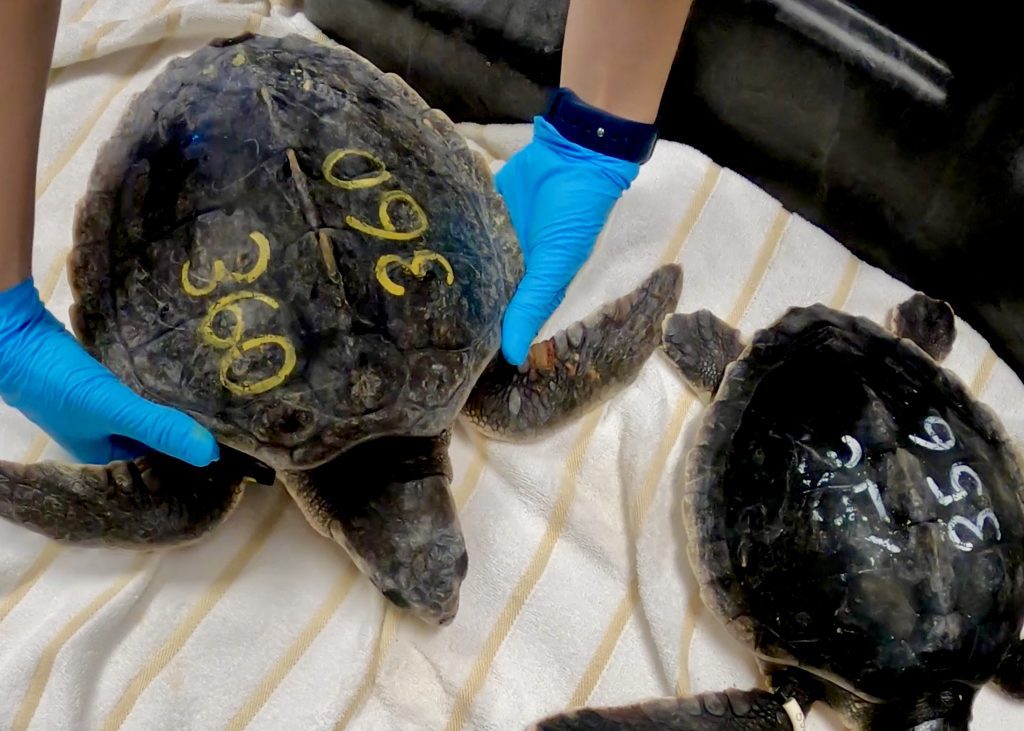 Treatment Updates
12.12.21

All turtles are doing well in water all day and overnight! Majority have already started eating!

12.20.21

All of the cold-stun transfers had routine physicals. Majority are doing well! We are currently monitoring 360's appetite and have begun tube feeding. We have started tube feeding to help gain weight and to provide appropriate nutrition needed to help her improve.

1.5.22

Today all our cold-stunned transfers from New England received routine exams. This included a physical exam, blood drawn for lab work, and recheck radiographs. The majority of them are recovering well and gaining weight! We are optimistic for them to go home soon pending lab work results.

1.10.22

360's appetite has improved! He is doing great and is eating on his own! 392 was started on new oral medications based on recent labwork. All other Kemp's ridleys are doing great and have received a clean bill of health from our veterinarian!

1.19.22

6 of our Kemp's ridleys were released on the east coast! 360 and 392 are improving and will be rechecked in a few weeks.

2.14.22

392 had rechecks xrays completed. Pneumonia has resolved, and he is no longer on medications. 360 is continuing to do well!
---
All marine turtle footage taken in Florida was obtained with the approval of the U.S. Fish and Wildlife Service and the Florida Fish and Wildlife Conservation Commission (FWC) under conditions not harmful to marine turtles. Footage was acquired while conducting authorized conservation activities pursuant to FWC MTP-19-172.