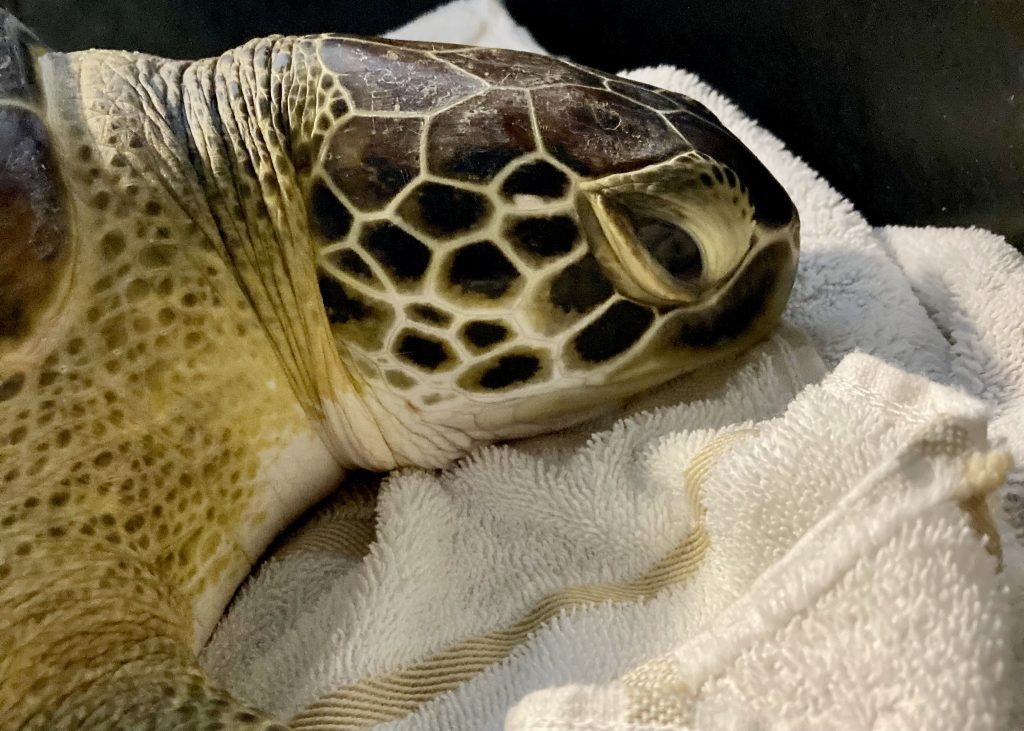 Schmidt
Juvenile, green
(Chelonia mydas)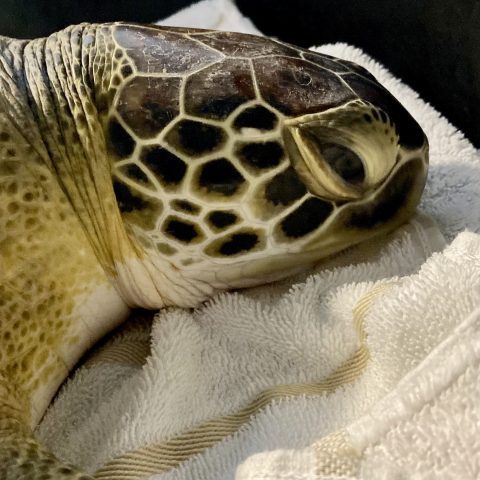 Patient Status

Current Patient

Date Found

December 2, 2021
Location

Redington Beach; Pinellas County
Reason for Rescue

Stranded on beach
Initial Assessment
Weight

12.72 kg (27.9 lbs)

SCL (Straight Carapace Length)

45.3 cm

Exam Findings

Good body condition. Majority of fibropapilloma tumors are ventral near rear flippers.

Initial Treatment

Received vitamins & fluids.
Schmidt's Story
Schmidt is a juvenile, green sea turtle who was found stranded on Redington Beach on December 2, 2021. Based on exam, Schmidt is in good body condition with a large load of fibropapilloma tumors ventral near rear flippers. Schmidt's initial treatment consists of fluids and vitamin injections.
INTERESTING FACT: Schmidt is a part of our Sitcom Characters naming theme. Schmidt is from New Girl!
Treatment Updates
12.3.21

Schmidt was swim tested for the first time. He is not buoyant and is able to dive! We will slowly increase his swim time as he improves!

12.7.21

Schmidt went for a routine CT scan and no obvious internal tumors seen!

12.9.21

Schmidt is able to be in deep water all day and overnight!

He is showing interest in food and started on a diet!

12.14.21

Schmidt is continuing to eat well and will hopefully be ready for surgery soon!

12.23.21

Schmidt successfully had all pap tumors removed and is recovering well! Over the next few weeks, we will monitor the surgical sites for healing and regrowth.

1.13.22

Schmidt's surgical sites have healed well! Schmidt has received a clean bill of health from our veterinarian!

1.14.22

Schmidt's release attempt at Clearwater Beach unfortunately was unsuccessful as he is back in our care. We will continue to provide daily care and discuss with FWC (Florida Fish and Wildlife) on what is next for him.

2.15.22

Schmidt has been showing neurological symptoms over the last few days. We are monitoring this behavior. Schmidt went for a recheck CT.

2.24.22

Our team is deeply saddened to say that Schmidt's neurological condition has worsened. Due to poor prognosis and poor quality of life, Schmidt was humanely euthanized.
---
All marine turtle footage taken in Florida was obtained with the approval of the U.S. Fish and Wildlife Service and the Florida Fish and Wildlife Conservation Commission (FWC) under conditions not harmful to marine turtles. Footage was acquired while conducting authorized conservation activities pursuant to FWC MTP-21/22-172.