Jno
Florida Manatee
(Trichechus manatus latirostris)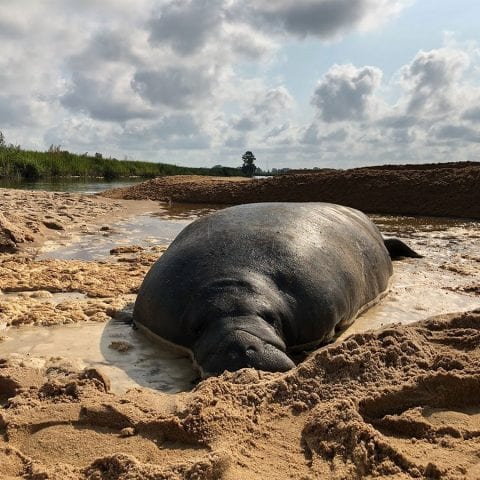 Tag Status

Inactive

Tag ID

139030

Date Tagged

October 2, 2019

Gender

Female

Tagging Location

Savannah, Georgia
Jno's Story
Jno is an adult female manatee that was found stranded on a sandy berm in the Savannah National Wildlife Refuge in Georgia. She was grounded across a man-made waterway that previously connected two rivers but has been filled in by the U.S. Army Corps of Engineers to develop new wetlands and improve river flow.
Clearwater Marine Aquarium responded to the stranded manatee along with the Georgia Department of Natural Resources. Rescuers were able to get the 10-foot-long manatee back in the water with help from a bulldozer from the corps' contractor Continental Civil Heavy Corp. CMA's researchers fitted Jno with a satellite transmitter to follow her journey after release. Approximately a month after her release, Jno began making her way south from Georgia down the east coast of Florida toward warmer water. She spent the winter months in South Florida near Miami and Fort Lauderdale, but began making her way back up the Florida coast in March. By April 2020, JNO returned to the Savannah area in Georgia.
Update: On June 30, 2020, Jno's GPS tag stopped transmitting just south of Savannah. Based on the last transmission location of Jno's tag, we anticipate her tag had an encounter with a gator. Manatee tags are routinely bitten by gators without incident. Sometimes, however, the damage can be so severe that the tag will stop functioning either due to water intrusion or destruction to the tag. Unfortunately, we have no new sightings of Jno since the end of June 2020, but we will remain vigilant in our efforts to relocate her to Savannah or at her winter sites in Florida.
---
Rescue and tagging activities were conducted under the following USFWS permits: USFWS Jacksonville Ecological Services Office ESA Enhancement Permit No. MA770191 and Clearwater Marine Aquarium Research Institute Research Permit No. MA37808A.