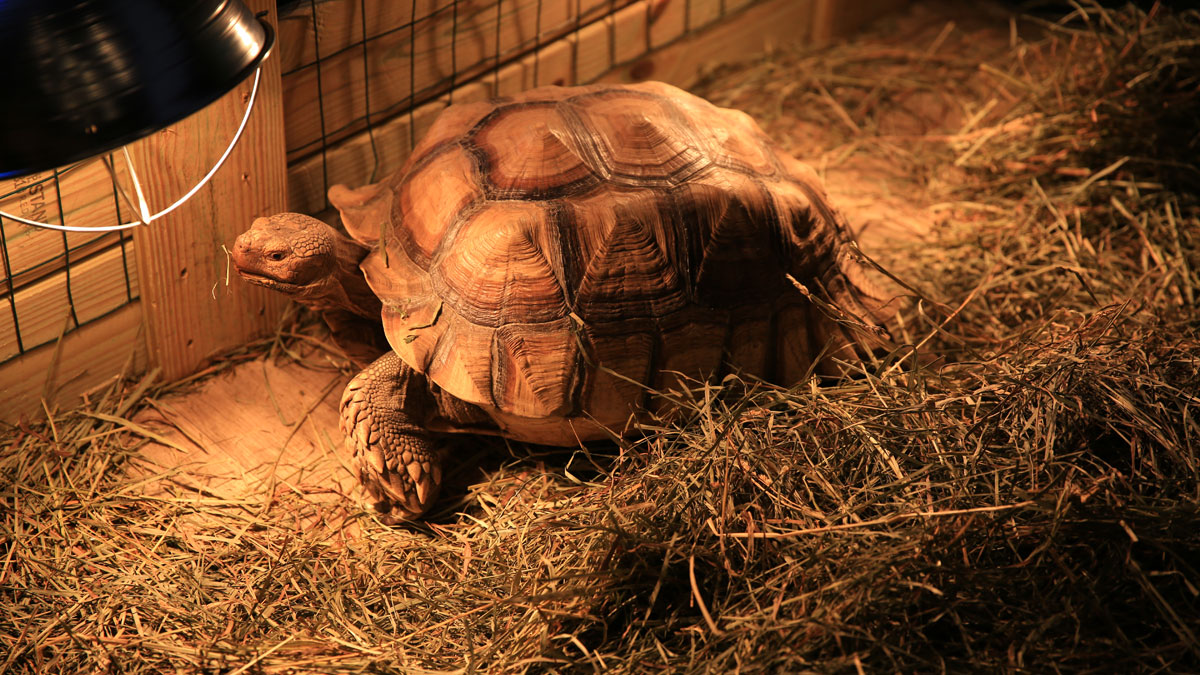 Tortoises and turtles have become popular pets, but it is important to remember that many of these species are exotic wild animals that require special care and do not belong in local ecosystems where they are not natively found. Some of these tortoises can grow very large and live over 80 years in some cases. Too often, pet owners get them when they are cute and small but soon realize they cannot continue caring for them, or abandon them for other reasons. Unfortunately, they are released into areas where they're unable to adapt or they compete with local wildlife that may already be struggling to survive with diminishing habitats.
Learn about some of the rescued tortoises you'll find at Reptilepalooza, a special live exhibit at Clearwater Marine Aquarium.
RED-FOOTED TORTOISE
The Red Footed tortoise (Chelonoidis carbonarius) is a species of tortoise from northern South America. These medium-sized tortoises generally average 12 inches as adults, but can reach over 16 inches.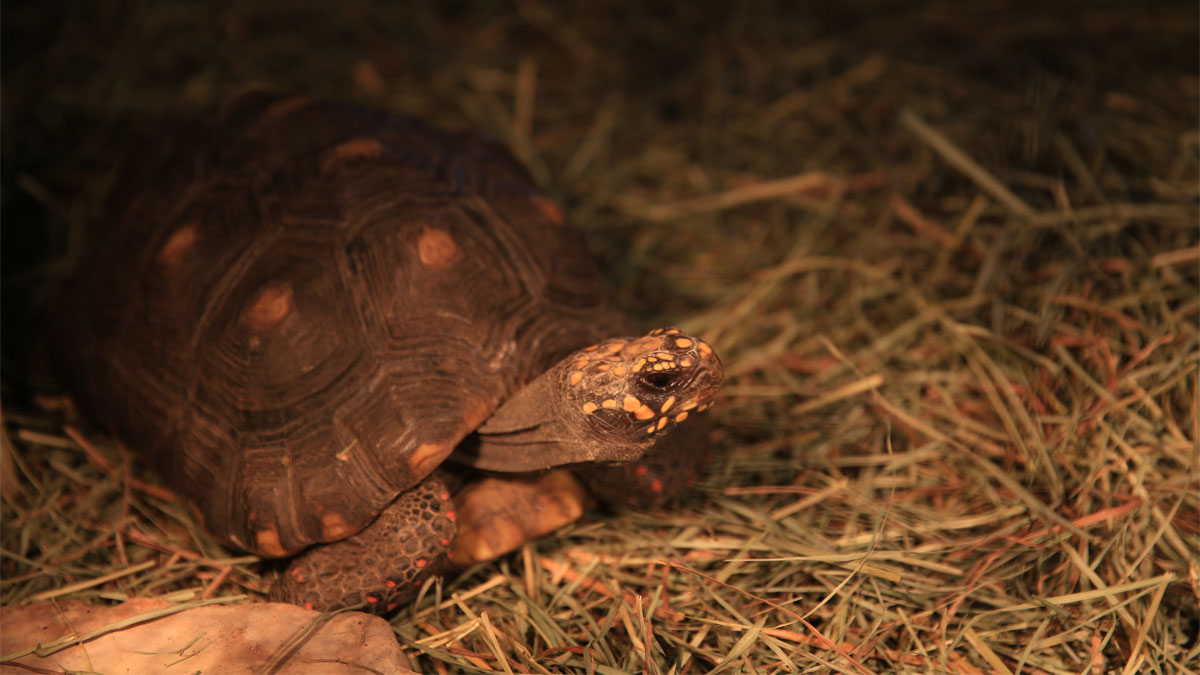 They have dark-colored, loaf-shaped carapaces (back shell) with a lighter patch in the middle of each scute (scales on the shell). Their limbs are dark with brightly colored scales that range from pale yellow to dark red. The red-footed tortoise is omnivorous, meaning they can eat both plants and smaller animals. They eat many plants, mostly fruit when available, grasses, flowers, and even some invertebrates!
This species is popularly kept as pets but over-collection has caused them to be vulnerable to extinction in the wild. Another problem is that pet owners that no longer want to care for them release them into areas where they become invasive, non-native, animals that disrupt local ecosystems and wildlife populations.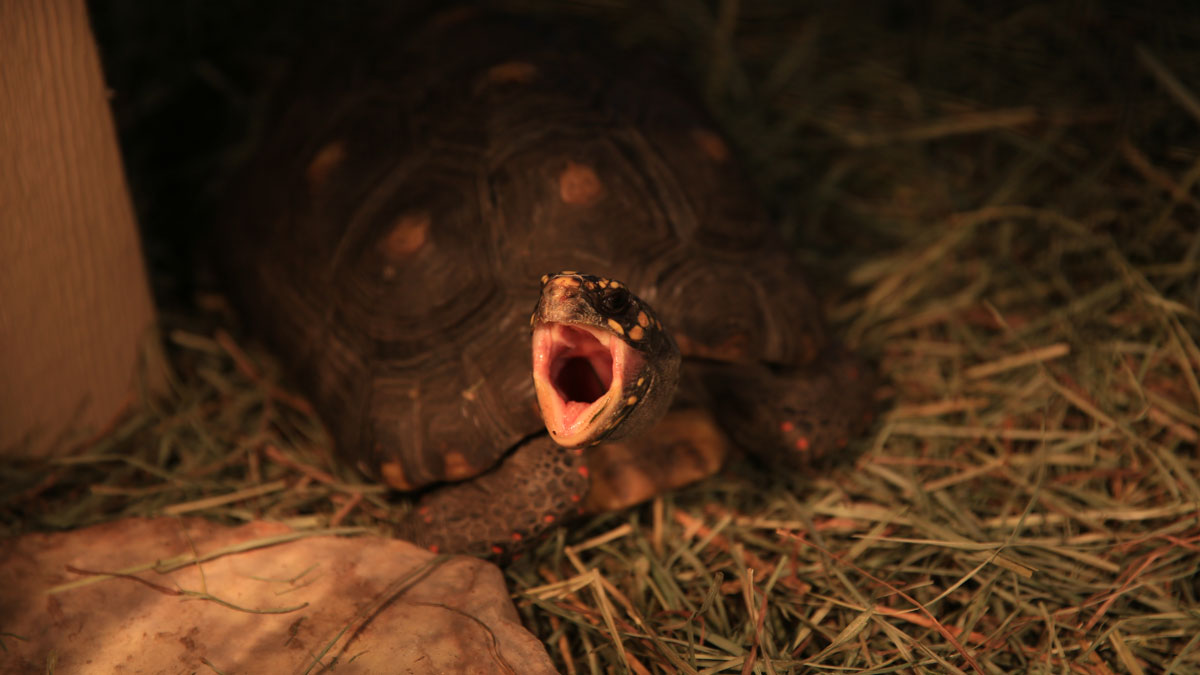 ---
MANGO
Mango, a rescued adult male red -footed tortoise, was an abandoned pet who had been released in a state park. He was identified as non-native or an invasive species, and brought to Keep Florida Wild facility to live his life out happily with other tortoises of his kind.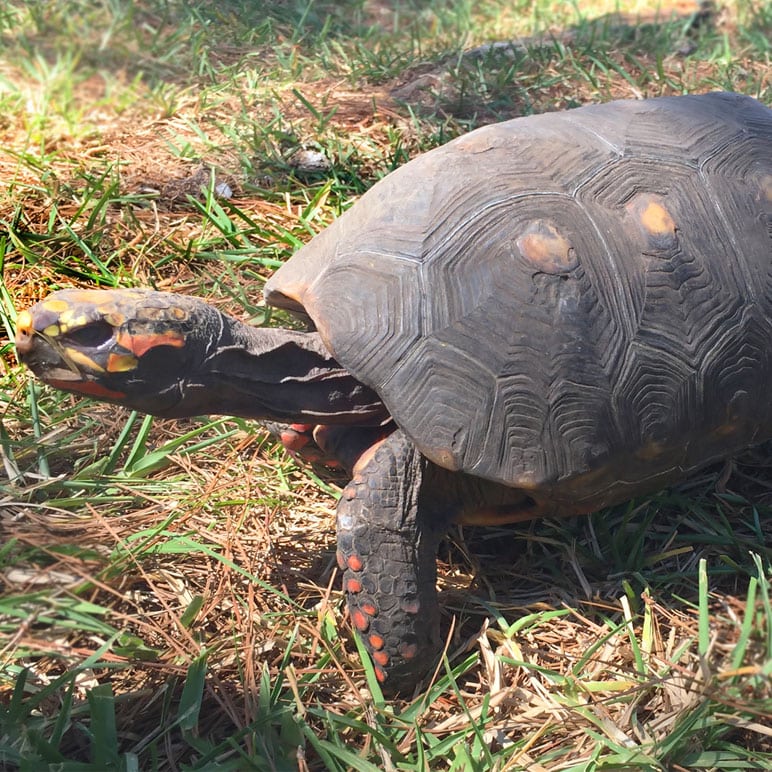 JEDI
Jedi, a rescued sub-adult female red-footed tortoise, was a surrendered pet that had become more of a responsibility than the owners felt they could take on. Jedi's shell shows a characteristic called "pyramiding." This is a sign of an improper diet when the tortoise is young, and can lead to larger issues later. Luckily, Jedi was surrendered just in time and is thriving in her current home with other rescued tortoises.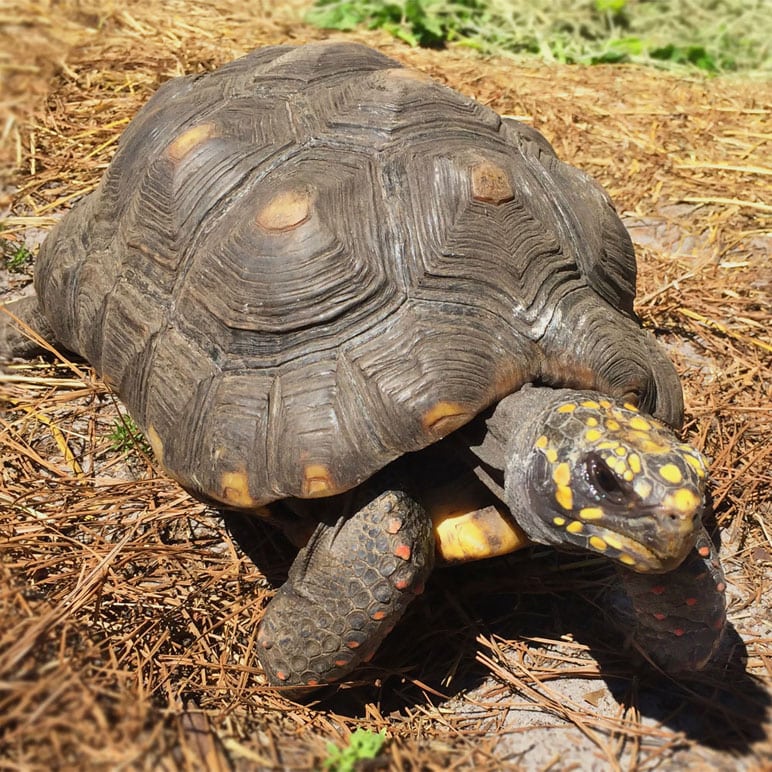 Invasive Species Alert! While they are cute pets, red-footed tortoises grow quickly and require proper nutrition, care, and plenty of space. Unfortunately, many unknowing pet keepers quickly decide they can't take care of these animals. They release them into the wild where the tortoises must compete with the native species for habitat and resources, or simply die because they are not suited for the environment.
---
SULCATA TORTOISE
The African spurred tortoise (Centrochelys sulcata), also called the sulcata tortoise, is a species of tortoise which inhabits the southern edge of the Sahara desert in Africa.
This is the third-largest species of tortoise in the world and is also the largest species of mainland tortoise. Adult sulcatas can reach 33 inches and can weigh 230 pounds! They are very fast growers! Sulcatas can also live more than 80 years.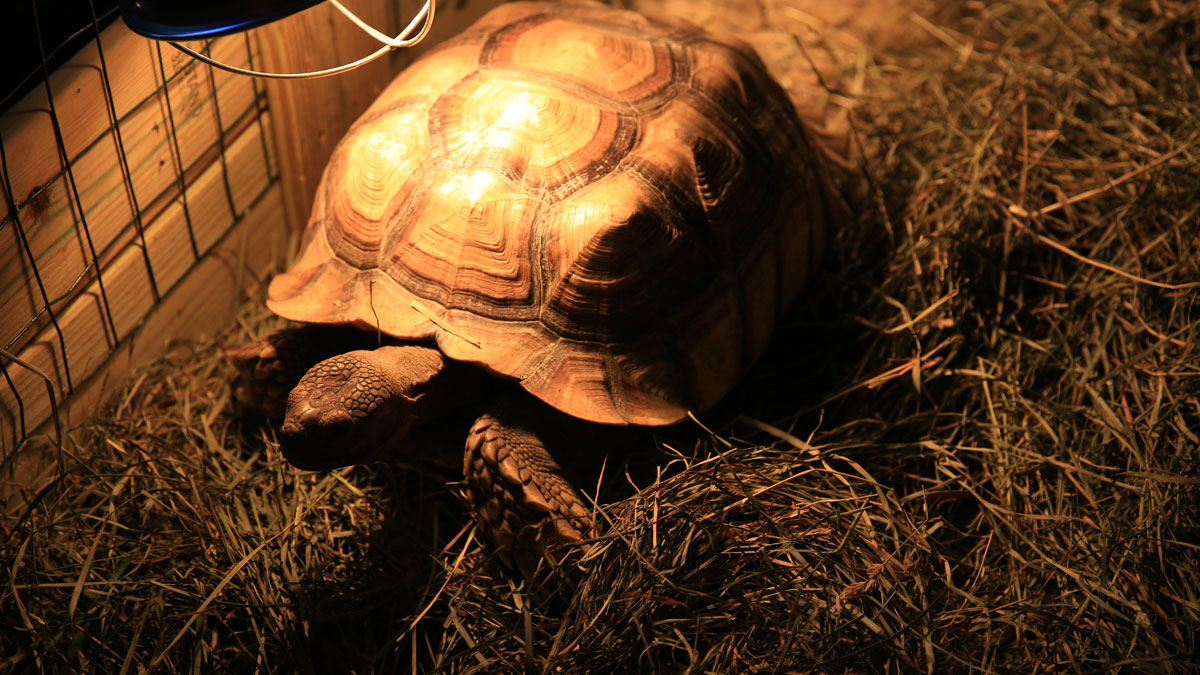 Sulcata tortoises are herbivores, meaning they only eat plants. Diets consist of many types of grasses and plants, high in fiber and very low in protein. Flowers and other plants including cactus pads can be consumed, but they should avoid eating fruits.
ELVIS & PRISCILLA
Elvis and Priscilla are rescued sub-adult male and female sulcata tortoises. Elvis and Priscilla were both surrendered pets that were purchased by their owner from a breeder when they were tiny, cute hatchlings. Within a couple of years, they outgrew their owner's habitat and required more space and food than they could provide them. Elvis and Priscilla now live happily with many other tortoises at the Keep Florida Wild facility, which prevents them from affecting native species in the wild.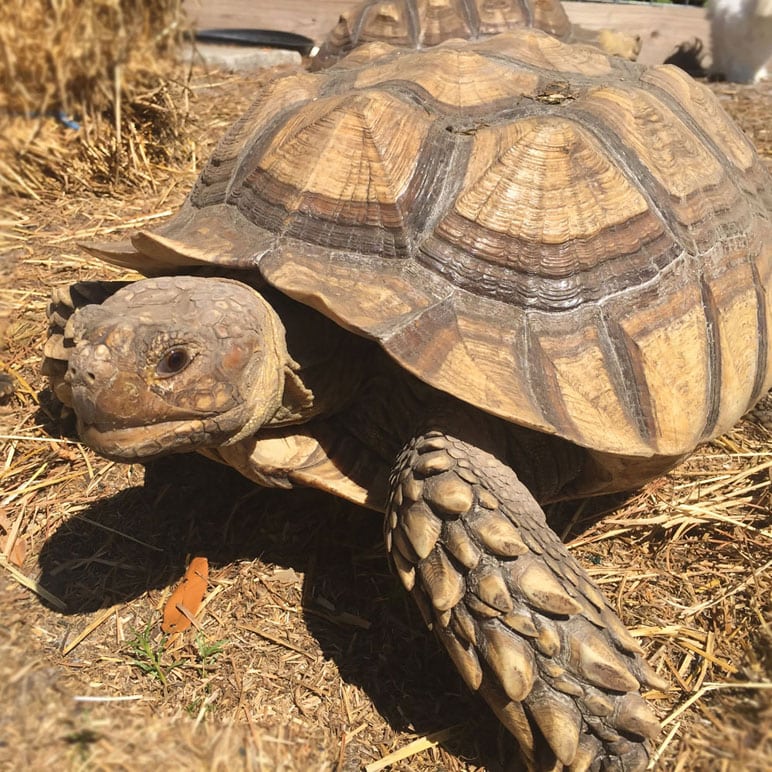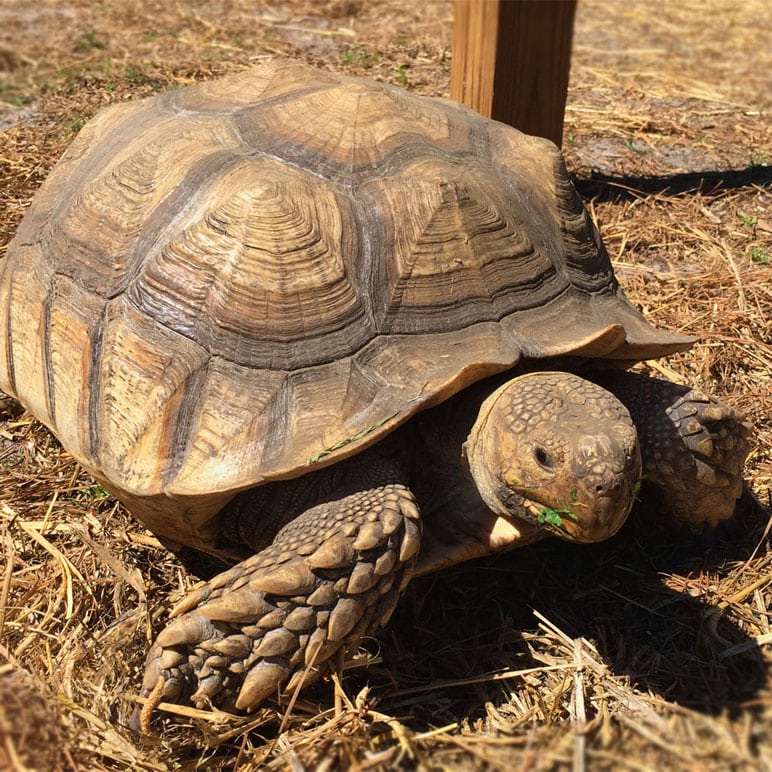 Invasive Species Alert! Sulcata tortoises grow quickly and require proper nutrition, care, and plenty of space. Unfortunately, far too often many of these animals are released into the wild because pet owners were not prepared for what the animals needed as they grew. Sulcatas compete directly with Florida's threatened Gopher tortoise population. As their habitat diminishes due to human over-development, these invasive species dominate habitat and resources due to their size and voracious appetites.
---
Meet these rescued tortoises and learn all about reptiles during Reptilepalooza, a special live exhibit at Clearwater Marine Aquarium, March 10 through April 8.