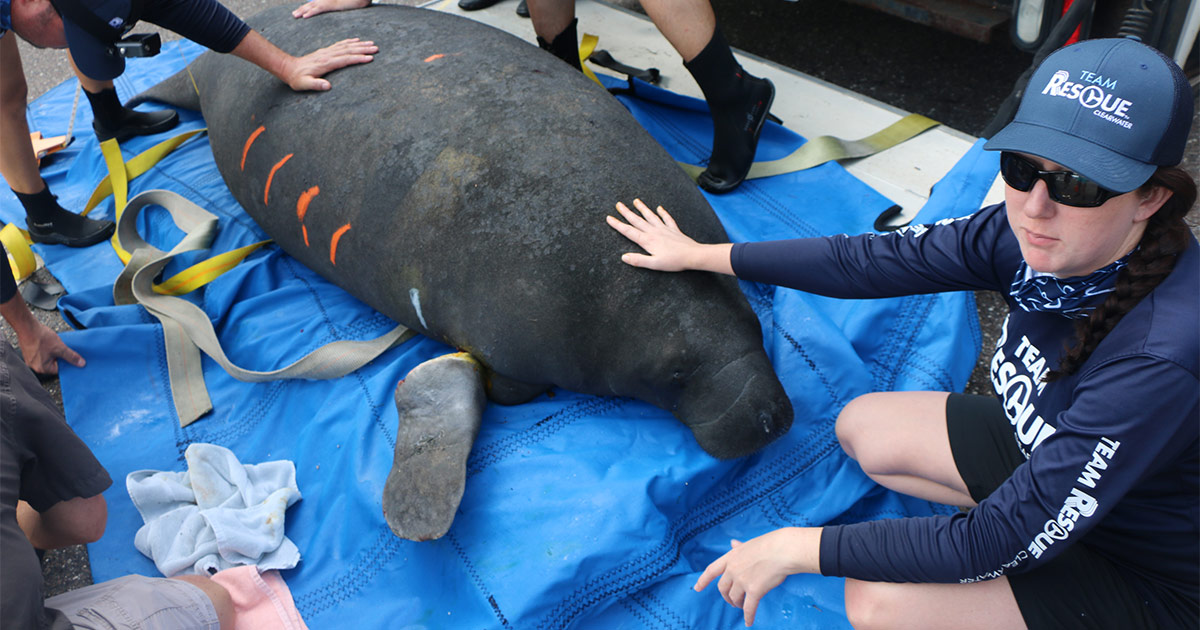 On Monday, Oct. 2, 2017, Clearwater Marine Aquarium (CMA) rescue personnel assisted with the rescue of an entangled female manatee in Oldsmar, Florida.
The manatee had been reported to Florida Fish and Wildlife Conservation Commission (FWC) Marine Mammal Pathobiology Laboratory (MMPL) as a possible entanglement approximately one month prior. The animal was confirmed as an entanglement over the weekend and a VHF radio tag was connected to the crab trap line which was wrapped around the right flipper.
MMPL's capture vessel was launched from Phillippe Park boat ramp with FWC and CMA personnel aboard. Capture personnel met with the scout team, already on the water in North Tampa Bay. The animal was captured using a deep-water net set and brought aboard the vessel. The team then transported the female animal back to the boat ramp, where Dr. Ray Ball from Lowry Park Zoo (LPZ) assessed the animal's condition.
Entangled Manatee Flipper Severed by Crab Trap Line
The adult female was deemed in good body condition; however, the flipper experienced extensive trauma due to long-term entanglement in the crab pot line, amputating the appendage more than 90%. Dr. Ball observed healing tissue on the cut surfaces of the flipper. Dr. Ball, in conjunction with Andy Garrett, Manatee Stranding Coordination FWC, opted to amputate the remains of the flipper which was attached by a small amount of tissue on the proximal, leading edge of the flipper (front, top portion). Dr. Ball administered antibiotics and other medications to the manatee, sealed her wound and deemed her a good candidate for immediate release. The manatee was released from the Phillippe Park boat ramp the same day.
Can a Manatee Survive with One Flipper?
Manatees utilize their tail fluke, or paddle, in a dorsal-ventral (up and down) motion for locomotion. The flippers are primarily utilized for direction changes and for grasping or aiding with foraging. Male and infant manatees utilize their flippers more during mating herds and nursing respectively. This animal will be able to thrive with only one flipper.
---
Clearwater Marine Aquarium recently assisted FWC with another manatee rescue and relocation following Hurricane Irma. Read more about the Weeki Wachee manatee rescue.
---
All activities were conducted under USFWS permit # MA770191.