Madeira Beach, FL (July 2015) – On June 9, Clearwater Marine Aquarium's (CMA) rescue team received a call regarding a dolphin, with multiple, extensive lacerations to its peduncle, swimming in the John's Pass area. After consulting with the National Marine Fisheries Services (NMFS), CMA began monitoring the dolphin to observe the animal's overall condition and examine how the injury was affecting the animal's overall behavior and its potential for survival. The 9-year-old female dolphin, Babyface, is a known resident of the John's Pass area and was named by Ann Weaver, an animal behaviorist studying dolphins in this area for over a decade. After several days of monitoring by CMA, NOAA officials determined it was best for Babyface to heal in her natural environment. Babyface was observed traveling with ease, as well as foraging. Observations were concluded in mid-August because of Babyface's improved healing and behavior. The CMA team is hopeful that Babyface will fully recover although it might take several months for the deep wounds to completely heal.
---
LEARNING FROM THIS RESCUE STORY
Be Dolphin SMART
This dolphin's story is a reminder that we must share our waterways responsibly. Boat injuries to wild dolphins are preventable if we all do our part to be Dolphin SMART. Developed by the National Oceanic and Atmospheric Administration (NOAA) and its partners, the Dolphin SMART program is designed to educate the public regarding encounters with dolphins in the wild.
S: Stay Back 50 yards from dolphins
M: Move away cautiously if dolphins show signs of disturbance
A: Always put your engines in neutral when dolphins are near
R: Refrain from feeding, touching, or swimming with wild dolphins
T: Teach others to be dolphin SMART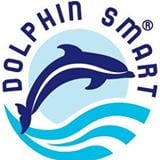 Click here for more information regarding the Dolphin SMART program