Vanilla Wafer
Juvenile, Green
(Chelonia mydas)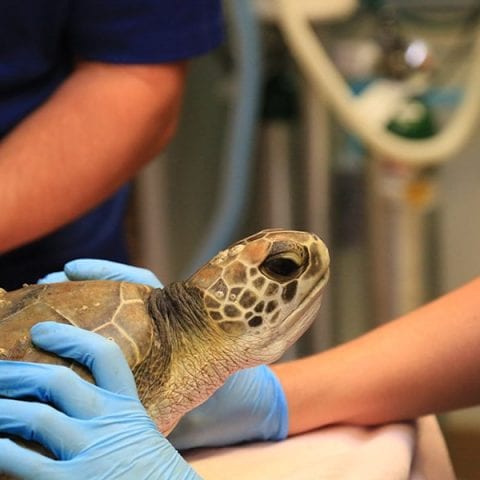 Patient Status

Released November 7, 2017 (Previously released January 19, 2017)

Date Found

March 24, 2017 (Previously rescued on January 24, 2016)

Location Found

Madeira Beach, FL. (Previously found on Clearwater Beach)

Reason for Rescue

Found floating (Previously rescued due to boat strike wounds)
---
TRIAGE (2016 Rescue)
WEIGHT

2.14 kg (4.72 lbs)

SCL (STRAIGHT CARAPACE LENGTH)

26.7 cm (10.5 in)

EXAM FINDINGS

Boat strike marks in three separate areas of the carapace with tissue and spinal cord exposed, multiple small fibropapilloma tumors

INITIAL TREATMENT

Received vitamins, antibiotics, and fluids
---
VANILLA WAFER'S STORY
Vanilla Wafer is a juvenile green sea turtle that was originally found on January 24, 2016, in Clearwater Beach, FL with three severe boat strike wounds on the carapace. These wounds left internal tissue, including the spinal cord, exposed. Vanilla Wafer also has multiple small fibropapilloma tumors. After nearly a year of rehab, Vanilla Wafer was released, but two months later was found again, this time floating with difficulty diving, near Madeira Beach, FL.
Sea turtles breathe air, meaning they need to surface often. We ask that while boating, please be aware of your surroundings and follow all regulations to minimize the chance of striking a surfacing sea turtle. We consider you to be our eyes on the water so if you do see a sick or injured marine animal call our emergency stranding hotline 727-441-1790 x 1.
Fun Fact

This is my 2nd time here at CMA. I originally arrived during the "sweet food" naming theme in 2016 and was successfully rehabilitated and released January 2017.
---
TREATMENT UPDATES (2016 Rescue)
1.25.16

Alert, active, thin, mild amount of papilloma tumors, old defect on carapace from previous injury that has not healed yet.

3.7.16

Pap tumors getting worse, wound in carapace healing.

8.8.16

Cold laser treatment used for final stages of carapace wound healing.

1.19.17

After successfully healing Vanilla Wafer's carapace and successful surgeries to remove her tumors, Vanilla Wafer was released at Honeymoon Island after spending 361 days in rehab at CMA.
---
TREATMENT UPDATES (2017 Rescue)
3.24.17

Vanilla Wafer stranded a 2nd time at Madeira Beach, Pinellas County, FL. The turtle was found floating at the surface, having difficulties diving.

4.4.17

Turtle started on oral medications.

5.31.17

Successful laser surgical removal of fibropapilloma tumors on the neck and right front flipper

9.20.17

Moved into a deeper pool for a deep water swim test

10.4.17

After two weeks in a deeper pool, Vanilla Wafer has shown that she can stay submerged for extended time periods and can rest on the bottom with little to no effort.

10.31.17

Successful laser surgical removal of small tumor regrowths.

11.2.17

Vanilla Wafer has been cleared for release!

11.7.17

After 229 days in rehab, Vanilla Wafer was released at Honeymoon Island State Park in Pinellas County, FL.
---
All marine turtle footage taken in Florida was obtained with the approval of the U.S. Fish and Wildlife Service and the Florida Fish and Wildlife Conservation Commission (FWC) under conditions not harmful to marine turtles. Footage was acquired while conducting authorized conservation activities pursuant to FWC MTP-17-172.