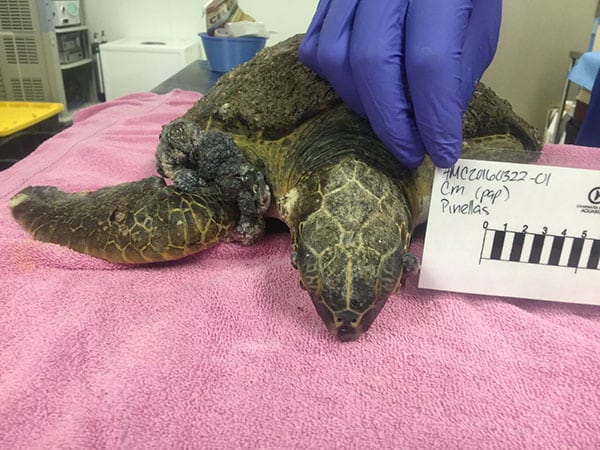 Gryffindor
Juvenile, Green
(Chelonia mydas)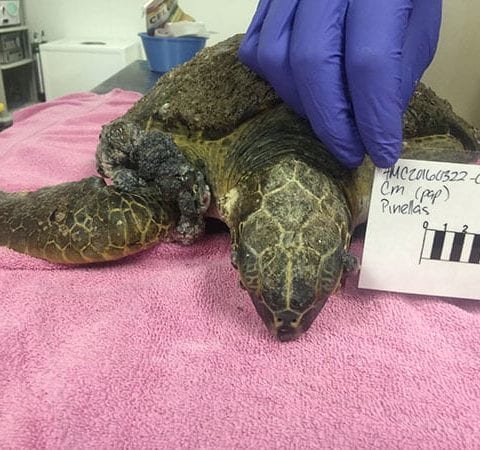 Patient Status

Released on July 6, 2017

Date Found

March 22, 2016

Location Found

John's Pass, Pinellas County, FL

Reason for Rescue

Hooked by fisherman
Triage
Weight

8.65 kg (19.07 lbs)

SCL (STRAIGHT CARAPACE LENGTH)

41.6 cm (16.4 in)

EXAM FINDINGS

Fibropapillomas ("paps") found in eyes and on plastron. Mild epibiota (organism that lives on the surface of another organism).

INITIAL TREATMENT

Received vitamins, fluids, and antibiotics
---
Gryffindor's Story
Gryffindor is a juvenile green sea turtle that was accidentally hooked by a fisherman at John's Pass, FL on March 22, 2016. Gryffindor was found to have numerous small to medium external fibropapilloma tumors.
Fibropapillomatosis is a virus that is common in juvenile green sea turtles, causing cauliflower-like tumors to grow on their soft tissues. This virus is very contagious amongst green sea turtles so once a turtle with this virus comes into our facility, it is quarantined in our Intensive Care Unit.
Although the cause of this virus is still unknown, you can help by keeping our oceans clean of trash and chemical pollutants.
FUN FACT: Gryffindor sounds like Darth Vader when he breathes
---
Treatment Updates
3.22.16

Tested in water to check swimming ability.

4.14.16

START – Pap removal surgeries, allowing time in between for healing.

6.1.17

END – Pap removal surgeries, allowing time in between for healing.

6.29.17

Gryffindor has been cleared for release!
---
All marine turtle footage taken in Florida was obtained with the approval of the U.S. Fish and Wildlife Service and the Florida Fish and Wildlife Conservation Commission (FWC) under conditions not harmful to marine turtles. Footage was acquired while conducting authorized conservation activities pursuant to FWC MTP-17-172.