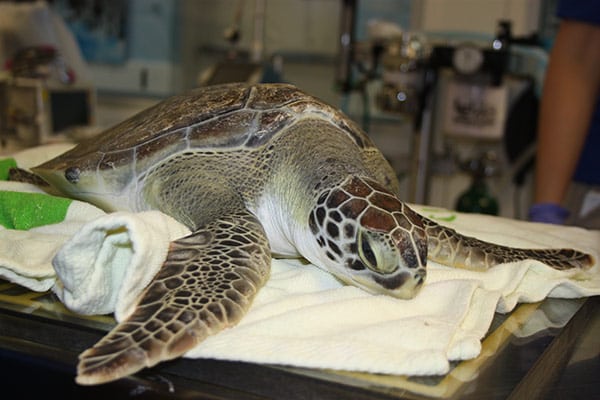 Gran Torino
Juvenile, Green
(Chelonia mydas)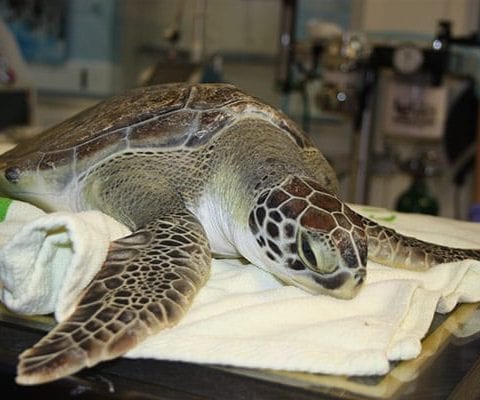 Patient Status

Released January 19, 2017

Date Found

February 17, 2016

Location Found

Dunedin Causeway, Pinellas County, FL

Reason for Rescue

Fibropapilloma tumors present
Triage
Weight

3.27 kg (7.21 lbs)

SCL (STRAIGHT CARAPACE LENGTH)

31.8 cm (12.5 in)

EXAM FINDINGS

Alert and responsive with good body condition; small fibropapilloma tumors located on the eyes, plastron, neck and base of flippers

INITIAL TREATMENT

Received vitamins, supplements, fluids, and antibiotics
---
Gran Torino's Story
Gran Torino is a juvenile green sea turtle that was found on February 17, 2016, right off the Dunedin Causeway in Florida. Multiple small fibropapilloma tumors were found on his right eye, plastron, neck and base of flippers. Additionally, Gran Torino's left eye was missing from an unknown, previous injury.
Fibropapillomatosis is a virus that is common in juvenile green sea turtles in Florida, causing cauliflower-like tumors to grow on their soft tissues. External tumors can be removed via laser surgery, cutting the tumors off from their base. Clearwater Marine Aquarium is one of only five facilities in Florida that can conduct this surgery. The cause of these tumors, unfortunately, is still unknown.
Gran Torino was released on January 19, 2017, after being deemed "pap free"!
FUN FACT: Gran Torino only has one eye.
---
Treatment Updates
2.8.16

Tested in water to check swimming ability – active, yet buoyant

3.2.16

Removed intraceolomic air, monitor position in the water

3.10.16

Reduced ceolomic air – swimming improved!

3.30.16

Begin pap removal and healing process

1.19.17

After 337 days in rehab and successful surgeries to remove his fibropapilloma tumors, Gran Torino has been released at Honeymoon Island. We wish him the best now that he's back home!