---
BB
Juvenile, Hawksbill
(Eretmochelys imbricata)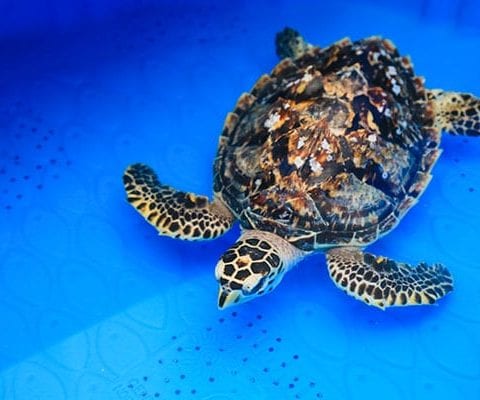 Released

December 21, 2016
---
Cold Stun Sea Turtle Survivor
BB is a juvenile hawksbill sea turtle that came to Clearwater Marine Aquarium on February 12, 2016. She was part of our cold stun event and at that time we had so many turtles we couldn't even give them proper names! She stranded in Treasure Island, FL with a low body temperature and barnacles pushing up her scutes on her shell.
Healing Scutes and Rehab
At the beginning of her rehab, we started BB on fluids and antibiotics. She swim-tested well and was eating shortly after. Within a month, BB was off of all critical treatments but her shell still had a lot of healing to do. Over time we trimmed her old scutes while her new ones grew on top.
BB's scutes finally healed over and she passed her deep diving test in Turtle Cove! She was released Wednesday, December 21st, 2016 near Caladesi Island. so she can enjoy the holidays with her turtley friends. Good luck out there BB!
---
Watch the sea turtle release: