Tarpon Springs, FL (July 2016) – On the evening of July 3, 2016, rescue personnel received a call regarding a live stranded dolphin in a mudflat 300 yards from the shoreline of the southeast side of the Fred Howard Causeway. After receiving the call and confirmation, the National Marine Fisheries Services (NMFS) and Clearwater Marine Aquarium's veterinarian were immediately contacted to inform them of the situation, as well as follow their guidance. Staff, interns, and volunteers were dispatched to the area and were assisted by park rangers and Pinellas county beach patrol lifeguards.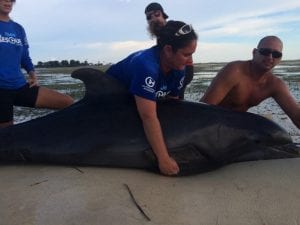 Rescue Team Response
Upon arrival, the first response step was to assess the situation and examine the animal and environmental conditions. The dolphin appeared to be in good body condition with no obvious external injuries, and was responsive and alert to its surroundings. Environmental factors also contribute to how each response is conducted. During this particular response, obstacles involved the outgoing tide and the location of the animal in a mudflat.
The next step was to tend to the animal's care. Dolphins have highly sensitive skin, shedding a layer every three to four hours. Shade and hydration are the most important factors in preventing sunburn. An umbrella and wet sheet were used, as well as water continually being applied to the skin to assist in cooling and thermoregulation.
Respirations were also continually monitored, which can provide insight to the lung condition, as well as stress level. Every dolphin's "normal" respiration rate varies, so consistency through the process of relocation was key. Oxygen was also administered to the animal upon each respiration.
Blood was collected and analyzed to further analyze the animal's health.
Dorsal ID
Obtaining photos was also critical in providing information to NMFS representatives. An important photo is the dorsal fin of the dolphin. Just as every person can be identified by a finger print, every dolphin has a unique dorsal fin with distinct nicks and notches. By taking pictures, photo ID groups can record sightings of the animal post release.
Dolphin Transported for Release
Once all samples and photographs were obtained, NMFS approved the transport of the animal on a closed cell-foam mat across the mudflat to be released in deeper water. Volunteers, park rangers and lifeguards monitored the dolphin several hours post release until high tide, as well as several days following release.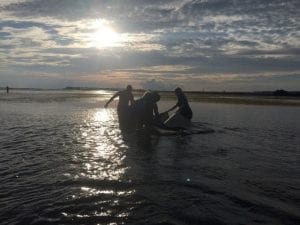 ---
Learning from This Rescue Story
Why do dolphins strand?
Dolphins strand for primarily two reasons, natural causes and human related issues. Natural causes include increasing age or disease, while human related issues may involve vessel collision, fisheries interaction, or environmental degradation.
What should you do if you come across a stranded dolphin?
If you discover a stranded dolphin, it is extremely important to not push the animal back in the water. A stranded animal mostly likely strands because of some sort of debilitation. When they are pushed back to the water, it delays the process of examination and treatment, while also resulting in a possible re-stranding in an even more debilitated condition. Human safety is also a top priority when encountering a stranded dolphin. Attempting to handle a wild animal can be a serious risk to human safety.
Cetaceans (dolphins, whales, and porpoises) are protected by the Marine Mammal Protection Act, and only permitted and trained individuals are authorized to handle these wild animals. If you discover a sick, injured, or stranded marine mammal, please contact your local stranding team immediately.
What is NMFS?
NMFS, National Marine Fisheries Service, is a government branch of NOAA, the National Oceanic and Atmospheric Administration, which is responsible for the jurisdiction of marine mammals. With any live stranded cetacean, NMFS is immediately contacted to ensure they are aware of the situation. They also provide valuable guidance and direct the stranding team how to proceed in caring for live stranded dolphins.