With fewer than 350 whales remaining, each birth is hope for the species.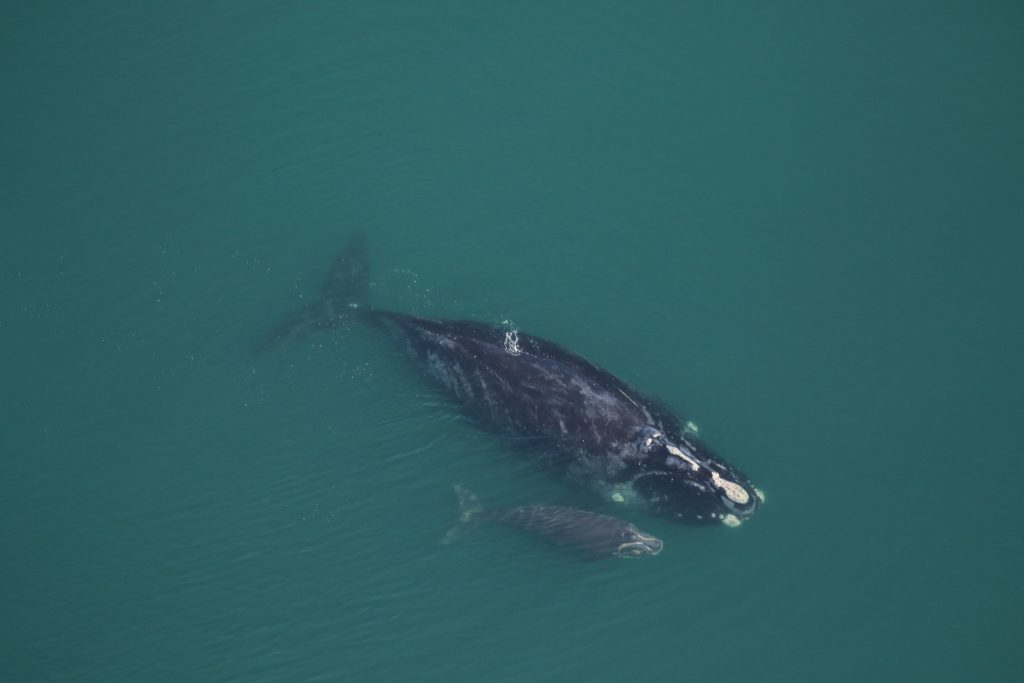 (Clearwater, FL) – Researchers with Clearwater Marine Aquarium Research Institute spotted the first North Atlantic right whale mom and calf pair of the 2022-2023 season on December 7 off the coast of St. Catherines Sound, GA.
The mom, Catalog #1208 "Medusa" is estimated to be 42-years-old and this is her 7th documented calf.
Today researchers estimate there are less than 350 North Atlantic right whales (Eubalaena glacialis) left in the population, with fewer than 100 breeding females left. Calving grounds off the coasts of northeast Florida, Georgia, and South Carolina have been designated Critical Habitat Areas to help protect the species.
"Through aerial surveys, the CMARI team works together to protect the species," said Dr. James Powell, President and Executive Director of CMARI. "Recovery had been slow and steady until 2010 when we started to see a decline. Most recent population models show that the numbers are declining again for various reasons including a slow reproduction rate, threats from entanglement in fishing gear, collisions with large vessels, and possibly other factors not yet identified."
The North Atlantic right whale is a federally-protected endangered species under the Endangered Species Act and the Marine Mammal Protection Act. Clearwater Marine Aquarium Research Institute aerial survey teams work with NOAA, Georgia DNR, South Carolina DNR, U.S. Army Corps of Engineers (USACE), U.S. Coast Guard Atlantic Area Command, U.S. Navy, and FWC to mitigate ship collisions and document reproductive rates,  provide scientific data to marine decision makers on conserving the species, assist efforts to disentangle whales from fishing gear, locate carcasses for recovery and necropsies, and assist with locating whales for genetic sampling and satellite tagging
MEDIA CONTACT Kelsy Long, Clearwater Marine Aquarium, media@cmaquarium.org.
###
About Clearwater Marine Aquarium

Clearwater Marine Aquarium (CMA) is a 501(c)(3) nonprofit working marine rescue center dedicated to inspiring the human spirit through leadership in education, research, rescue, rehabilitation and release. With a mission to preserve the environment and its marine life, CMA is home to rescued dolphins, sea turtles, river otters, stingrays, a nurse shark and more. Through Clearwater Marine Aquarium Research Institute, CMA conducts important global research focused on protecting manatees, North Atlantic right whales and sea turtles. Major motion picture Dolphin Tale (2011) and its sequel Dolphin Tale 2 (2014) features the true stories of rescued resident dolphins Winter and Hope, inspiring millions around the world. The mission and potential to change people's lives differentiates Clearwater Marine Aquarium from any other aquarium in the world.
© 2022 Clearwater Marine Aquarium | 249 Windward Passage, Clearwater, FL 33767 | 727-445-1139 | 727-441-1790 | mission.cmaquarium.org | cmaquarium.org

We believe in preserving our environment while inspiring the human spirit through leadership in the rescue, rehabilitation, and release of marine life; environmental education; research; and conservation.
A Florida non-profit 501(c)(3) organization