Visitors to celebrate endangered right whales, beginning of calving season at annual event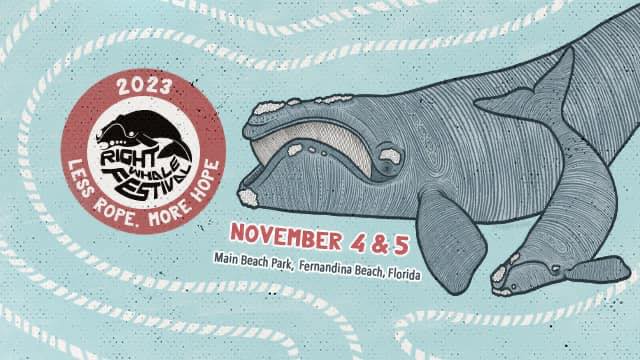 AMELIA ISLAND, FL. (Oct. 20, 2023) – The annual Right Whale Festival will return to Amelia Island, Florida, and will be bigger than ever with more than 100 exhibitors and many new fun and educational events. The festival will be held Nov 4-5 at Main Beach Park in Fernandina Beach beginning at 10 a.m.
This year's theme will be "Less Rope, More Hope" which calls out one of the main causes of right whale mortality – becoming entangled in fishing gear. This year will also highlight the 50th anniversary of the Endangered Species Act.
The event kicks off the beginning of calving season, which starts mid-November, and will highlight critical local efforts to protect the species from extinction. Each year, North Atlantic right whales return to their only known calving grounds along the warm coastal waters off North Carolina through northeast Florida, giving Amelia Island locals and visitors a chance to catch sight of mothers and calves offshore.
North Atlantic right whales are one of the world's most endangered large whale species, with fewer than 350 individuals remaining in the population. Because of that low number, protecting every whale is a priority to avoid extinction.
According to NOAA, the whales are dying faster than they can reproduce, largely due to human causes. Every single female North Atlantic right whale and calf are vital to this species' recovery.
"The coasts of North Carolina through Northeast Florida are the only place in the world where this critically endangered whale comes to give birth," said Dr. James "Buddy" Powell, Executive Director for Clearwater Marine Aquarium Research Institute (CMARI). "Awareness and education are key in protecting this species from becoming extinct." Powell and his team have been collecting research on right whales for more than 20 years. "By celebrating the return of right whales to the area, we hope locals and as many visitors as possible realize the precious resource right here, and do everything they can to protect it," said Powell.
The festival will provide education, as well as fun for the whole family, with ocean-themed activities and educational exhibits, live music, food trucks, art and crafts, and more. In addition, Clearwater Marine Aquarium will have life-sized whale models on display. For a schedule of activities and detailed information of activities, visit RightWhaleFestival.com.
"NOAA Fisheries and our partners – like the Clearwater Marine Aquarium – are dedicated to conserving and rebuilding the endangered North Atlantic right whale population," said Clay George, NOAA's Southeast Large Whale Recovery Program Coordinator. "As we celebrate the 50th year of the Endangered Species Act, we look toward a future where these whales are protected for generations to come."
As the event grows every year, local businesses and organizations host whale related events including a river cruise, lecture luncheon, skateboard competition, and more. Local shops carry whale-related items during November to show their support for right whale conservation.
The event is hosted by NOAA Fisheries – part of the National Oceanographic and Atmospheric Administration – and Clearwater Marine Aquarium. Sponsors include the Amelia Island Tourist Development Council and the International Fund for Animal Welfare (IFAW). A complete list of sponsors is available on the website: https://rightwhalefestival.com/sponsors.
MEDIA CONTACT: Marsha Strickhouser | mstrickhouser@CMAquarium.org | (727) 242-0770
###
About Clearwater Marine Aquarium

Clearwater Marine Aquarium (CMA) is a 501(c)(3) nonprofit working marine rescue center dedicated to inspiring the human spirit through leadership in education, research, rescue, rehabilitation and release. With a mission to preserve the environment and its marine life, CMA is home to rescued dolphins, sea turtles, river otters, stingrays, a nurse shark and more. Through Clearwater Marine Aquarium Research Institute, CMA conducts important global research focused on protecting manatees, North Atlantic right whales and sea turtles. Major motion picture Dolphin Tale (2011) and its sequel Dolphin Tale 2 (2014) features the true stories of rescued resident dolphins Winter and Hope, inspiring millions around the world. The mission and potential to change people's lives differentiates Clearwater Marine Aquarium from any other aquarium in the world. CMAquarium.org.

About NOAA

About NOAA NOAA's mission is to understand and predict changes in the Earth's environment, from the depths of the ocean to the surface of the sun, and to conserve and manage our coastal and marine resources. More information about our efforts to conserve the North Atlantic right whale population is available on our website, along with resources to learn more about our Southeast Regional Office. Like us on Facebook: US NOAA FISHERIES GOV Follow us on Twitter @NOAAFish_SERO

About Amelia Island

Northeast Florida's coastal treasure, Amelia Island is a barrier island rich in colorful history and breath-taking natural beauty. Amelia Island offers long, beautiful beaches, abundant wildlife, and pristine waters. Upscale resorts with world-class spas, championship golf and exclusive dining blend effortlessly with a captivating collection of bed and breakfast inns and historic districts. The island is home to Fernandina Beach, once a vibrant Victorian seaport village, and now a charming downtown district of eclectic shops, attractions and eateries. Forget the everyday getaway; come make memories on Amelia Island. For visitor information and online planning, visit AmeliaIsland.com
© 2023 Clearwater Marine Aquarium | 249 Windward Passage, Clearwater, FL 33767 | 727-445-1139 | 727-441-1790 | mission.cmaquarium.org | cmaquarium.org

We believe in preserving our environment while inspiring the human spirit through leadership in the rescue, rehabilitation, and release of marine life; environmental education; research; and conservation.
A Florida non-profit 501(c)(3) organization