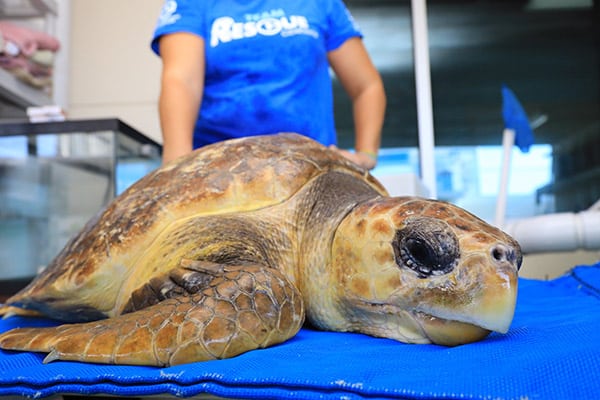 Alvin
Sub-Adult, Loggerhead
(Caretta caretta)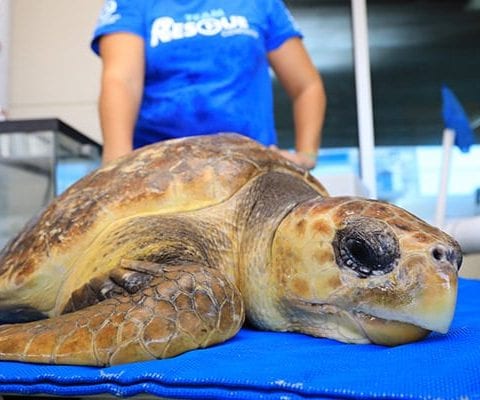 Patient Status

Date Found

December 10, 2016

Location Found

Eastham, Barnstable County, MA

Reason for Rescue

Cold stun
---
TRIAGE
Weight

43.5 kg

SCL ( Straight Carapace Length)

68.3 cm

Exam Findings

Quiet but responsive, mild superficial abrasions on plastron, flakey scutes, wound noted in mandible (jaw)

Initial Treatment

Received vitamins, antibiotics followed by fluids
---
ALVIN'S STORY
In early December 2016, a mass cold stun event occurred off the coast of Massachusetts, and many Loggerhead and Kemp's ridley sea turtles were rescued by the New England Aquarium. In order to continue to triage the incoming turtles, many were transferred to other facilities to continue their rehabilitation, including Clearwater Marine Aquarium. Three loggerhead turtles were flown to Florida on a private jet.
Alvin was one of 3 Loggerhead sea turtles, along with Simon and Theodore. Upon admission and initial triage, Alvin is also being treated for a wound that is running from the inside of her mouth through her lower jaw, likely from a fishing hook.
During extreme cold weather, it is important to monitor the shorelines for any turtles that appear lethargic.
Fun Fact

True to his character's name, Alvin is the most spirited turtle of the three!
---
TREATMENT UPDATES  
12.21.16

Arrived at Clearwater Marine Aquarium via airplane

12.22.16

Tested to check swimming ability

12.27.16

Health has improved from initial intake. Cold laser treatment introduced to help advance the healing of the injury on his lower mandible (jaw)

1.8.17

Another health milestone! Diet is slowly being increased

9.1.18

Still receiving cold laser therapy to aid the healing of a wound in his lower mandible (jaw)

5.18.17

Following a successful stay in rehab, Alvin was released along the Canaveral National Seashore after 159 days in rehab