Simon
Juvenile, Loggerhead
(Caretta caretta)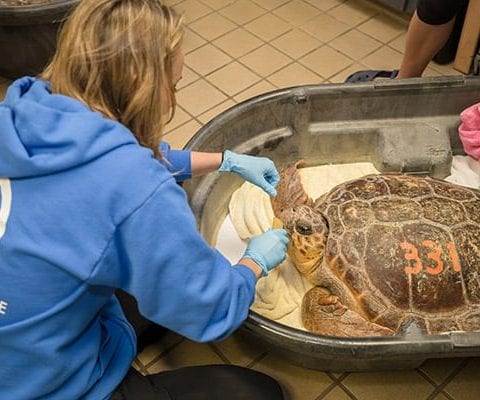 Patient Status

Date Found

December 11, 2016

Location Found

Dennis, Barnstable County, MA

Reason for Rescue

Cold stun
---
TRIAGE
WEIGHT

29.4 kg

SCL (STRAIGHT CARAPACE LENGTH)

58.2 cm

EXAM FINDINGS

Alert and active, several circular depressions in carapace along scute margins, cold stunned

INITIAL TREATMENT

Received vitamins, antibiotics and fluids
---
SIMON'S STORY
In early December 2016, a mass cold-stun event occurred off the coast of Massachusetts, and many Loggerhead and Kemp's ridley sea turtles were rescued by the New England Aquarium. In order to continue to triage the incoming turtles, many were transferred to other facilities to continue their rehabilitation, including Clearwater Marine Aquarium.
Three loggerhead sea turtles were flown on a private jet. Simon was one of the 3 loggerheads, along with Alvin and Theodore. Upon admission to Clearwater Marine Aquarium, Simon was triaged and treated for cold-stun, given vitamins, antibiotics, and hydration.
During extreme cold weather events, it is important to monitor the shorelines for any turtles that appear lethargic.
Fun Fact

Simon is not a morning turtle, she really enjoys her beauty sleep.
---
TREATMENT UPDATES
12.21.16

Arrived at Clearwater Marine Aquarium via airplane from MA

12.22.16

Tested in the water to check swimming ability

1.23.17

Active and alert, doing well in rehab!

2.6.17

Continue to monitor, improving health!

5.18.17

Following a successful stay in rehab, Simon was released along the Canaveral National Seashore after 158 days in rehab.