Theodore
Juvenile, Loggerhead
(Caretta caretta)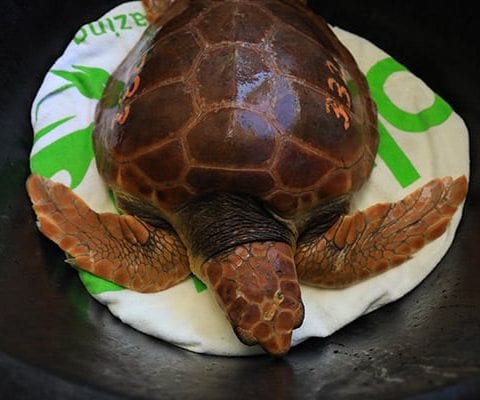 Patient Status

Released April 5, 2017

Date Found

December 11, 2016

Location Found

Dennis, Barnstable County, MA

Reason for Rescue

Cold stun
TRIAGE
Weight

14.5 kg

SCL (STRAIGHT CARAPACE LENGTH)

45.9 cm

EXAM FINDINGS

Alert and active, good body condition

INITIAL TREATMENT

Received vitamins, antibiotics, and fluids
---
THEODORE'S STORY
In early December 2016, a mass cold stun event occurred off the coast of Massachusetts, and many Loggerhead and Kemp's ridley sea turtles were rescued by the New England Aquarium. In order to continue to triage the incoming turtles, many were transferred to other facilities to continue their rehabilitation, including Clearwater Marine Aquarium. Three loggerhead turtles were flown to Florida on a private jet.
Theodore was one of the 3 loggerheads, along with Alvin and Simon. Upon admission to Clearwater Marine Aquarium, Theodore was triaged and treated for cold-stun, given vitamins, antibiotics, hydration, and cold laser therapy to treat a healing wound to the top of the head.
During extreme cold weather, it is important to monitor the shorelines for any turtles that appear lethargic.
Fun Fact

Theodore loves to eat!
---
TREATMENT UPDATES
12.21.16

Arrived at Clearwater Marine Aquarium via airplane.

12.22.16

Tested in water to check swimming ability – swimming very well!

1.9.17

Receiving cold laser therapy to enhance healing of wound on top of the head.