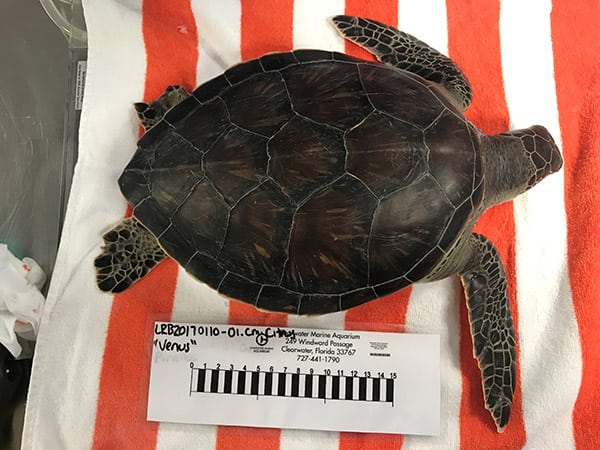 Vulcan
Juvenile, Green
(Chelonia mydas)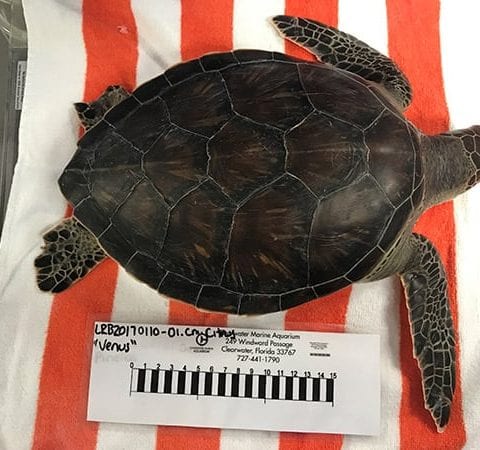 Patient Status

Released February 28, 2017

Date Found

January 10, 2017

Location Found

Chassahowitzka River, Citrus County, FL

Reason for Rescue

Cold stun
---
TRIAGE
WEIGHT

2.3 kg

SCL (STRAIGHT CARAPACE LENGTH)

25.3 cm

EXAM FINDINGS

Alert and active; good body condition. Breaths clear, lifting head to breathe. Several small mineral opacities in gastrointestinal tract. Suspect cold stun.

INITIAL TREATMENT

Received vitamins, antibiotics, and fluids
---
VULCAN'S STORY
On January 10, 2017, a small juvenile green turtle was found floating along the shore of the Chassahowitzka River in Citrus County, Florida. The turtle was brought to Clearwater Marine Aquarium by the Fish and Wildlife Conservation (FWC), where the turtle was triaged. A CT scan indicated the turtle had moderate gastrointestinal challenges. Additionally, Vulcan's body temperature was also a bit low, therefore we suspected the turtle stranded due to extreme cold weather called "cold stun."
Cold stun events occur when there is an extreme water temperature drop, which leads to a significant decrease in body temperature of the turtle. These conditions for sea turtles lead to slowed metabolism, lethargy, a weakened immune system, and possibly pneumonia.
During extreme cold weather, it is important to monitor the shorelines for any turtles that appear lethargic.
Fun Fact

Vulcan is named after the ancient Roman God of Fire. Vulcan definitely has a fiery and feisty spirit!
---
TREATMENT UPDATES
1.11.17

Tested to check swimming ability – continue to monitor and keep in shallow pools.

1.13.17

Offered food, and ate everything!

1.19.17

Swimming improved – cleared for deep water.

1.29.17

Vulcan is active, eating and swimming well!