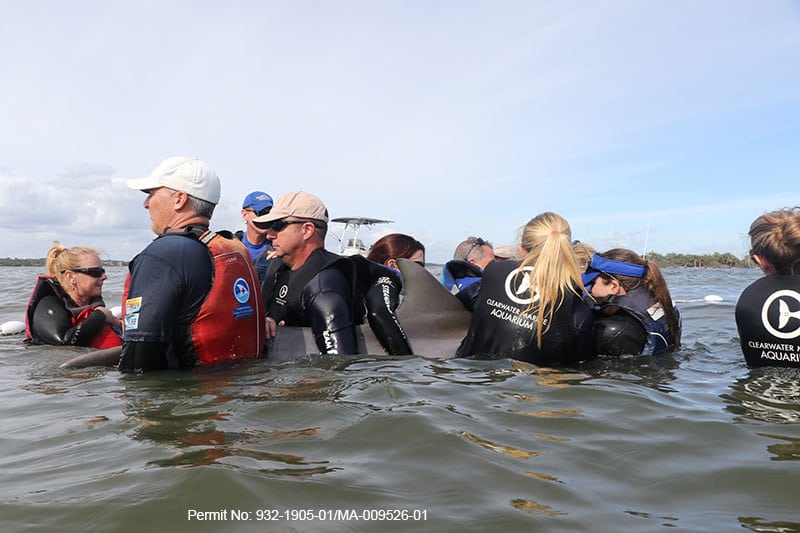 Cocoa Beach, FL (January 2017) – Clearwater Marine Aquarium rescue team personnel participated in a multi-agency disentanglement in the Indian River Lagoon on Jan. 17, 2017. (This is near the same area where Winter & Hope were rescued.) Organizations involved included the National Oceanic and Atmospheric Administration (NOAA), SeaWorld, Hubbs-Sea World Research Institute, Harbor Branch Oceanographic Institute (HBOI), Georgia Aquarium's Dolphin Conservation Field Station (DCFS), the University of Florida (UF), Clearwater Marine Aquarium (CMA) and FWC Law Enforcement.
Severe Monofilament Entanglement
The purpose of the intervention, directed by NOAA, was to disentangle a bottlenose dolphin calf with a severe monofilament entanglement around the base and both lobes of the flukes. A veterinarian from UF, Dr. Craig Pelton, described it as one of the worst entanglements he has seen involving the flukes, as it appeared the entanglement had persisted for many months. Monofilament fishing line was trailing the entanglement, creating a ball of dense algae, which produced a greater drag on the animal's tail. Personnel from multiple organizations were dispatched on the water on the morning of Jan. 17, 2017, in hopes of locating the animal, disentangling it, and releasing it.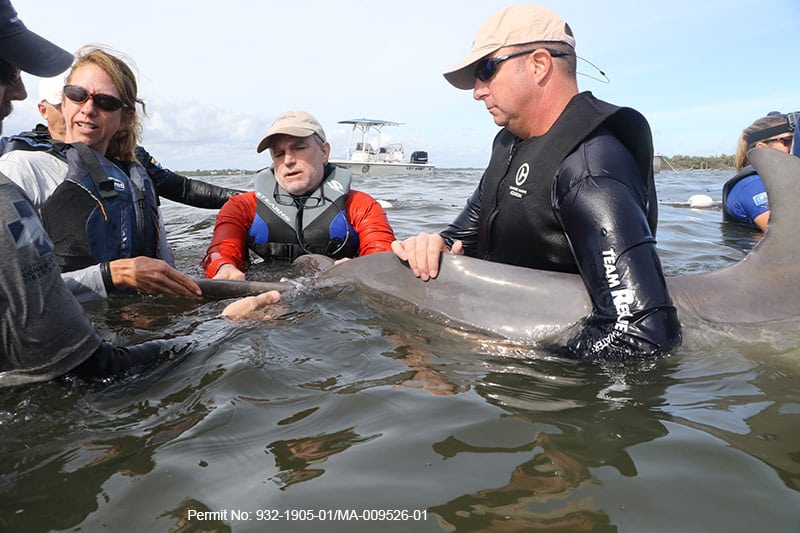 Disentangled Calf Released with Mother
The mother and calf were safely captured and the calf was successfully disentangled. All monofilament was removed, some reaching depths of approximately one inch with tissue healing around and above the line. The wound was properly cleaned and antibiotics were administered to the calf. A satellite tag was applied to the mom's dorsal fin for monitoring efforts in the coming weeks. Both animals were successfully released and monitoring efforts are being conducted. Photos taken under NMFS permit number: 932-1905-01/MA-009526-01
---
What is NMFS?
NMFS, National Marine Fisheries Service, is a government branch of NOAA, the National Oceanic and Atmospheric Administration, which is responsible for the jurisdiction of marine mammals. With any live stranded cetacean, NMFS is immediately contacted to ensure they are aware of the situation. They also provide valuable guidance and direct the rescue team how to proceed in caring for live stranded dolphins.
Support Rescue Efforts
You can help support our rescue work by donating, volunteering or providing wish list supplies. Learn how to report a stranded dolphin. And help keep our oceans clean and safe for all marine life by recycling fishing line.
We also greatly appreciate the support from NFWF, National Fish and Wildlife Foundation, for our rescue efforts.