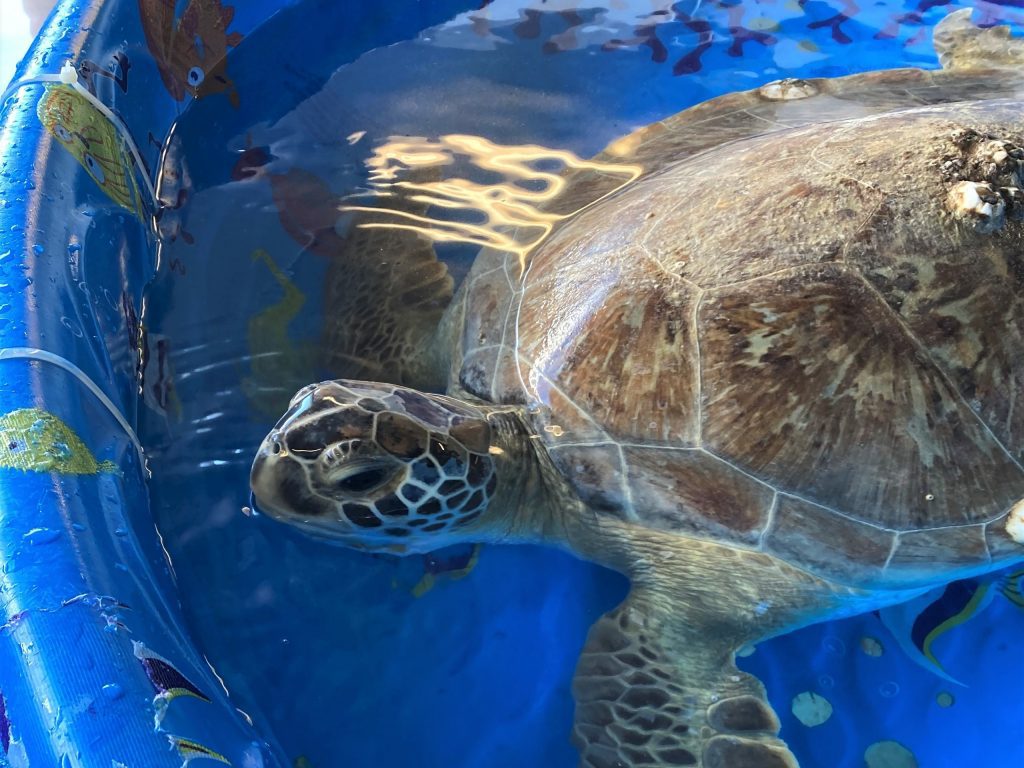 Baguette
Green, Juvenile
(Chelonia mydas)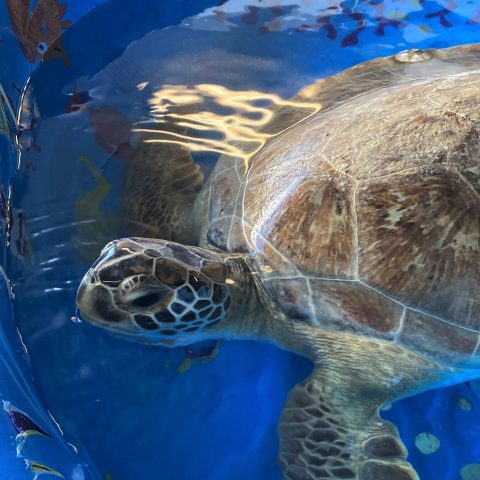 Patient Status

Current

Date Found

April 15, 2023
Location

Near Pepperfish Keys; Dixie County
Reason for Rescue

Buoyant
Initial Assessment
Weight

23.09 kg (50.9 lbs)

SCL (Straight Carapace Length)

58.6 cm

Exam Findings

Active and robust body condition. Minor fibropapilloma tumors present.

Initial Treatment

Vitamins, fluids, and antibiotics.
Baguette's Story
Baguette is a large, juvenile (almost subadult) green sea turtle who was rescued on April 15 from Dixie County. It was reported that Baguette had difficulty staying submerged and showed buoyancy issues. Upon intake, Baguette was active, has a robust body condition and minor fibropapilloma tumors present. Intial radiographs revealed possible gastrointestinal issues that could be the cause of the buoyancy.
INTERESTING FACT: Naming theme: Bread. Baguette is 1.4 cm away from being classified as a subadult green sea turtle! Sea turtles' life stages are based on their straight carapace (shell) length. A juvenile green ranges from 10 cm to less than 60 cm. A subadult green is 60 cm to less than 90 cm. An adult is 90 cm or larger!
Treatment Updates
4.16.23

Baguette's initial swim test does show buoyancy issues. Baguette is unable to stay submerged in water. Due to buoyancy, Baguette was placed in a shallow pool to help them achieve better breaths and prevent tiring. We will continue to monitor.

4.20.23

Baguette is able to be in water all day and overnight. We are continuing to do glucose checks twice a day and giving fluids as needed.

4.21.23

Baguette went for a routine CT scan to help further assess buoyancy issues. CT scan revealed gastrointestinal abnormalities with a large amount of fecal material and gas. There are concerns of an impaction. We will continue to monitor for defecations and treat accordingly with GI stimulation medications.

4.25.23

There are still no defecations seen. We are continuing with mineral oil and saline oral tubings. This is to help with hydration and hopefully relieve the large amount of fecal material seen on diagnostics.

4.27.23

An endoscopy and colonoscopy were performed on Baguette to help visualize the issue and treat accordingly. Based on the findings, our team will continue to treat with twice a day oral hydrations. There will be a recheck colonoscopy next week.

5.5.23

A feeding tube was placed in Baguette to better assist with Baguette's daily hydration. There was slight improvement seen on a recheck colonoscopy on May 1st.

5.17.23

Baguette's recheck colonoscopy this week showed more improvement with the fecal impaction. We are continuing to do hydrations through a feeding tube and have started offering a small amount of squid a day!
---
All marine turtle footage taken in Florida was obtained with the approval of the U.S. Fish and Wildlife Service and the Florida Fish and Wildlife Conservation Commission (FWC) under conditions not harmful to marine turtles. Footage was acquired while conducting authorized conservation activities pursuant to FWC MTP-23/24-172.