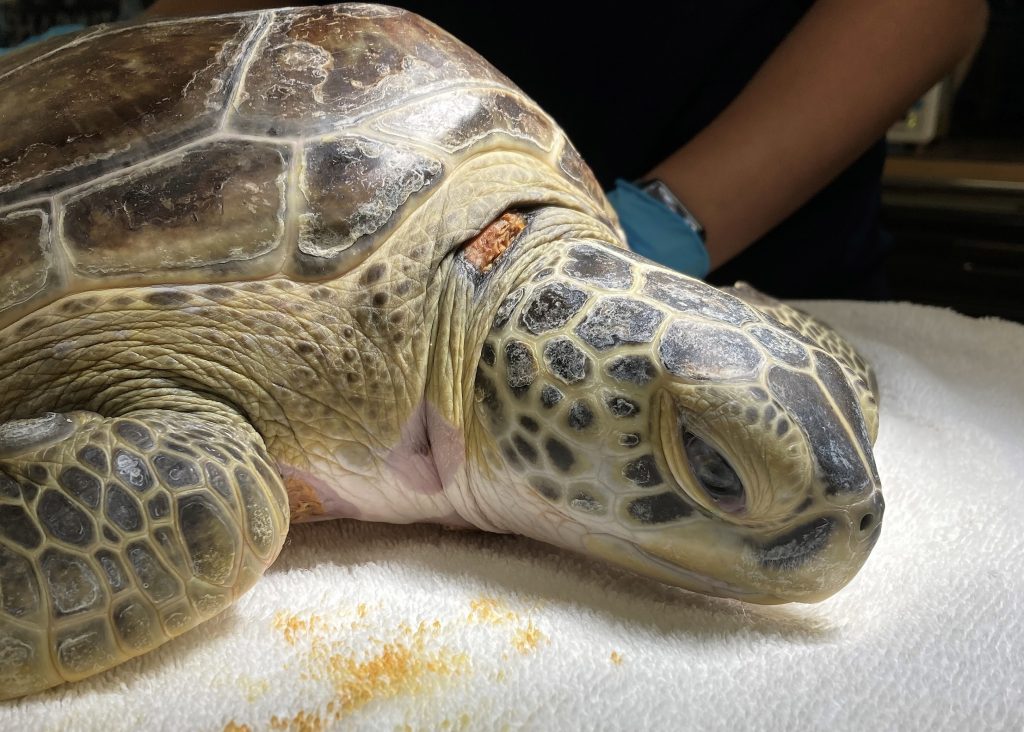 Brussels Sprout
Juvenile, green
(Chelonia mydas)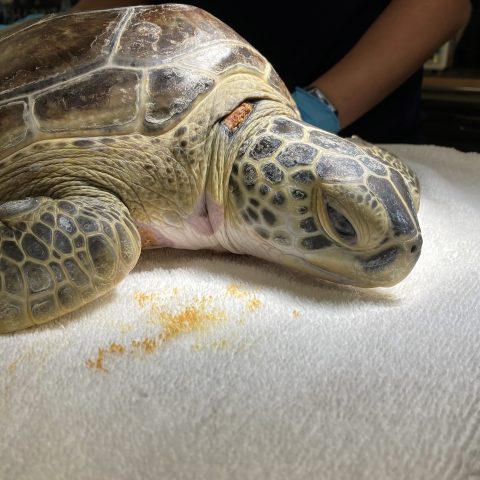 Patient Status

Released

Date Found

August 12, 2021
Location

Anastasia State Park; St. John's County
Reason for Rescue

Stranding
Initial Assessment
Weight

6.43 kg (14.1 lbs)

SCL (Straight Carapace Length)

35.8 cm

Exam Findings

Good body condition, alert, wound on left front flipper.

Initial Treatment

Antibiotics, fluids, wound care, and anti-inflammatory medications
Brussels Sprout's Story
Brussels Sprout is a juvenile green sea turtle who was stranded at Anastasia State Park in St. John's County on August 12, 2021. Brussels Sprout was transferred to Clearwater Marine Aquarium from Whitney Lab on January 19 to continue her rehab care. While at Whitney Lab, Brussels Sprouts underwent fibropapilloma tumor (pap tumor) removal surgeries and was diagnosed with a joint infection (osteomyelitis) in her left front flipper. This type of infection typically requires lengthy periods in rehab as they can be difficult to treat. Brussels Sprouts initial treatment at CMA consists of wound care, antibiotics, and fluids.
INTERESTING FACT: Naming theme (Whitney Lab's): Green food
Treatment Updates
1.25.22

Brussels Sprouts went for a routine recheck CT. She is swimming and diving well and eating off the bottom of our rehab pools!

1.28.22

Routine wound care was performed on the left front flipper. There are signs of healing tissue but the wound is still deep. We will continue to treat and monitor healing.

2.11.22

We are seeing improvement in the healing process! Brussels' swimming behavior shows she has improvement in range of motion of flippers too!

2.24.22

Brussel's wound is drastically improved over the last few weeks.

3.18.22

Brussels is continuing to do well and improve. She is officially off antibiotics! We will continue to monitor the healing process.

3.25.22

Due to showing limited use of right front flipper, Brussels had recheck xrays completed. Unfortunately, the infection has become worse than it was a few months ago in the right shoulder joint. Originally, the infection was worse in the left front flipper than right. Brussels was restarted on oral and injectable antibiotics. We will continue to monitor her flipper use and do recheck xrays in a few weeks.

5.13.22

Brussels went for a recheck CT. She will stay on antibiotics. We will continue to monitor her range of motion of her front flippers, but overall there is improvement!

5.30.22

Brussels had a quick surgery to address pap tumor regrowth. Brussels recovered well day of procedure and is eating all and swimming well!

6.24.22

Brussels is off medications! Our plan for the next few weeks is to monitor her flipper usage and recheck xrays while she is off medications.

7.14.22

Brussels recheck xrays looked great!

8.10.22

Brussels was successfully released at Gamble Rogers Memorial State Park in Flagler County!
---
All marine turtle footage taken in Florida was obtained with the approval of the U.S. Fish and Wildlife Service and the Florida Fish and Wildlife Conservation Commission (FWC) under conditions not harmful to marine turtles. Footage was acquired while conducting authorized conservation activities pursuant to FWC MTP-21/22-172A.