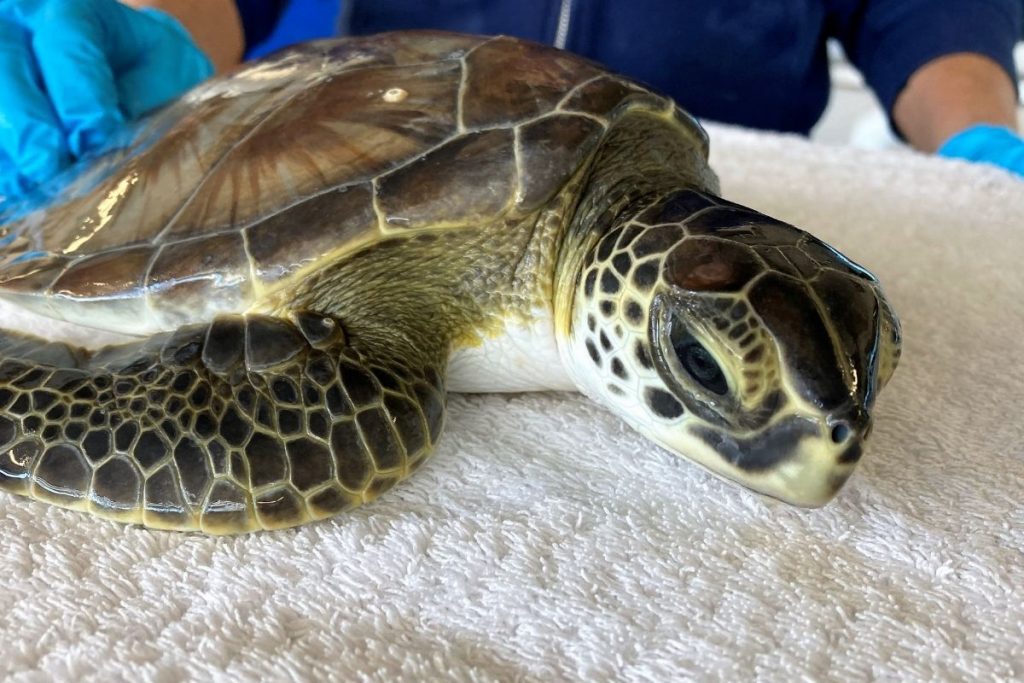 Wilson
Juvenile, green
(Chelonia mydas)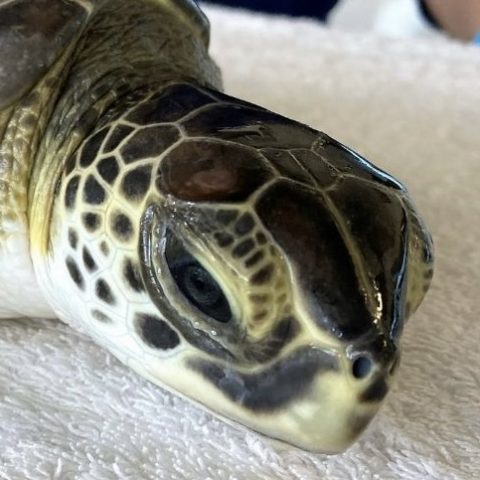 Patient Status

Released – March 9, 2022

Date Found

January 30, 2022
Location

Caladesi Island; Pinellas County
Reason for Rescue

Washed ashore; cold body temperature
Initial Assessment
Weight

1.24 kg (2.7 lbs)

SCL (Straight Carapace Length)

21.7 cm

Exam Findings

Cold body temperature, lethargic, thin

Initial Treatment

Vitamin injections, antibiotics, and fluids
Wilson's Story
Wilson is a juvenile green sea turtle who was found washed ashore at Caladesi Island on January 30th with a cold body temperature. Pinellas County experienced a cold front that weekend, which can lead to an increase in strandings. Sea turtles are cold-blooded and rely on the environment to regulate their body temperature. Wilson was thin and lethargic on examination. Over the next few days, we monitored Wilson's body temperature as we gradually warmed him back up to normal temperature levels. Wilson is also one of the smallest patients CMA has seen in several months!
INTERESTING FACT: Naming theme: Sitcom Characters (Home Improvement)
Treatment Updates
2.1.22

Wilson was swim tested for the first time. Due to his lethargy, he was placed in a shallow kiddie pool to help him achieve good breaths. We will slowly increase his swim time as he improves. Radiographs taken show that Wilson could also be battling pneumonia.

2.5.22

Wilson is able to be in a shallow kiddie pool all day! We are continuing to monitor his appetite.

2.7.22

Wilson has not been showing interest in food. Our team has started tube feeding Wilson to help him gain weight and to provide appropriate nutrition needed to help him improve.

2.23.22

Wilson has been eating on his own for several days! He is also now able to be in deep water all day and overnight!

3.2.22

Wilson has gained weight and is continuing to improve and do well! He has received a clean bill of health from our staff veterinarian.

3.9.22

Wilson was successfully released at Honeymoon Island!
---
All marine turtle footage taken in Florida was obtained with the approval of the U.S. Fish and Wildlife Service and the Florida Fish and Wildlife Conservation Commission (FWC) under conditions not harmful to marine turtles. Footage was acquired while conducting authorized conservation activities pursuant to FWC MTP-21/22-172A.