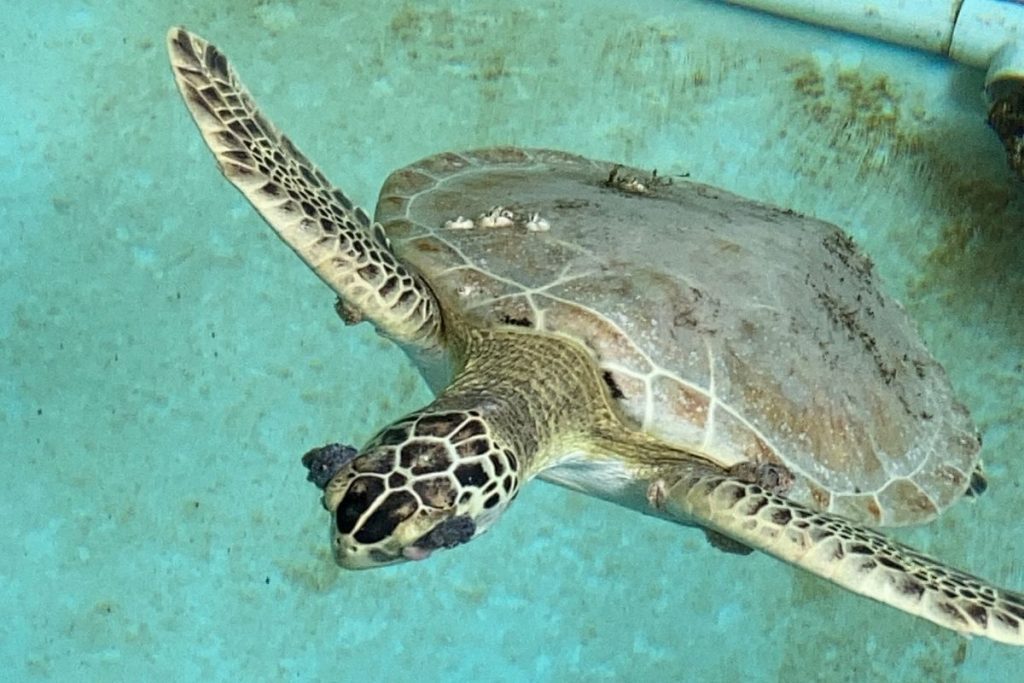 Carbonara
Juvenile, green
(Chelonia mydas)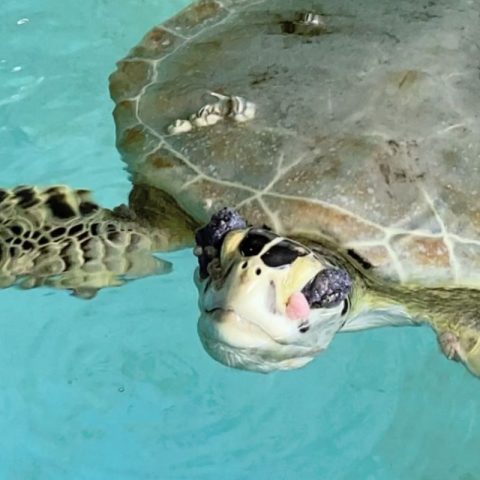 Patient Status

Released

Date Found

February 19, 2022
Location

Clearwater Beach; Pinellas County
Reason for Rescue

Incidental capture; eye tumors
Initial Assessment
Weight

5.38 kg (11.8 lbs)

SCL (Straight Carapace Length)

36.5 cm

Exam Findings

Active, good body condition, large tumors on both eyes

Initial Treatment

Vitamin injections and fluids
Carbonara's Story
Carbonara is a juvenile green sea turtle who was accidentally captured in a fishing net near Clearwater Beach on Feb. 19th. Carbonara does have large fibropapilloma tumors on both eyes but is otherwise in good condition based on intake examination. Our team is hopeful to have Carbonara ready for surgery soon to remove eye tumors!
INTERESTING FACT: Naming theme: Sauces
Treatment Updates
2.20.22

Carbonara was swim tested for the first time. He was very active and is able to dive down. He is not exhibiting any floating behaviors.

2.25.22

Carbonara went for a CT scan, no internal tumors were seen! Doing well in deep water daily! He is able to be in water all day and overnight and starting to show interest in food.

3.4.22

Carbonara is continuing to eat well and will be ready for surgery soon!

3.11.22

Carbonara successfully had all fibropapilloma tumors removed and is recovering well! Over the next few weeks we will be monitoring the surgical sites for healing and regrowth. Carbonara was also placed on medicated eye drops to help the eyes heal properly following surgery.

3.25.22

Carbonara is healing great post surgery!

4.18.22

Carbonara was started on oral antibiotics based on recent labwork.

5.31.22

Carbonara is off medications!

6.11.22

Carbonara was started back on antibiotics based on recent labwork.

7.14.22

Carbonara underwent a quick pap removal surgery to address regrowth.

8.18.22

Carbonara was successfully released at Honeymoon Island!
---
All marine turtle footage taken in Florida was obtained with the approval of the U.S. Fish and Wildlife Service and the Florida Fish and Wildlife Conservation Commission (FWC) under conditions not harmful to marine turtles. Footage was acquired while conducting authorized conservation activities pursuant to FWC MTP-21/22-172A.