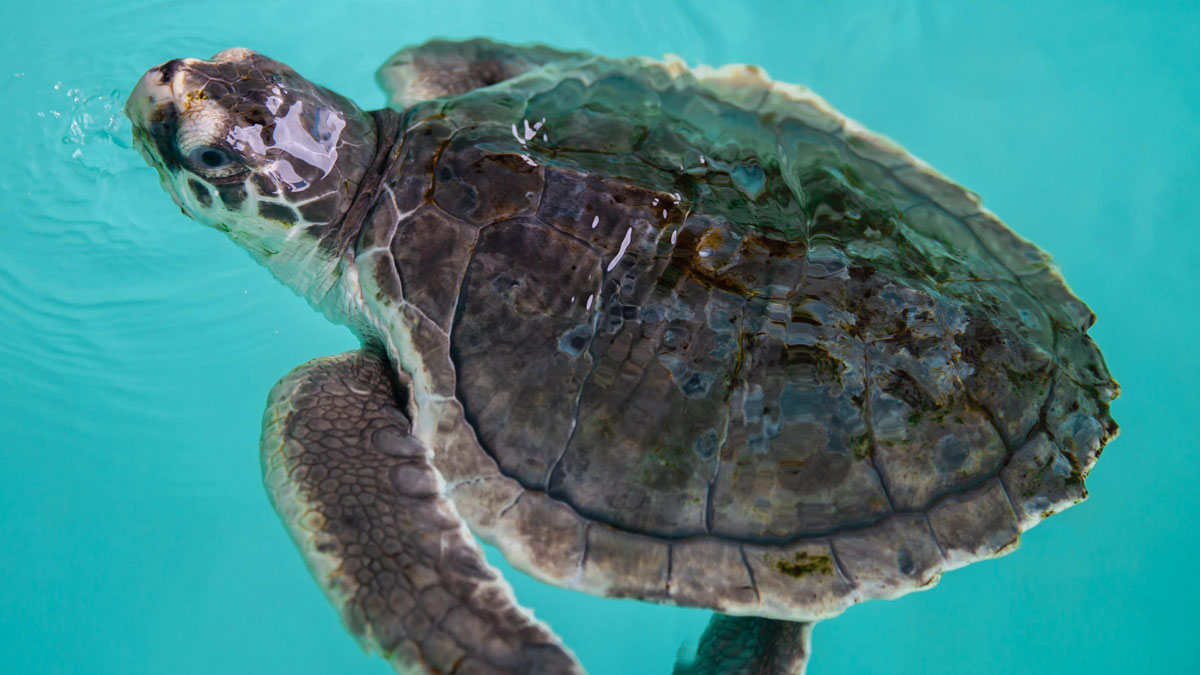 CLAUS
Juvenile, Kemp's ridley
(Lepidochelys kempii)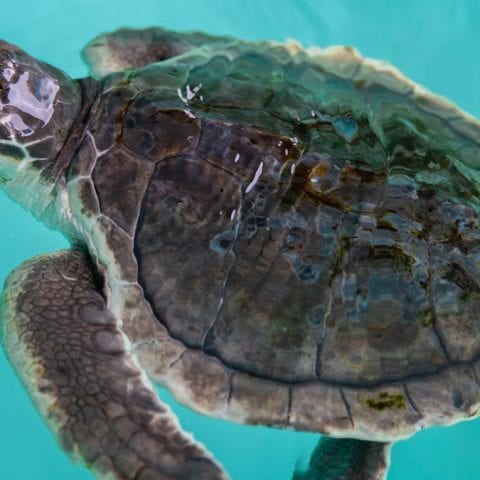 Patient Status

Released on December 13, 2018

Date Found

November 27, 2017 (Arrived at CMA on December 8)

Location Found

Truro, Massachusetts

Reason for Rescue

Transfer from New England Aquarium; cold stun; pneumonia.
---
TRIAGE
WEIGHT:

1.23 kg (2.7 lbs).

SCL (STRAIGHT CARAPACE LENGTH):

21.4 cm (8.43 in).

EXAM FINDINGS:

Responsive and quiet; some algae on flippers/side of the head.

INITIAL TREATMENT:

Received fluids; rested in dry dock overnight.
---
CLAUS' STORY
On November 27, 2017, a juvenile Kemp's ridley was found stranded on a beach in Truro, Massachusetts due to cold body temperature. Turtles are exothermic — they rely on their outside environment to regulate their internal body temperature. The turtle was taken to New England Aquarium's rehab facility and was later transferred, along with 11 other rescued Kemp's ridleys, to receive treatment at Clearwater Marine Aquarium. The vet team was concerned with Claus' long-term prognosis, as she exhibited mild respiratory issues, and had trouble eating and swimming. After persistent care and rehabilitation, Claus is doing great, eating on her own, and continuing to recuperate from this winter's cold snap.
FUN FACT: Claus was originally identified as "#149" and later named in honor of Santa Claus after arriving via airplane during the holiday season with 11 other "reindeer" sea turtles from New England.
---
TREATMENT UPDATES:
3.12.18

Discontinued tube feeding.

4.26.18

Received physical therapy to increase use of front flippers.
---
All marine turtle footage taken in Florida was obtained with the approval of the U.S. Fish and Wildlife Service and the Florida Fish and Wildlife Conservation Commission (FWC) under conditions not harmful to marine turtles. Footage was acquired while conducting authorized conservation activities pursuant to FWC MTP-18-172.