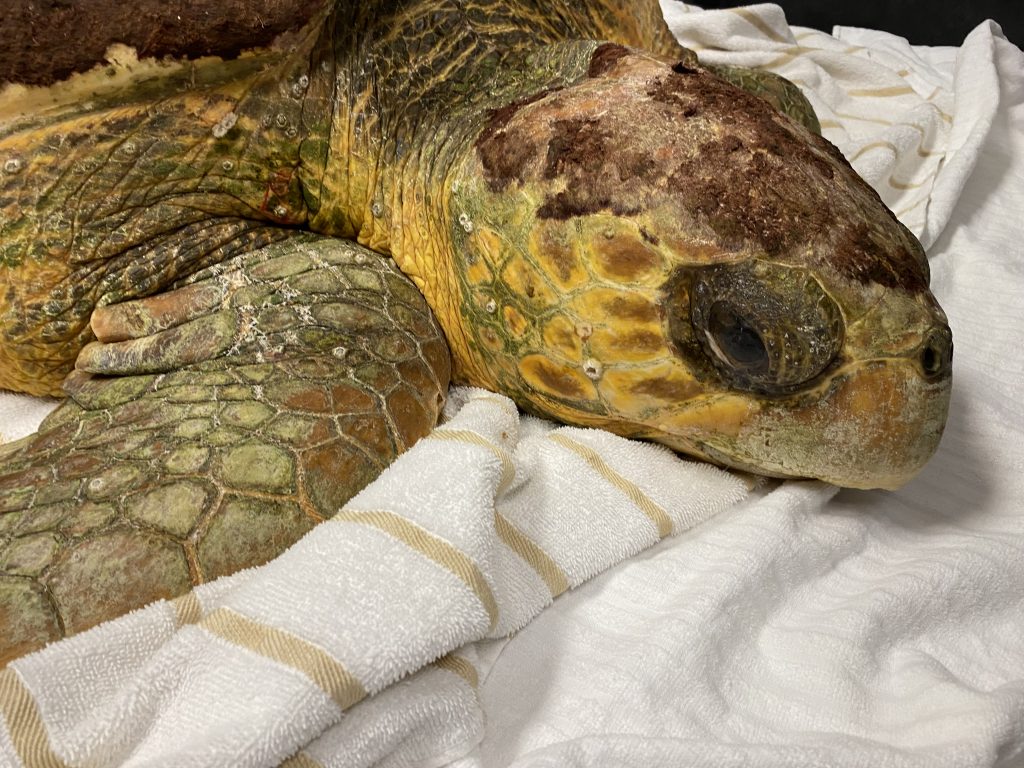 Dhebra
Loggerhead, Adult
(Caretta caretta)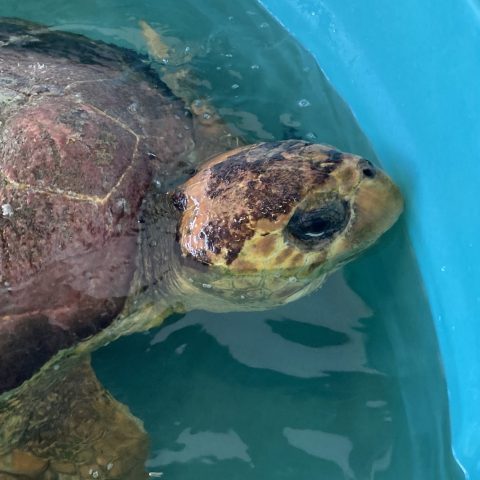 Patient Status

Current

Date Found

May 6, 2023
Location

Offshore Fort De Soto and Skyway Bridge; Hillsborough County
Reason for Rescue

Floating, Lethargy
Initial Assessment
Weight

90.8 kg (199.8 lbs)

SCL (Straight Carapace Length)

90.2 cm

Exam Findings

Quiet but responsive. Thin body condition. Moderate amount of epibiota present on carapace.

Initial Treatment

Vitamins, fluids, and antibiotics.
Dhebra's Story
Dhebra is an adult, female loggerhead who was found floating offshore near Fort De Soto and the Skyway Bridge on May 6th and was rescued by the Coast Guard. It is nesting season during this time of year, adult loggerheads are more common in the nearshore waters. Dhebra exhibited lethargic behaviors on intake examination and has a thin body condition. There is a moderate amount of epibiota on her carapace which could mean she has been floating for an extended period of time. Dhebra's initial treatment plan consists of vitamins, fluids, antibiotics, and testing for possible red tide exposure.
INTERESTING FACT: Naming theme: Bread.
Treatment Updates
5.7.23

Dhebra's first swim test does show floating and listing behaviors. The ICU pool water level was drained halfway to help her achieve better breaths. We will gradually increase her swim time and the water level of her ICU pool as she improves. Radiographs reveal possible gastrointestinal issues that could be the cause of her buoyancy.

5.9.23

Dhebra is starting to show interest in food! She is able to be in our ICU pool, filled halfway, all day!

5.17.23

Dhebra's water level has been increased to full in the ICU pool. Dhebra has also started on a diet! Dhebra has defecated stool the last two days that is consistent with what was seen on radiographs.

5.20.23

Labwork results came back that confirm Dhebra does NOT have brevetoxin in her system. She is not a red tide case. Dhebra has not been showing any neurological behaviors associated with red tide either compared to our previous loggerhead patient, Shenandoah.

5.30.23

Dhebra has been moved to a bigger, deeper pool with the water level drained halfway. The level is similar to the ICU pool at full level. She is continuing to eat well and defecate, however, she is still listing and favoring one side over the other. Recheck radiographs were performed today.
---
All marine turtle footage taken in Florida was obtained with the approval of the U.S. Fish and Wildlife Service and the Florida Fish and Wildlife Conservation Commission (FWC) under conditions not harmful to marine turtles. Footage was acquired while conducting authorized conservation activities pursuant to FWC MTP-23/24-172.