EQUINOX
Juvenile, Green
(Chelonia mydas)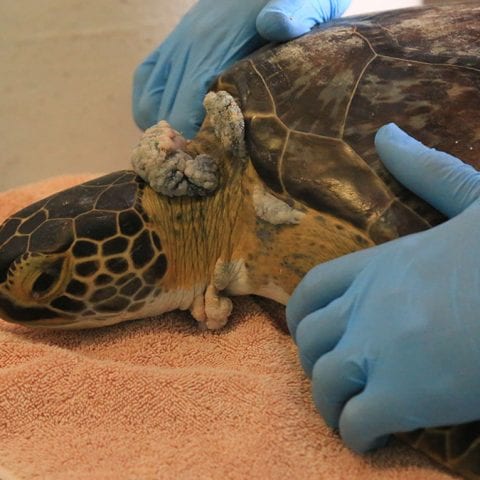 Patient Status

Current

Date Found

January 5, 2018

Location Found

Sea wall off Clearwater Marine Aquarium

Reason for Rescue

Found floating off sea wall at Clearwater Marine Aquarium.
---
TRIAGE
WEIGHT:

4.2 kg (9.24 lbs)

SCL (STRAIGHT CARAPACE LENGTH):

32.1 cm (12.64 in)

EXAM FINDINGS:

Old boat strike wounds along carapace and plastron; epibiota covering most of the carapace; alert and active; paps located in all quadrants varying in size.

INITIAL TREATMENT:

Received fluids, pain medication, and vitamins.
---
EQUINOX'S STORY
On January 5, 2018, a juvenile green sea turtle was found floating off the sea wall at Clearwater Marine Aquarium. Upon retrieval and initial examination, it appeared the sea turtle had several healing boat strike wounds along with tumors of varying sizes located in all quadrants. The tumors were caused by the fibropapilloma virus — a herpes-like virus that causes cauliflower-like tumors to invade the exterior and interior of a sea turtle's body. Equinox later received surgery to remove the extensive tumors and has been getting prepped for release.
Naming Theme

Celestial
---
TREATMENT UPDATES:
---
All marine turtle footage taken in Florida was obtained with the approval of the U.S. Fish and Wildlife Service and the Florida Fish and Wildlife Conservation Commission (FWC) under conditions not harmful to marine turtles. Footage was acquired while conducting authorized conservation activities pursuant to FWC MTP-18-172.