Special Visit During Limb Loss Awareness Month
Two amputees inspired by Winter the dolphin met their hero at Clearwater Marine Aquarium on Wed., April 11, during Limb Loss Awareness Month.
David Dunville (56) and Ashley Pickerell (26) met through Amputee Coalition, a leading organization on limb loss. Dunville serves as President of the Amputee Firefighter Association, an Amputee Support Coordinator and a mentor for new amputees.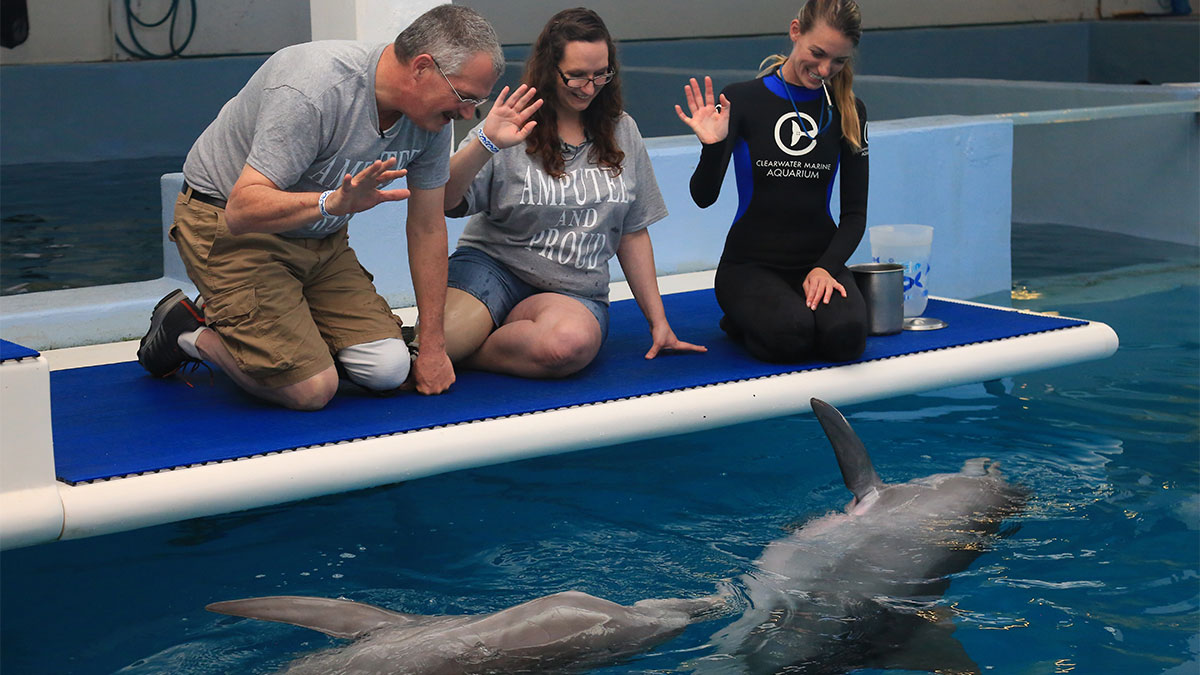 Dunville began mentoring Pickerell after her leg was amputated above the knee four years ago. Dunville himself is an above the knee amputee. He was a firefighter for nearly four years until an accident in the fire station in 1999 that eventually led to the amputation of his lower left leg in 2003.
Winter's Story of Survival Without Her Tail Inspires Amputees
Dunville uses the Dolphin Tale movies to motivate new amputees. Pickerell was so inspired by Winter's story of survival after losing her tail, it became her dream to meet her. But Pickerell was unable to afford a trip, until now. Dunville reached out to Clearwater Marine Aquarium about her story, and the aquarium worked with Allegiant Air to make her dream a reality.
Allegiant Air, Clearwater Marine Aquarium's official U.S. airline partner, flew in Dunville and Pickerell from Flint, Michigan for the trip of a lifetime. They met Winter and Hope on the platform wearing "Amputee and Proud" t-shirts.