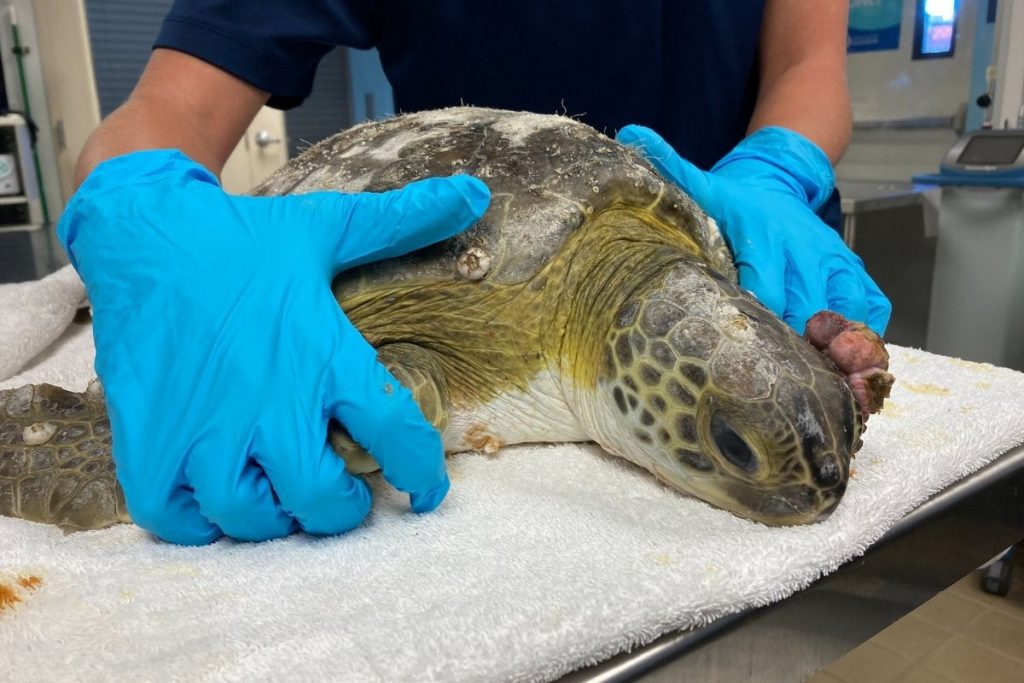 Garlic
Juvenile, green
(Chelonia mydas)
Patient Status

Released

Date Found

March 1, 2022
Location

Daytona Beach; Volusia County
Reason for Rescue

Washed ashore
Initial Assessment
Weight

7.45 kg (16.4 lbs)

SCL (Straight Carapace Length)

42.0 cm

Exam Findings

Large fibropapilloma tumor obstructing left eye

Initial Treatment

Vitamin injections, antibiotics, and fluids
Garlic's Story
Garlic is a juvenile green sea turtle that was found washed ashore on Daytona Beach on March 1st in Volusia County. Garlic was transferred to CMA from Volusia County on March 2nd as we are able to care for patients with fibropapilloma tumors (pap tumors). Garlic appeared lethargic on examination and has a severe fibropapilloma on the left eye. Garlic's initial treatment consists of antibiotics and fluids.
INTERESTING FACT: Naming theme: Sauces
Treatment Updates
3.4.22

Garlic is doing well in water. He was initially placed in a shallow kiddie pool due to her lethargy to help him achieve good breaths. We are slowly increasing swim time as he improves.

3.10.22

Garlic went for a routine CT scan, no obvious internal tumors seen! Garlic is also not showing interest in food. Our team will start tube feeding Garlic to help him gain weight and to provide appropriate nutrition needed to help him improve.

3.18.22

Garlic is started to show some interest in food!

3.24.22

Garlic had a routine exam performed. He is continuing to eat well and is gaining weight! We are hopeful he will be ready for surgery soon.

4.8.22

Garlic successfully had the large fibropapilloma tumor removed from the left eye. To our surprise, the tumor had not infiltrated the eye and the eye did not need to be removed! Over the next few weeks, we will monitor his eye for healing.

4.25.22

Garlic was started on oral antibiotics based on recent labwork.

5.13.22

Garlic went for a recheck CT to check for signs of disease progression. Unfortunately, there is significant new growth on Garlic's left eye which will need to be addressed with another surgery, but there are no signs of obvious internal tumors!

6.9.22

Garlic underwent a 2nd pap removal surgery to address his eye tumor and remaining skin tumors. Garlic is recovering well! Our veterinarian was able to salvage the left eye!

6.24.22

Garlic is continuing to do well and we are seeing no issues. He was started on oral antibiotics.

7.19.22

Garlic is off antibiotics!

8.10.22

Garlic was successfully released at Gamble Rogers Memorial State Park in Flagler County!
---
All marine turtle footage taken in Florida was obtained with the approval of the U.S. Fish and Wildlife Service and the Florida Fish and Wildlife Conservation Commission (FWC) under conditions not harmful to marine turtles. Footage was acquired while conducting authorized conservation activities pursuant to FWC MTP-21/22-172A.