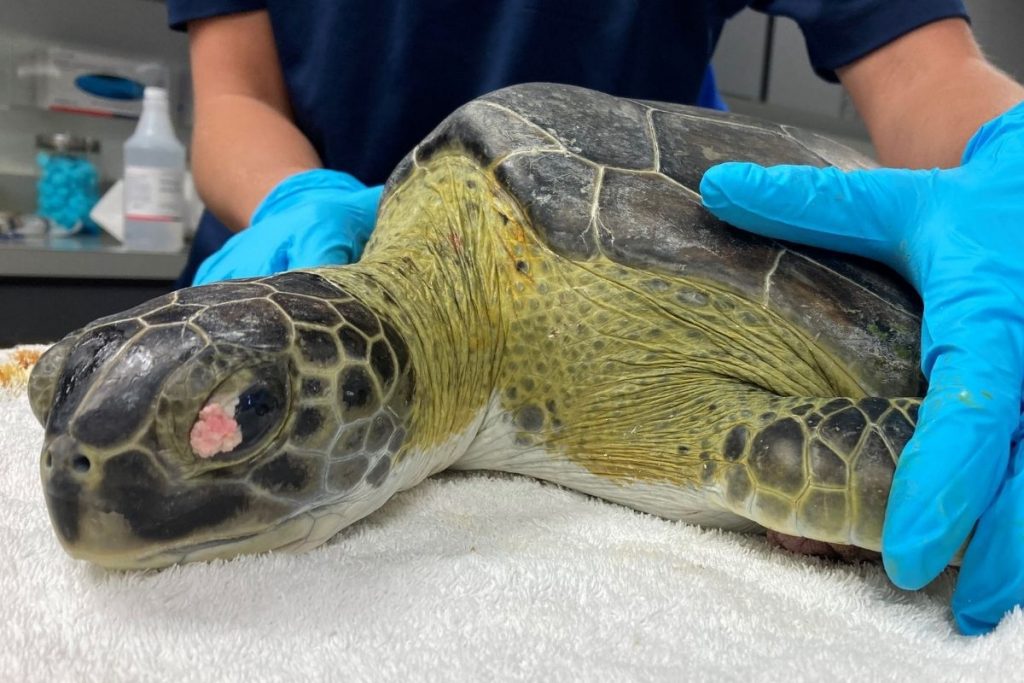 Lucky 31
Juvenile, green
(Chelonia mydas)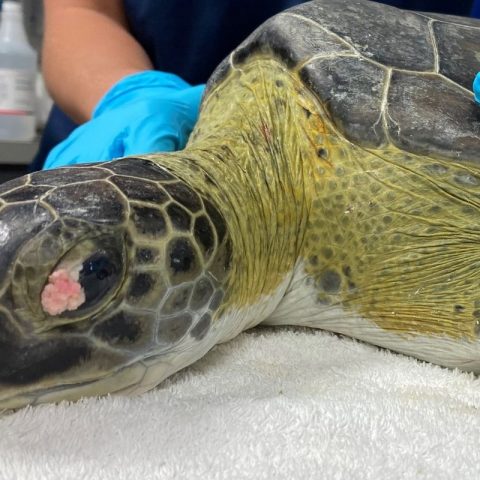 Patient Status

Released June 23, 2022

Date Found

February 24, 2022
Location

Brevard County
Reason for Rescue

Washed ashore
Initial Assessment
Weight

7.14 kg (15.7 lbs)

SCL (Straight Carapace Length)

38.7 cm

Exam Findings

Active. Good body condition. Fibropapilloma tumors on eyes.

Initial Treatment

Fluids
Lucky's Story
Lucky is a juvenile green sea turtle who was found washed ashore in Brevard County on Feb. 24th. Lucky was transferred to CMA on March 2nd from Brevard Zoo to help free up space for more local strandings. Lucky has fibropapilloma tumors on both eyes and several tumors on other areas of his body. We are hopeful that Lucky will be ready for surgery soon!
INTERESTING FACT: Named previously by Brevard Zoo
Treatment Updates
3.5.22

Lucky is able to be in deep water all day and overnight! He is able to rest on the bottom of his pool. He is showing interest in food!

3.9.22

Lucky is continuing to eat well!

3.25.22

Lucky had a routine exam performed. He is continuing to do well and will hopefully be ready for surgery soon!

4.8.22

Lucky successfully had all fibropapilloma tumors surgically removed and is recovering well! He is already eating and doing well in water day after surgery! Over the next few weeks we will monitor those surgical sites for healing and tumor regrowth.

5.13.22

Lucky is continuing to do well post surgery. We are hopeful for a release in the near future.

5.30.22

Lucky had a quick surgery to address pap tumor regrowth. Lucky recovered well day of procedure and is eating all and swimming well!

6.23.22

Lucky 31 was released on the East Coast of Florida!
Learn more about Lucky 31's release.
---
All marine turtle footage taken in Florida was obtained with the approval of the U.S. Fish and Wildlife Service and the Florida Fish and Wildlife Conservation Commission (FWC) under conditions not harmful to marine turtles. Footage was acquired while conducting authorized conservation activities pursuant to FWC MTP-21/22-172A.