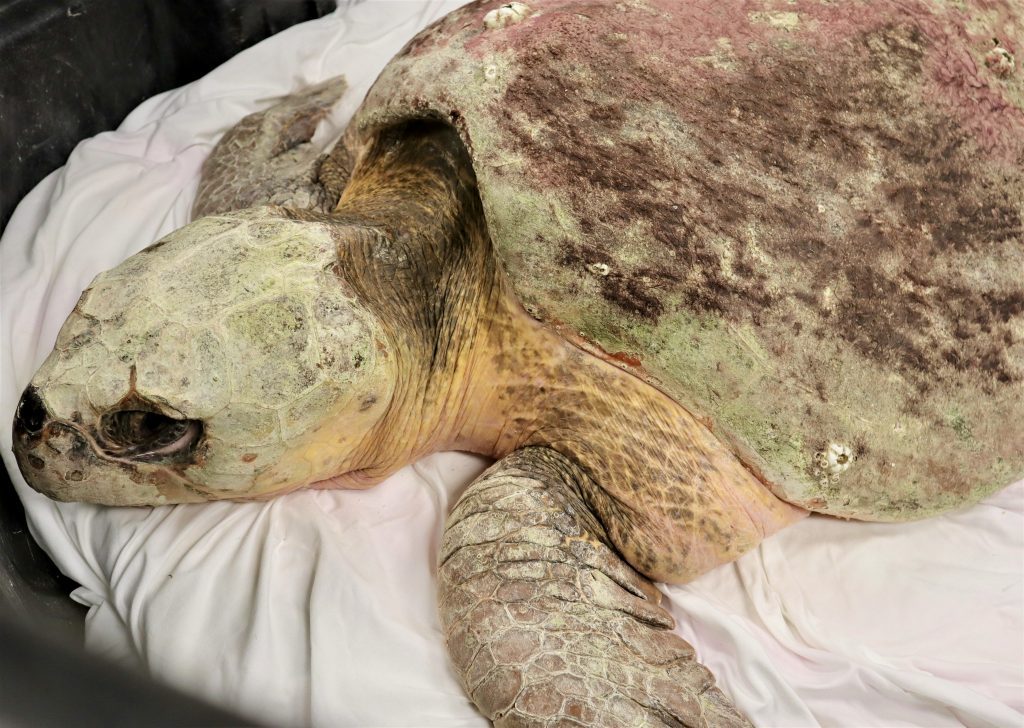 Ginger
Adult, loggerhead
(Caretta caretta)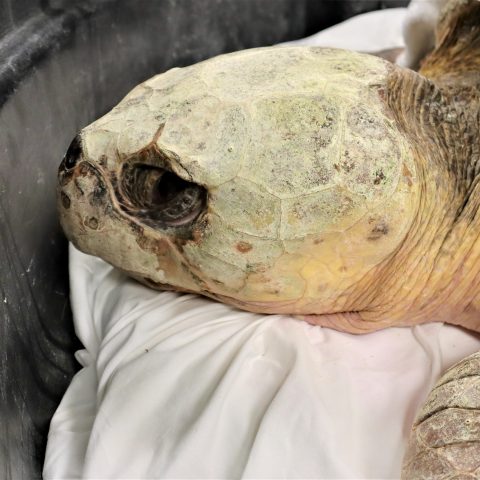 Patient Status

Former

Date Found

September 4, 2021
Location

Three Rooker Island; Pinellas County
Reason for Rescue

Found floating sideways
Initial Assessment
Weight

93.7 kg (206 lbs)

SCL (Straight Carapace Length)

94.3 cm

Exam Findings

Good body condition; alert and responsive. Mild coverage of epibiota (algae and barnacles) on carapace (shell).

Initial Treatment

Received vitamins, antibiotics & fluids.
Ginger's Story
Ginger is an adult, female loggerhead who was found floating sideways and had issues diving near Three Rooker Island on September 4, 2021. Ginger also has a partial amputation to her left rear flipper, but that area is completely healed and unrelated to her stranding. Radiographs confirm that Ginger has pneumonia which is likely the cause of her floating issue. Ginger's initial treatment consists of vitamin injections, fluids, and antibiotics.
INTERESTING FACT: She is a part of our Sitcom Characters naming theme. Ginger is from Gilligan's Island!
Treatment Updates
9.6.21

Ginger was swim tested for the first time in one of our shallower ICU pools to help evaluate her buoyancy condition. She was still very lethargic in water. We will retry swimming her at a later time as her condition improves.

Ginger is receiving IV nutrition daily as she is being "dry docked" in our surgical suite. We are continuing to do glucose checks daily and giving fluids as needed.

9.21.21

Ginger was able to be in shallow water for 75 minutes! We are slowly increasing her swim time and monitoring her behaviors in water.

9.25.21

Our team is saddened to announce that Ginger died on her own overnight. Her condition declined over the last few days and despite exhaustive efforts by our veterinary and rehab team, she died on her own.

A necropsy will be perfomed to help determine possible cause of death and to learn about her case.
---
All marine turtle footage taken in Florida was obtained with the approval of the U.S. Fish and Wildlife Service and the Florida Fish and Wildlife Conservation Commission (FWC) under conditions not harmful to marine turtles. Footage was acquired while conducting authorized conservation activities pursuant to FWC MTP-19-172.