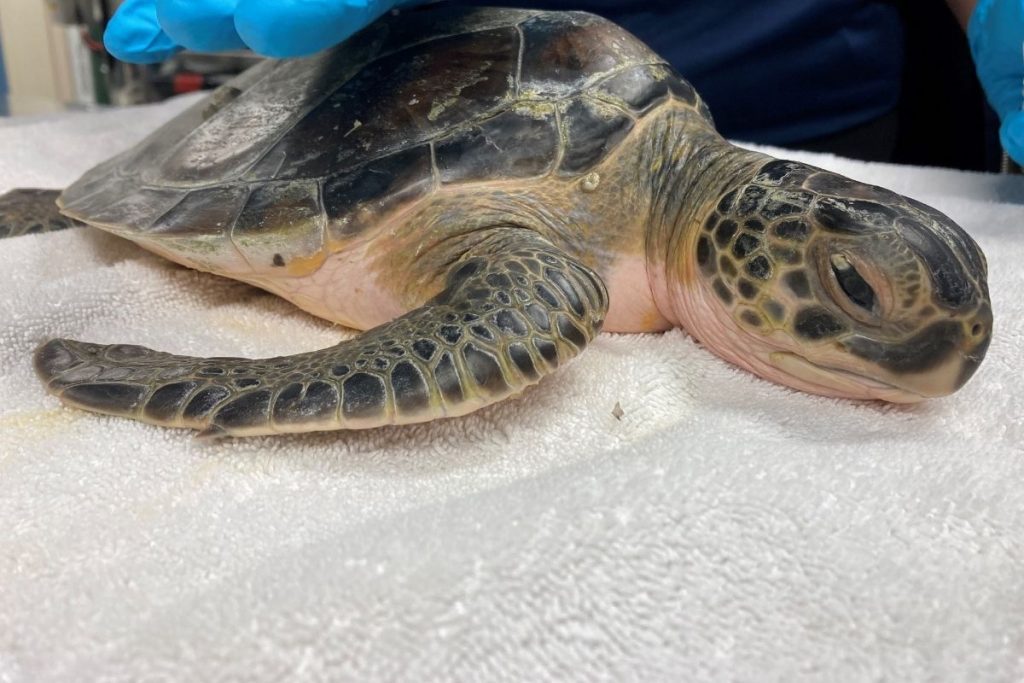 Italian
Juvenile, green
(Chelonia mydas)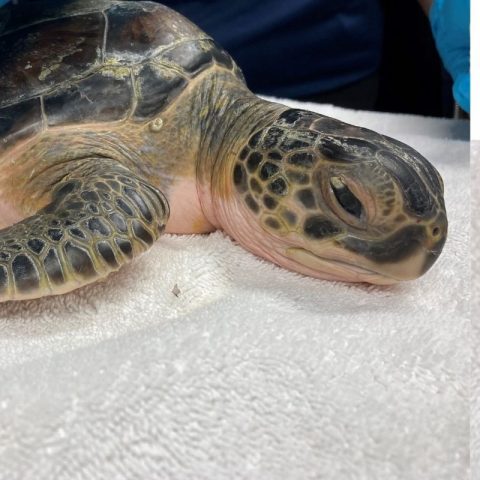 Patient Status

Current

Date Found

March 21, 2022
Location

Island Estates; Pinellas County
Reason for Rescue

Floating
Initial Assessment
Weight

1.81 kg (3.9 lbs)

SCL (Straight Carapace Length)

24.7 cm

Exam Findings

Lethargic. Severe redness and swelling of skin.

Initial Treatment

Vitamin injections, antihistamine, steroids, antibiotics, and fluids.
Italian's Story
Italian is a juvenile green sea turtle who was found floating near Island Estates in Clearwater on March 21. Italian presented with severe redness and swelling of the skin at the examination. The cause is unknown. Italian's initial treatment consists of fluids, vitamin injections, antibiotics, an antihistamine, and steroid injections.
INTERESTING FACT: Naming theme: Sauces
Treatment Updates
3.24.22

Italian's skin has improved! He is doing well in water so far and was placed in a shallow kiddie pool due to lethargy. We will slowing increasing his swim time as he improves. We offered food for this first time, and Italian is already showing interest in food!

3.25.22

Italian went for a routine CT scan, and there were no obvious abnormalities!

3.29.22

Italian is continuing to eat well and has been started on a diet! He is able to be in water all day and overnight. We will slowly start acclimating him in to deeper water.

4.2.22

Italian is able to be in deep water all day and overnight!

4.8.22

We are currently monitoring Italian's appetite as it has decreased in the last few days. There will be more diagnostics to follow. Italian was given an iron injection, fluids, and started back on injectable antibiotics based on lab work. He is continuing to be alert in water.

4.12.22

Based on Italian's labwork, Italian was in need for a blood transfusion to address his severe anemia. Our fellow non-releasable turtle, Tortellini, was a match for a blood donor! Italian has undergone two blood transfusions in the last few days. Due to Italian's inappetence, we are also tube feeding him to help give him the proper nutrition he needs to improve. This little turtle is a fighter! We theorize that whatever Italian was exposed to that caused the initial skin redness is now causing issues internally.

4.16.22

We are deeply saddened to say that Italian passed away on his own. Italian underwent 3 blood transfusions this week to treat his severe anemia, but he unfortunately succumed to his illness despite our exhaustive efforts. A necropsy will be completed to help learn more about his case.
---
All marine turtle footage taken in Florida was obtained with the approval of the U.S. Fish and Wildlife Service and the Florida Fish and Wildlife Conservation Commission (FWC) under conditions not harmful to marine turtles. Footage was acquired while conducting authorized conservation activities pursuant to FWC MTP-21/22-172A.