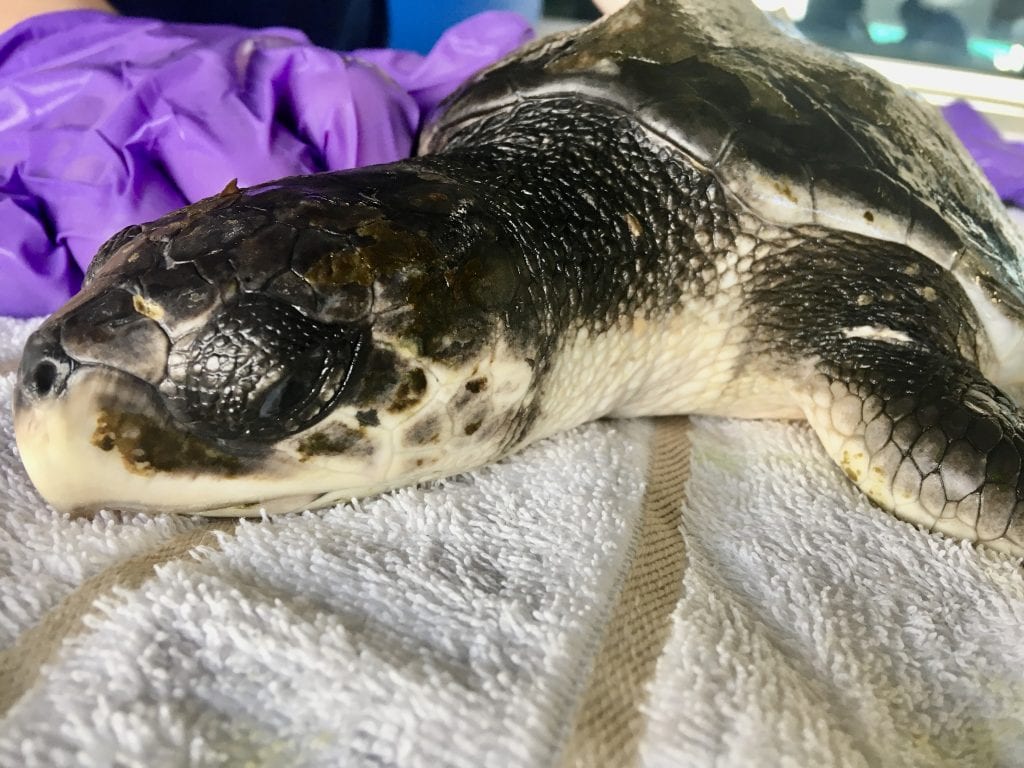 #173
Juvenile, Kemp's ridley
(Lepidochelys kempii)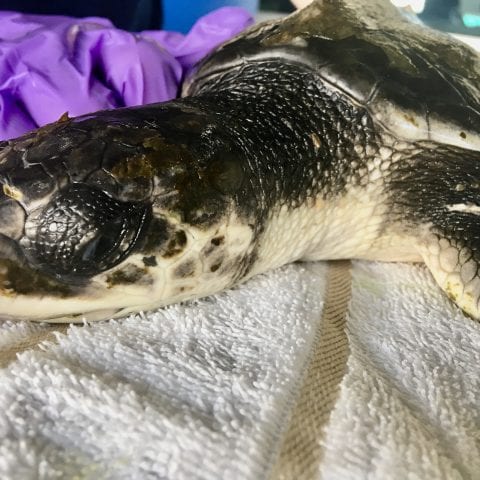 Patient Status

Released February 3, 2021

Transfer Date

November 21, 2020
Location

Cape Cod, Massachusetts
Reason for Rescue

Cold-stunned.
Initial Assessment
Weight

2.6 kg (1.195 lbs)

SCL (Straight Carapace Length)

19.7 cm

Exam Findings

Lethargic but responsive.

Initial Treatment

Received vitamins, antibiotics & fluids.
173's Story
#173 is a juvenile, Kemp's ridley who was part of a recent cold-stun event in Cape Cod,Massachusetts. She originally stranded on November 18 and was transferred to CMA on November 21 along with seven other Kemp's ridleys. Upon arrival to CMA, she was very lethargic and also had mild skin inflammation. X-rays were also performed and showed that she has developed pneumonia. Her initial treatment includes, vitamin injections, antibiotics, and fluids.
Interesting Fact: #173's name comes from New England Aquarium. Her number was assigned to her at intake. She was the 173rd sea turtle stranded in the cold-stun event.

Treatment Updates
11.23.20

#173 was placed in water for a few hours for a swim test. Due to her lethargy, she was placed in a kiddie pool to help her achieve good breaths. We will continue to increase her swim time as she improves!

We are continuing to do glucose checks and giving fluids if needed.

12.1.20

A recheck exam was performed and bloodwork was sent off to the lab. #173 has not showed interest in food and has lost weight. Due to this, we have started tube feeding to help her gain weight and to provide appropriate nutrition needed to help her improve.

12.4.20

#173 has started eating on her own! This is very exciting and encouraging! She will be started on a diet.

We are continuing to increase her deep water swim time outside of her kiddie pool.

12.16.20

#173 is continuing to eat well and is improving!

Started was started on oral medications.

12.28.20

Recheck exam and X-rays were completed. Continuing to do well and improve.

1.19.21

#173 was taken off antibiotics and is continuing to do well!

2.3.21

#173 received a clean bill of health from our veterinarian and was cleared for release by FWC. #173 was released on the east coast of Florida!
---
All marine turtle footage taken in Florida was obtained with the approval of the U.S. Fish and Wildlife Service and the Florida Fish and Wildlife Conservation Commission (FWC) under conditions not harmful to marine turtles. Footage was acquired while conducting authorized conservation activities pursuant to FWC MTP-19-172.