Kemp's ridleys
Juvenile, Kemp's ridley
(Lepidochelys kempii)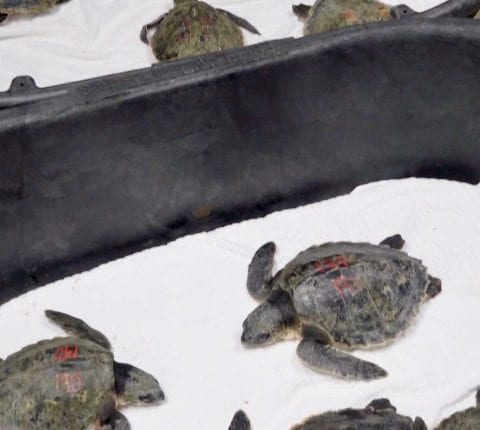 Patients' Status

Released

Transfer Date

November 21, 2020
Location

Cape Cod, Massachusetts
Reason for Rescue

Cold-stunned.
Initial Assessment
Exam Findings

Quiet but responsive.

Treatment

Vitamins, antibiotics, and fluids.
Their Story
On November 21, 2020, Clearwater Marine Aquarium received eight juvenile Kemp's ridley transfers from New England Aquarium. These turtles were part of a recent mass cold-stun event in Cape Cod, Massachusetts. This facility treats hundreds of sea turtles every year due to cold-stunning. When their facility reaches max capacity, New England Aquarium transfers their current patients to other sea turtle hospitals to make room for new intakes. Sea turtles can experience cold-stunning when water temperatures drop below 50 degrees F. This can lead to a decrease circulation, lethargy, and hypothermic conditions. These turtles can develop pneumonia as well.

Upon arrival at CMA, all eight turtles received a full workup from our vet team which included an exam, lab-work, and X-rays. One of the eight sea turtles will receive separate treatment updates as she had developed pneumonia. We will continue to monitor these turtles and hope for a quick release!
Interesting Fact: New England Aquarium does not name their cold-stun sea turtles. Instead, they write numbers on their carapace's (shells) to keep track of their patients! These numbers also correlate to the number of strandings at the time.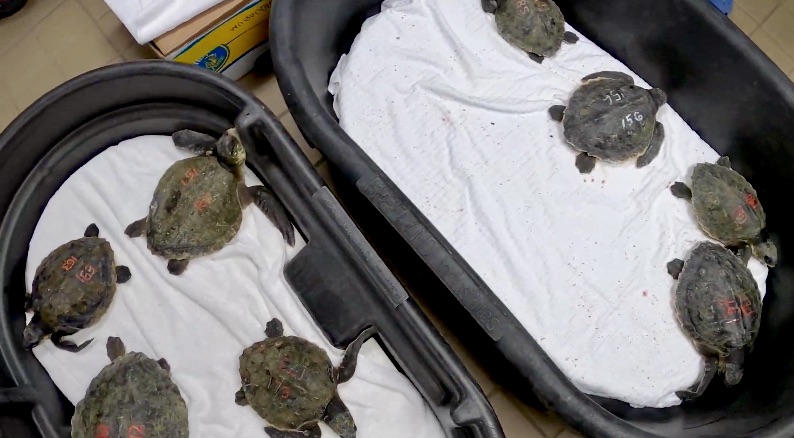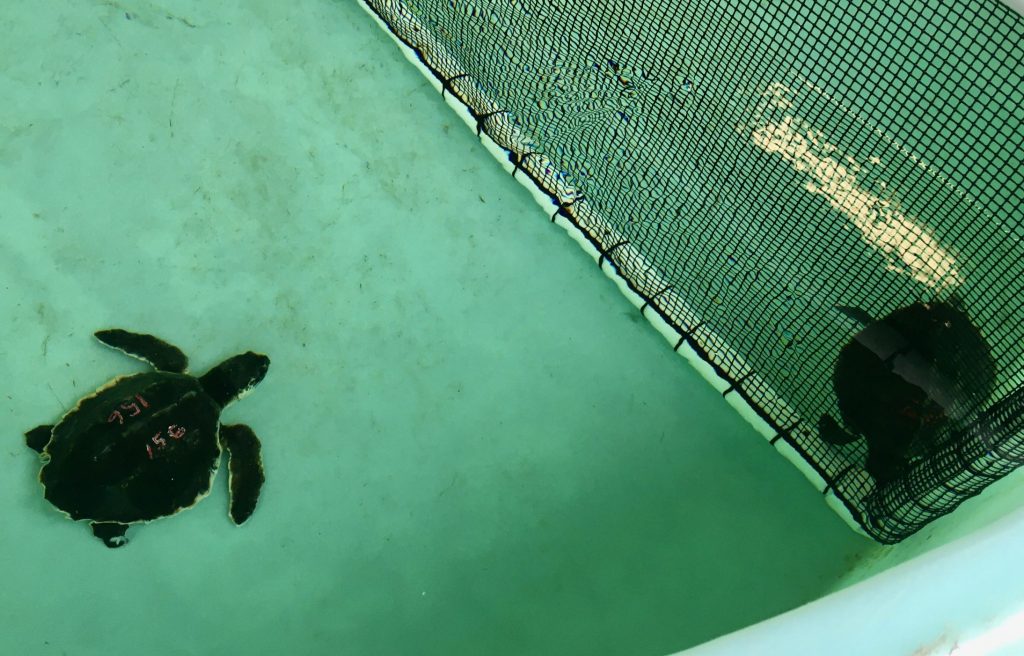 Treatment Updates
11.23.20

All turtles were placed in water for swim test for a few hours. We will continue to increase their swim time as they improve!

We are continuing to do glucose checks and giving fluids if needed.

11.26.20

All turtles are able to be in deep water all day and overnight! Several have started eating and are on diets!

12.1.20

All kemps had a routine recheck exam and bloodwork was sent off to the lab.

Seven out of the eight are on diets, and all of their diets were increased!

12.17.20

6 out of the 8 NE Kemp's ridley sea turtles that arrived on November 21 have been cleared for release by our veterinarian and Florida Fish and Wildlife. They were transported to the east coast for release!

12.28.20

Recheck exams and X-rays completed on #191 and #173. Both are continuing to improve.

1.21.21

#191 and #173 are continuing to well and improve. Both are off medications!

2.3.21

#173 was cleared for release and successfully released on the east coast of Florida!

#191 was placed back on oral medications based on recent labwork.

2.25.21

#191 received a clean bill of health and was successfully released on the east coast of Florida!
---
All marine turtle footage taken in Florida was obtained with the approval of the U.S. Fish and Wildlife Service and the Florida Fish and Wildlife Conservation Commission (FWC) under conditions not harmful to marine turtles. Footage was acquired while conducting authorized conservation activities pursuant to FWC MTP-19-172.