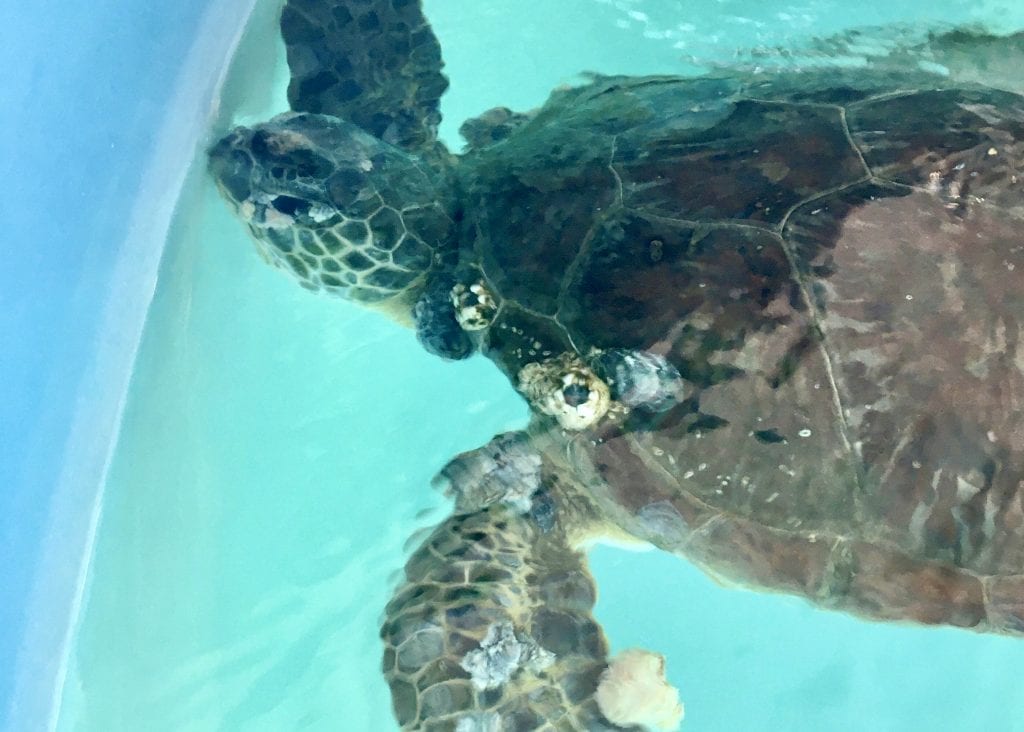 Oh Henry
Juvenile, Green
(Chelonia mydas)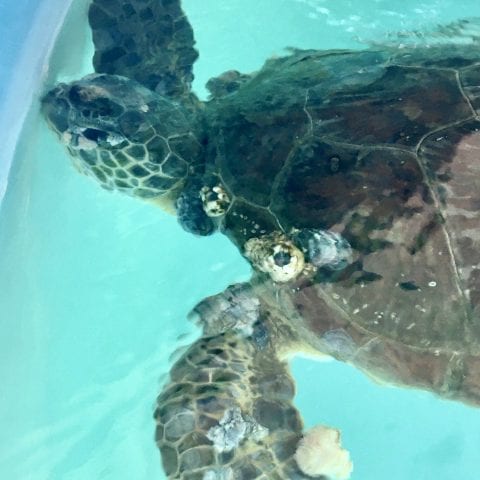 Patient Status

Current

Date Found

October 25, 2020
Location

St. Pete; Pinellas County
Reason for Rescue

Found floating and lethargic.
Initial Assessment
Weight

14.1 kg (31 lbs)

SCL (Straight Carapace Length)

50.9 cm

Exam Findings

Lethargic but responsive; thin body condition. Heavy pap tumor load.

Initial Treatment

Received vitamins, antibiotics & fluids.
Oh Henry's Story
Oh Henry is a juvenile, green sea turtle who was found floating near St. Pete on October 25, 2020. Upon intake, he was very lethargic and underweight. It was also observed that Oh Henry has a heavy fibropapilloma tumor (pap tumor) load on both eyes and all flippers. Oh Henry's treatment plan consists of fluids, vitamin injections, and antibiotics.
Treatment Updates
10.28.20

Oh Henry was swim tested for the first time in one of our ICU pools. He is still not very active so we are limiting his time in water until he becomes stronger.

We typically swim our new patients in these pools first until they are more stable for our deeper rehab pools. ICU pools are also more private and closed off from viewing due to these patients being in critical condition. We want to minimize as much stress as possible.

10.31.20

Oh Henry is able to be in a kiddie pool all day and overnight! He is starting to show interest in food and will start on a diet tomorrow!

11.3.20

Oh Henry was cleared to be moved into one of our deeper pools. We will continue to slowly increase his deep water swim time as he continues to improve and eat well!

11.9.20

Oh Henry is able to be in deep water all day and night!
---
All marine turtle footage taken in Florida was obtained with the approval of the U.S. Fish and Wildlife Service and the Florida Fish and Wildlife Conservation Commission (FWC) under conditions not harmful to marine turtles. Footage was acquired while conducting authorized conservation activities pursuant to FWC MTP-19-172.