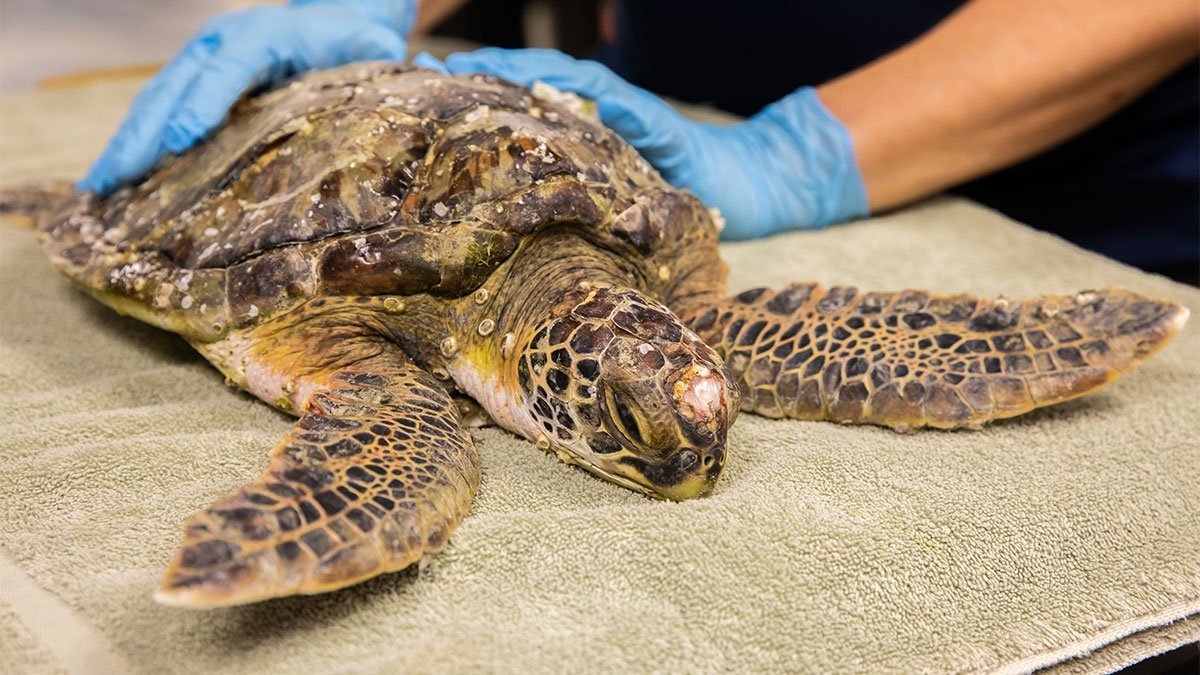 Linus
Juvenile, Green
(Chelonia mydas)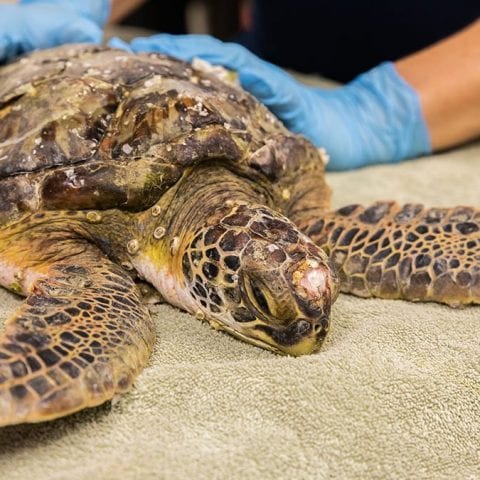 Patient Status

Current

Date Found

March 14, 2019

Location

Melbourne Beach; Brevard County

Reason for Rescue

Found washed ashore on the beach, very lethargic.
Triage
Weight

3.65 kg (8 lbs)

Exam Findings

Lethargic and thin but responsive. There are several wounds on the carapace and prefrontal scutes.

Initial Treatment

Fluids, antibiotics, and vitamin injections.
Linus' Story
Linus is a juvenile, green sea turtle who was found washed ashore on Melbourne Beach in Brevard County on March 14, 2019. Brevard Zoo was limited on space, therefore, Linus and Marge were transferred to CMA for further care on March 15. Linus had several barnacles and leeches on carapace at the time of stranding. There is also an infection that has affected Linus' carapace scutes. His initial treatment consists of fluids, antibiotics and vitamins.
NAMING THEME: Cartoons.
Treatment Updates
3.15.19

Bloodwork sent to the lab.

3.20.19

Slowly increasing swim time. Ate a small amount of a sample diet offered! Applied a topical cream to help wounds on carapace and prefrontal scutes heal.

3.21.19

Went for a CT Scan, no abnormalities noted. Continuing to do glucose checks twice a day and fluids if needed.

3.24.19

Did well in deep water swim for the first time. Able to rest on the bottom!

3.29.19

Eating well, diet was increased!

4.1.19

Defecated a piece of thread/string.

4.8.19

Continuing to monitor appetite but improving.

4.24.19

Eating well! Increasing diet.

5.17.19

Gaining weight. Wounds are healing!

5.30.19

Linus has developed minor pap tumors. He has gained more weight since last exam! Wounds are still improving.

7.9.19

Humanely euthanized due to severity of growth of pap tumors.
---
All marine turtle footage taken in Florida was obtained with the approval of the U.S. Fish and Wildlife Service and the Florida Fish and Wildlife Conservation Commission (FWC) under conditions not harmful to marine turtles. Footage was acquired while conducting authorized conservation activities pursuant to FWC MTP-18-172.