Odie
Sub-Adult, Green
(Chelonia mydas)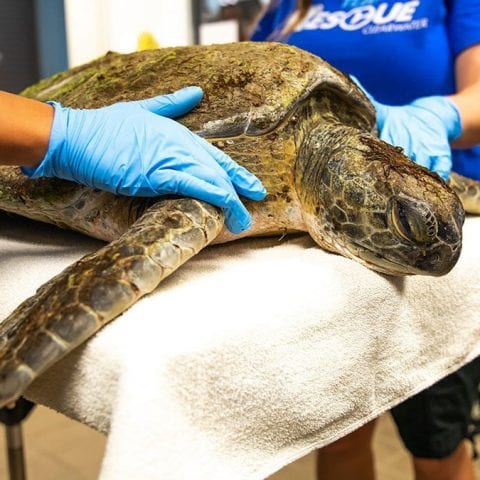 Patient Status

Current

Date Found

March 23, 2019

Location

Offshore of Pine Island; Hernando County

Reason for Rescue

Found floating
Triage
Weight

24.3 kg (53.5 lbs)

SCL (Straight Carapace Length)

61.8 cm

Exam Findings

Alert and active. Good body condition. Partially healed boat strike wound on carapace and heavy coverage of algae on carapace as well.

Initial Treatment

Fluids, antibiotics, vitamins, and anti-inflammatory medication.
Odie's Story
Odie is a sub-adult, green sea turtle who was found floating offshore of Pine Island in Hernando County on March 23. Odie has a partially healed boat strike wound on his carapace with also a heavy amount of algae. Odie's initial treatment plan consists of fluids, antibiotics, anti-inflammatory medication and vitamins.
NAMING THEME: Cartoons.
Treatment Updates
3.24.19

X-rays completed. Applied a topical cream over carapace wound to help it heal.

3.27.19

Swimming well and ate sample diet offered! Continuing to do glucose checks twice a day and giving fluids if needed.

3.29.19

Seen resting on the bottom and diet was increased!
---
All marine turtle footage taken in Florida was obtained with the approval of the U.S. Fish and Wildlife Service and the Florida Fish and Wildlife Conservation Commission (FWC) under conditions not harmful to marine turtles. Footage was acquired while conducting authorized conservation activities pursuant to FWC MTP-18-172.