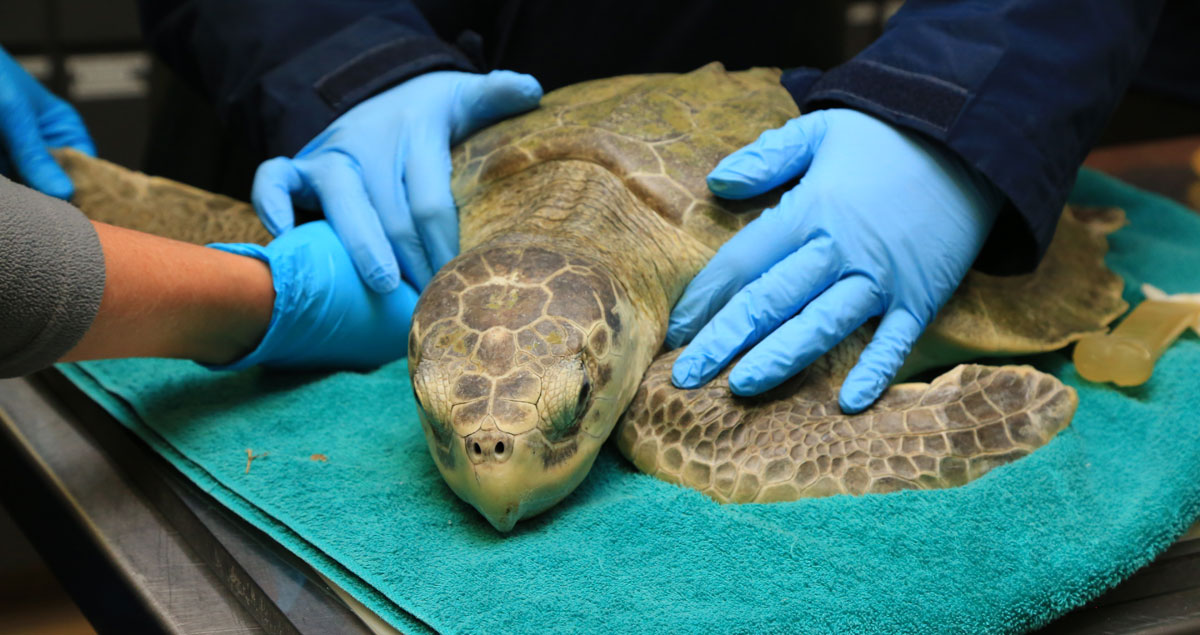 Marigold
Juvenile, Kemp's ridley
(Lepidochelys kempii)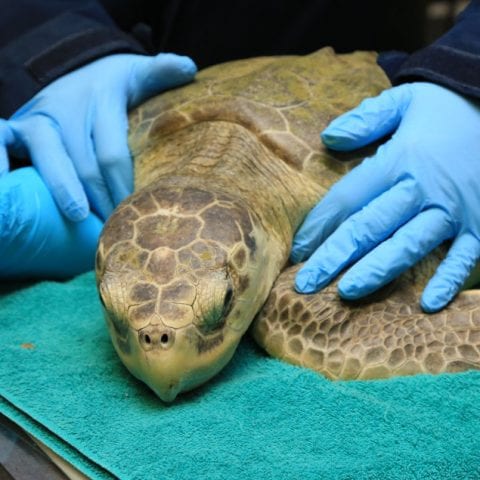 Patient Status

Released on April 17, 2018

Date Found

October 30, 2017

Location Found

Cotee River, Pasco County, FL

Reason for Rescue

Boat strike
TRIAGE:
Weight

7.8 kg (17.2 lbs)

SCL (Straight Carapace Length)

38.0 cm (15.0 in)

Exam Findings

Alert and active, in good body condition. Laceration to the carapace (shell) exposing internal soft tissue.

Initial Treatment

Received vitamins, antibiotics, pain medication, fluids, and wound care.
---
MARIGOLD'S STORY:
On October 30, 2017, a fisherman found a juvenile Kemp's ridley floating in the Cotee River, Pasco County, Florida with a deep wound on its carapace. He called Clearwater Marine Aquarium (CMA), and we dispatched our Rescue Team to pick up the turtle. The turtle, now named Marigold, arrived at CMA for triage and care.
Sea turtles breathe air, meaning they need to surface often. We ask that while boating, please be aware of your surroundings and follow all regulations to minimize the chance of striking a surfacing sea turtle. We consider you to be our eyes on the water so if you do see a sick or injured marine animal call our emergency stranding hotline 727-441-1790 x1.
Naming Theme

Flowers

Fun Fact

Marigold's favorite food is shrimp!
---
TREATMENT UPDATES:
10.30.17

Started on a daily regimen of antibiotics, glucose checks, fluids, pain medication, and wound care. Performed well during initial swim test; slowly began to increase time in water each day.

11.3.17

Offered food for the first time; not interested in eating.

11.7.17

Ate food for the first time; began slowly increasing daily diet.

11.13.17

Glucose checks, fluids, and antibiotics discontinued; spending full time in the water. Wound care being performed weekly.

1.2.18

Minor surgical procedure performed to trim Marigold's carapace to aid in healing.
---
All marine turtle footage taken in Florida was obtained with the approval of the U.S. Fish and Wildlife Service and the Florida Fish and Wildlife Conservation Commission (FWC) under conditions not harmful to marine turtles. Footage was acquired while conducting authorized conservation activities pursuant to FWC MTP-17-172.