Rescue Team Responds to Bottlenose Dolphin Nicknamed Everest
Hernando Beach, FL (November 2017) – On the evening of November 29, 2017, Clearwater Marine Aquarium (CMA) Rescue personnel received a call from Florida Fish and Wildlife Conservation Commission's (FWC) Marine Mammal Pathobiology Lab (MMPL) regarding a live stranded dolphin in a mudflat close to a residential area of Hernando Beach.
After receiving the call and confirmation, the National Marine Fisheries Services (NMFS), and Clearwater Marine Aquarium's veterinarian were immediately contacted to inform them of the situation, as well as follow their guidance. Staff, interns, and volunteers were dispatched to the area and were assisted by FWC's Law Enforcement Officers.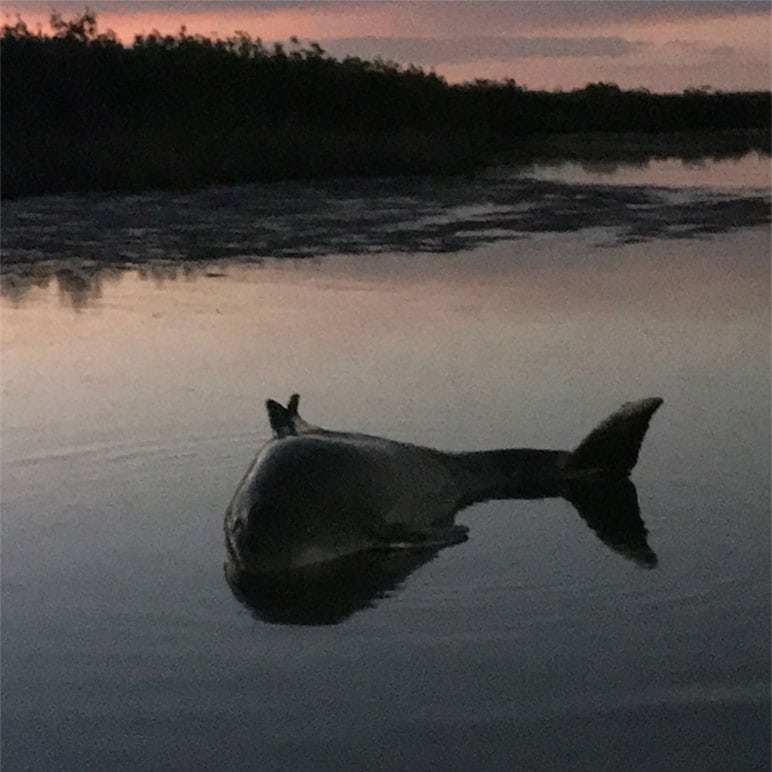 Initial Response
Upon arrival, the first response step was to assess the situation and examine the animal and environmental conditions. During this particular response, the biggest challenge was the current low tide and the location of the animal in a mudflat.
The male Atlantic bottlenose dolphin (Tursiops truncatus) appeared to be in good body condition, and was responsive and alert to its surroundings, despite having some sunburn on the right side of his body.
Dorsal Fin Identification
Just as every person can be identified by a fingerprint, every dolphin has a unique dorsal fin with distinct nicks and notches. By taking pictures, photo ID groups can record sightings of the animal post release. In this particular case, the dolphin also had a very distinct dorsal fin that resembled the profile of a mountain, so he was nicknamed Everest. This unique dorsal fin shape was caused by a previous injury that healed, but it is unknown if it was due to natural causes or human interaction.
Everest Monitored and Released
Respirations were also continually monitored, which can provide insight to the lung condition, as well as stress levels. Everest had strong breaths and they were consistent through the rescue process. Dolphins in the wild are not used to supporting their own weight which is why they can "run out of breath" during strandings. As a precaution, and to provide additional support, oxygen was administered to him upon each respiration and he was supported in an upright position.
Blood was collected and analyzed, and NMFS along with CMA's veterinarian determined that Everest was a good candidate for immediate release. He was released on incoming tide and was able to to swim on his own. He was monitored by boat until he was not seen or heard again.
Help us continue our mission to rescue, rehab and release marine life. Donate today.
---
If you find a dolphin, whale, sea turtle or river otter in distress in the Tampa Bay area, immediately call CMA's 24-hour Emergency Stranding Hotline at 727-441-1790 Ext.1. Please do not email or attempt to contact via social media; always call the hotline first.
---
We greatly appreciate the support from NFWF, National Fish and Wildlife Foundation, for our rescue efforts.

All photos featured taken acknowledging the following – stranding response conducted under stranding agreement between NMFS and CMA under the authority of the Marine Mammal Protection Act (MMPA).