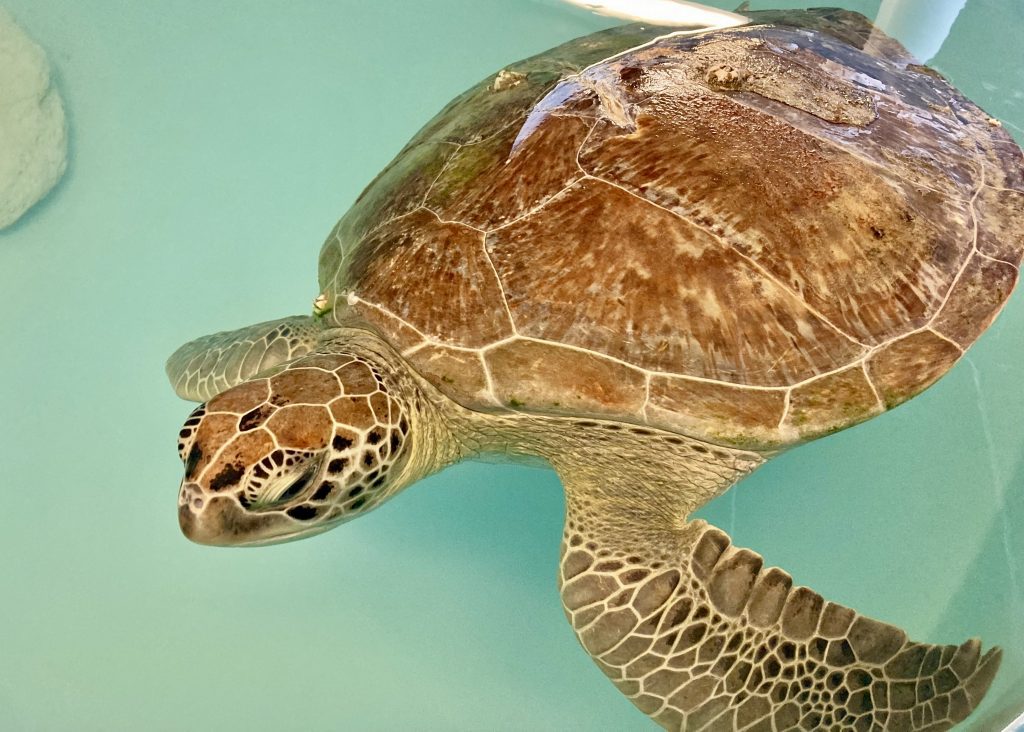 Moira Rosa
Sub-adult, green
(Chelonia mydas)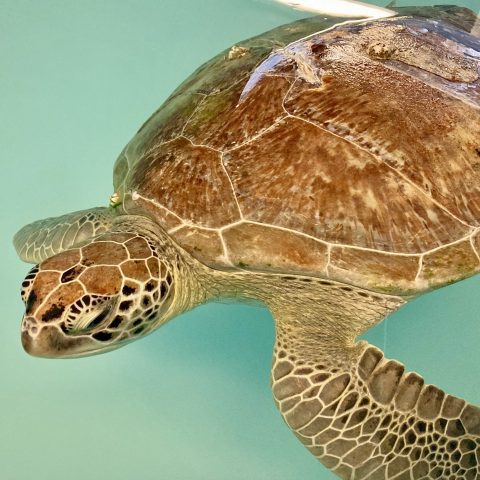 Patient Status

Current Patient

Date Found

October 16, 2021
Location

Crystal River; Citrus County
Reason for Rescue

Buoyant, boat strike injury
Initial Assessment
Weight

34.6 kg (76.1 lbs)

SCL (Straight Carapace Length)

69.5 cm

Exam Findings

Partially healed boat strike injury to carapace (shell); good body condition and very active. Very minor fibropapilloma tumors (pap tumors).

Initial Treatment

Received vitamins & fluids.
Moira Rose's Story
Moira Rose is a sub-adult, green sea turtle who was found floating and had difficulty staying submerged near Crystal River on October 16, 2021. Moira Rose has a partially healed boat strike injury to her carapace (shell). Moira Rose has a good body condition and is very active! Moira's initial treatment consists of vitamin injections and fluids.
INTERESTING FACT: Moira Rose is a part of our Sitcom Characters naming theme. Moira is from Schitt's Creek!
Treatment Updates
10.17.21

Moira Rose's first swim test did show that she is buoyant and has difficulty staying submerged. We will continue to increase her swim time as she improves.

10.20.21

Moira Rose went for a routine CT scan. No obvious internal tumors or severe internal injuries caused by the boat strike were seen!

We will continue to monitor her buoyancy.

Moira has started to show interest in food!

She is able to be in water all day and overnight!

11.4.21

Moira Rose is improving in deeper water. She is able to dive to the bottom of the pool, however, she still floats back up to the surface. She is eating well and loves seagrass!

12.2.21

Moira Rose was released at Fred Howard Park!

1.9.22

A boater found Moira Rose floating offshore of Homosassa in Citrus County and stated she had trouble submerging. She was brought back to CMA for rehabilitation. Our team was able to identify this turtle as Moira Rose because she has metal flipper tags (contains identifying letters and numbers specifically assigned to her) and a PIT tag (similar to a microchip) that were applied prior to her release on December 12th. It is worth noting that Moira Rose traveled from Fred Howard Park in Pinellas County to Homosassa in Citrus County in one month! Citrus County is where she originally was rescued in October 2021. This is why tagging is important as it helps us learn more about sea turtles and their migratory patterns and if a patient has been rehabilitated previously!

1.14.22

Moira Rose went for a recheck CT, it was observed that Moira may have some gastrointestinal issues causing her buoyancy.

2.16.22

Our team has been monitoring Moira's buoyancy over the last several weeks. Moira is able to rest on the bottom, caudal end up but still floats intermittenly through out the day. She is continuing to eat well!
---
All marine turtle footage taken in Florida was obtained with the approval of the U.S. Fish and Wildlife Service and the Florida Fish and Wildlife Conservation Commission (FWC) under conditions not harmful to marine turtles. Footage was acquired while conducting authorized conservation activities pursuant to FWC MTP-19-172.