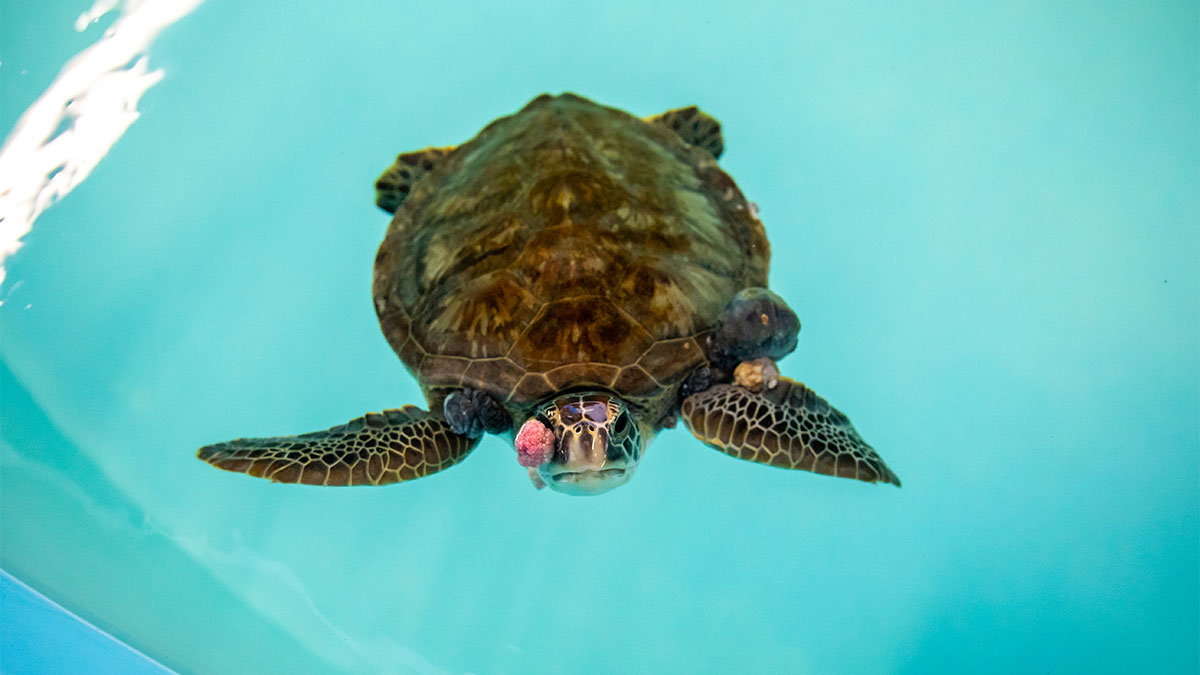 Ninja
Juvenile, Green
(Chelonia mydas)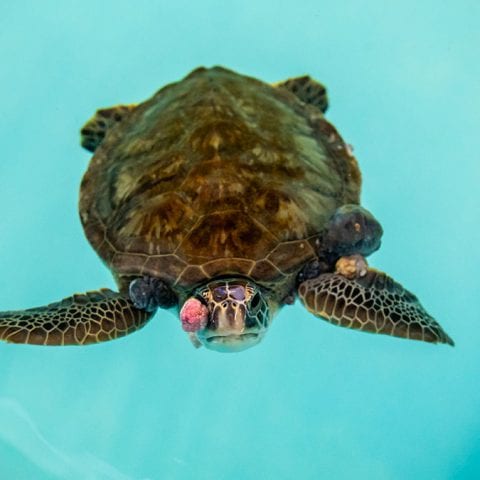 Patient Status

Released on November 1, 2018

Date Found

August 24, 2018

Location

Fred Howard Causeway, 1st bridge; Pinellas County

Reason for Rescue

Fishing line entanglement and several fibropapilloma tumors present.
Triage
Weight

3.85 kg

SCL (Straight Carapace Length)

33.2 cm

Exam Findings

Good body condition. Fishing line wrapped around left front flipper and continued down esophagus. Several fibropapilloma tumors: one large on left eye and left front flipper. The left front flipper was swollen as well.

Initial Treatment

Fluids, antibiotics, and anti-inflammatory medication.
Ninja's Story
Ninja is a juvenile green sea turtle who was rescued near the first bridge on the Fred Howard Causeway on August 24, 2018. Ninja was wrapped in several fishing lines, especially around the left front flipper. The sea turtle had also swallowed fishing line, which could be seen down its esophagus. X-rays were taken to evaluate for the presence of a hook, but none was found. Ninja was able to pass the fishing line without problem and has been eating and swimming normally. Read our fishing gear tips to help protect sea turtles.
Ninja also has fibropapilloma (FP) tumors on his body, caused by the fibropapilloma virus. Once Ninja is ready, he will receive surgery to remove the tumors on his body. After Ninja recovers, he will hopefully be ready to return to the wild.
What is the Fibropapilloma Virus?
Fibropapilloma virus is a virus found primarily in green sea turtles that causes tumors to grow externally on soft tissues, including eyes and flippers. Over time, these tumors can grow so big they block vision or cause a loss of mobility in the animal. Not a lot is known conclusively about the virus yet, but it is considered contagious amongst sea turtles. CMA is one of six rehabilitation centers in the state of Florida that is able to house and treat sea turtles with FP tumors.
NAMING THEME: Games.
TREATMENT UPDATES
8.25.18

Radiographs done (no hook present) and bloodwork sent to the lab.

8.31.18

Passed part of fishing line.

9.1.18

Passed the rest of the fishing line.

9.12.18

Successful surgery for removal of fibropapilloma tumors.

9.13.18

On therapeutic eye drops. This is to help the eyes heal after tumor removal.

10.10.18

Gaining weight. Doing and healing well.
---
All marine turtle footage taken in Florida was obtained with the approval of the U.S. Fish and Wildlife Service and the Florida Fish and Wildlife Conservation Commission (FWC) under conditions not harmful to marine turtles. Footage was acquired while conducting authorized conservation activities pursuant to FWC MTP-18-172.