Olympic
Green, Subadult
(Chelonia mydas)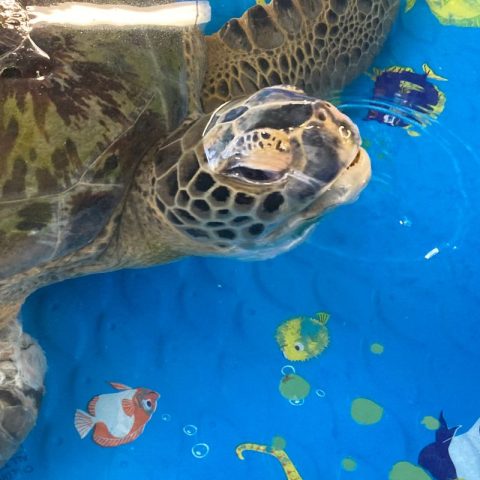 Patient Status

Released

Date Found

March 9, 2023
Location

Offshore Cedar Key; Levy County
Reason for Rescue

Floating
Initial Assessment
Weight

46.6 kg (102.5 lbs)

SCL (Straight Carapace Length)

73.6 cm

Exam Findings

Robust and active. Swollen right front flipper. Minor fibropapilloma tumors present.

Initial Treatment

Vitamins, fluids, and antibiotics.
Olympic's Story
Olympic is a large, subadult green sea turtle who was entanglement offshore Levy County on March 9. Olympic was found by UF Marine Animal Rescue entangled with a rope and commercial clam gear around the right front flipper. The injury is severe and extensive. Olympic is otherwise in good body condition and active!
INTERESTING FACT: Olympic is named after Olympic National Park in Washington, USA. Olympic is the largest green sea turtle we have had in rehab in recent years! They surpass previous rehab patient, Quinn, who was released in 2019!
Treatment Updates
3.10.23

Olympic was swim tested for the first time. There is limited use of the right front flipper which is expected. There is concern with how long blood flow was cut off. We will continue to monitor over the next few days.

3.14.23

Olympic's right front flipper's condition is deteriorating quickly. Amputation is unfortunately needed.

3.16.23

Olympic's flipper is self-amputating. We will continue to monitor the progress. Olympic is continuing to eat and doing well in deep water!

4.2.23

Olympic successfully had the remainder of their right front flipper surgically removed. Olympic is recovering well and showing no signs of issues with missing a front flipper. They are still releasable with missing one front flipper. We will continue to monitor the incision site for healing.

4.14.23

Olympic's surgical site looks great! Sutures will be removed in a few weeks.

5.4.23

Olympic's sutures were removed earlier this week! Olympic received a clean bill of health and was cleared for release by our veterinarian and Florida Fish & Wildlife! Olympic was released offshore Cedar Key by our partners UF Marine Rescue.
---
All marine turtle footage taken in Florida was obtained with the approval of the U.S. Fish and Wildlife Service and the Florida Fish and Wildlife Conservation Commission (FWC) under conditions not harmful to marine turtles. Footage was acquired while conducting authorized conservation activities pursuant to FWC MTP-23/24-172.