Pop
Juvenile, Kemp's Ridley
(Lepidochelys kempii)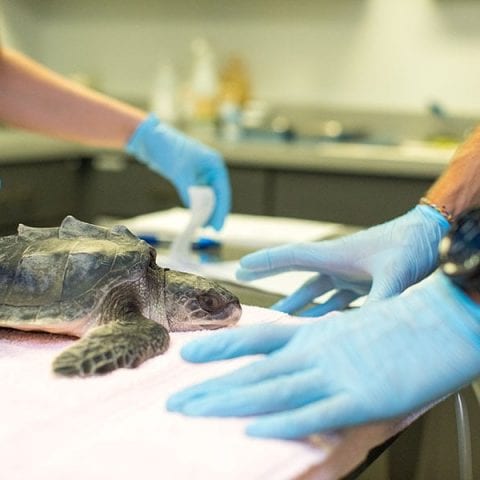 Patient Status

Date Found

April 19, 2017

Location Found

Fort Pierce, St. Lucie County, FL

Reason for Rescue

Found washed up, lethargic, and emaciated
TRIAGE
Weight

1.0 kg

SCL (STRAIGHT CARAPACE LENGTH)

20.0 cm

EXAM FINDINGS

Quiet but alert; slightly thin with a few bruises

INITIAL TREATMENT

Received vitamins, antibiotics, and fluids
---
POP'S STORY
Pop is a juvenile Kemp's ridley sea turtle that was found washed ashore at Fort Pierce in St. Lucie County on April 19, 2017. The turtle was found in a weakened, lethargic, slightly emaciated state and was brought to Clearwater Marine Aquarium for triage and rehabilitation.
We rely on people just like you to report when they see sick or injured turtles on the shoreline. Without the public, many of our rescued turtles would never be found.
Naming Theme

Cereal
---
TREATMENT UPDATES
4.20.17

Started on a daily regimen of antibiotics, fluids, and glucose checks; gradually increasing swim time

5.4.17

Started on solid food diet. Discontinue glucose checks and fluids; starting daily oral medications

6.29.17

Pop has been cleared for release!
---
All marine turtle footage taken in Florida was obtained with the approval of the U.S. Fish and Wildlife Service and the Florida Fish and Wildlife Conservation Commission (FWC) under conditions not harmful to marine turtles. Footage was acquired while conducting authorized conservation activities pursuant to FWC MTP-17-172.