Golden Graham
Adult, Loggerhead
(Caretta caretta)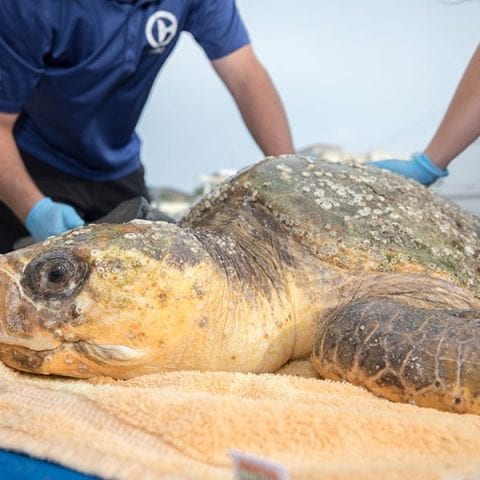 Patient Status

Released on July 12, 2017

Date Found

March 30, 2017

Location Found

Canaveral Beach, Brevard County, FL

Reason for Rescue

Found washed ashore; emaciated, lethargic
Triage
WEIGHT

78.2 kg

SCL (STRAIGHT CARAPACE LENGTH)

92.3

EXAM FINDINGS

Quiet but alert; emaciated with large amount of epibiota (barnacles, leeches, leech eggs) on the carapace (shell).

INITIAL TREATMENT

Received vitamins, antibiotics, and fluids
---
Golden Graham's Story
Golden Graham is an adult female loggerhead sea turtle that was found washed up at Cape Canaveral, Brevard County, FL on March 30, 2017. The turtle was covered in barnacles, emaciated, and very weak. Due to a large number of recent strandings in the area, the turtle was transferred to Clearwater Marine Aquarium on March 31, 2017 for triage and medical care. The public can help turtles like these by reporting any sick or injured sea turtles they see along the shoreline when at the beach.
NAMING THEME: Cereal
---
Treatment Updates
3.31.17

Started on a regimen of daily antibiotics, glucose checks, fluids, and TPN (Total Parenteral Nutrition).

4.5.17

Starting to increase swim time each day.

4.10.17

Showing interest in food, starting to increase amount of food offered on a daily basis.

4.21.17

Stopping glucose checks, TPN, and fluids; starting oral medications.

6.29.17

Golden Grahams has been cleared for release!
---
All marine turtle footage taken in Florida was obtained with the approval of the U.S. Fish and Wildlife Service and the Florida Fish and Wildlife Conservation Commission (FWC) under conditions not harmful to marine turtles. Footage was acquired while conducting authorized conservation activities pursuant to FWC MTP-17-172.