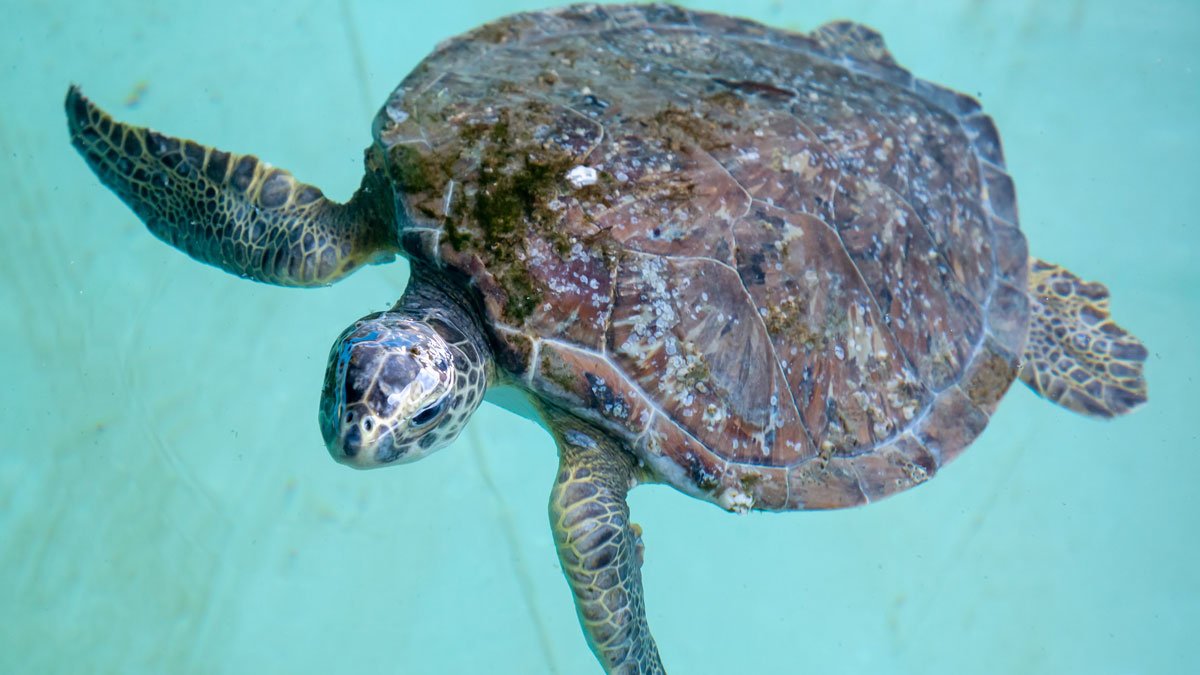 Roadrunner
Juvenile, Green
(Chelonia mydas)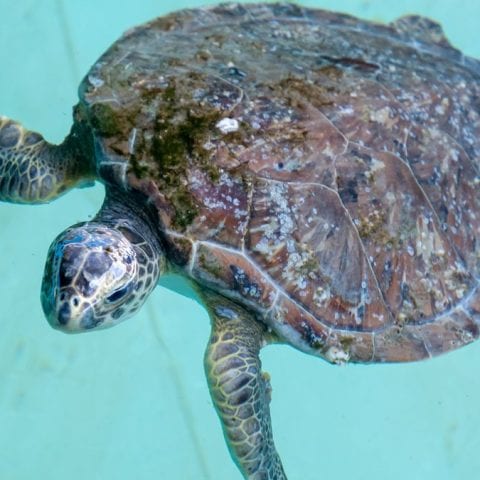 Patient Status

Current

Date Found

May 8, 2019

Location

St. Pete Beach; Pinellas County

Reason for Rescue

Found floating
Triage
Weight

3.61 kg (7.94 lbs)

SCL (STRAIGHT CARAPACE LENGTH)

36.5 cm

EXAM FINDINGS

Quiet but responsive and thin. Old injury to right eye.

INITIAL TREATMENT

Received vitamins and fluids
---
Roadrunner's Story
Roadrunner is a juvenile green sea turtle who was found floating near a dock in St. Pete Beach on May 8, 2019. Roadrunner was lethargic and thin upon intake and found with a heavy amount of epibiota (barnacles and algae) on the carapace (shell). There is also an old injury to the right eye. The treatment plan consists of fluids, vitamins and antibiotics.
Naming Theme

Cartoons
---
TREATMENT UPDATES
5.9.19

Bloodwork sent out to the lab.

5.10.19

Ate all of the sample diet offered quickly! Swimming well in water.

5.17.19

Eating well and resting on the bottom in deep water!

5.30.19

Doing great. He has gained 2 lbs!

6.27.19

Continuing to gain weight and eat well.

7.18.19

Roadrunner appears to love lettuce in his diet! He is one of the quickest eaters we have!

8.19.19

We are monitoring his pap tumor growth and a mild decrease in appetite.

8.22.19

An endoscopy was performed to see if Roadrunner has developed any internal tumors in his esophagus and stomach. No obvious tumors were seen. Roadrunner will go for another CT to check for internal tumors.

9.10.19

Roadrunner underwent surgery to have pap tumors removed with our CO2 laser. We will be monitoring for regrowth and waiting for the surgical sites to heal. He will now be on medicated eye drops to help the eyes heal properly after tumor removal.

9.12.19

Unfortunately, Roadrunner passed on his own overnight. Our team will do a necropsy to help determine the cause.
---
All marine turtle footage taken in Florida was obtained with the approval of the U.S. Fish and Wildlife Service and the Florida Fish and Wildlife Conservation Commission (FWC) under conditions not harmful to marine turtles. Footage was acquired while conducting authorized conservation activities pursuant to FWC MTP-18-172.