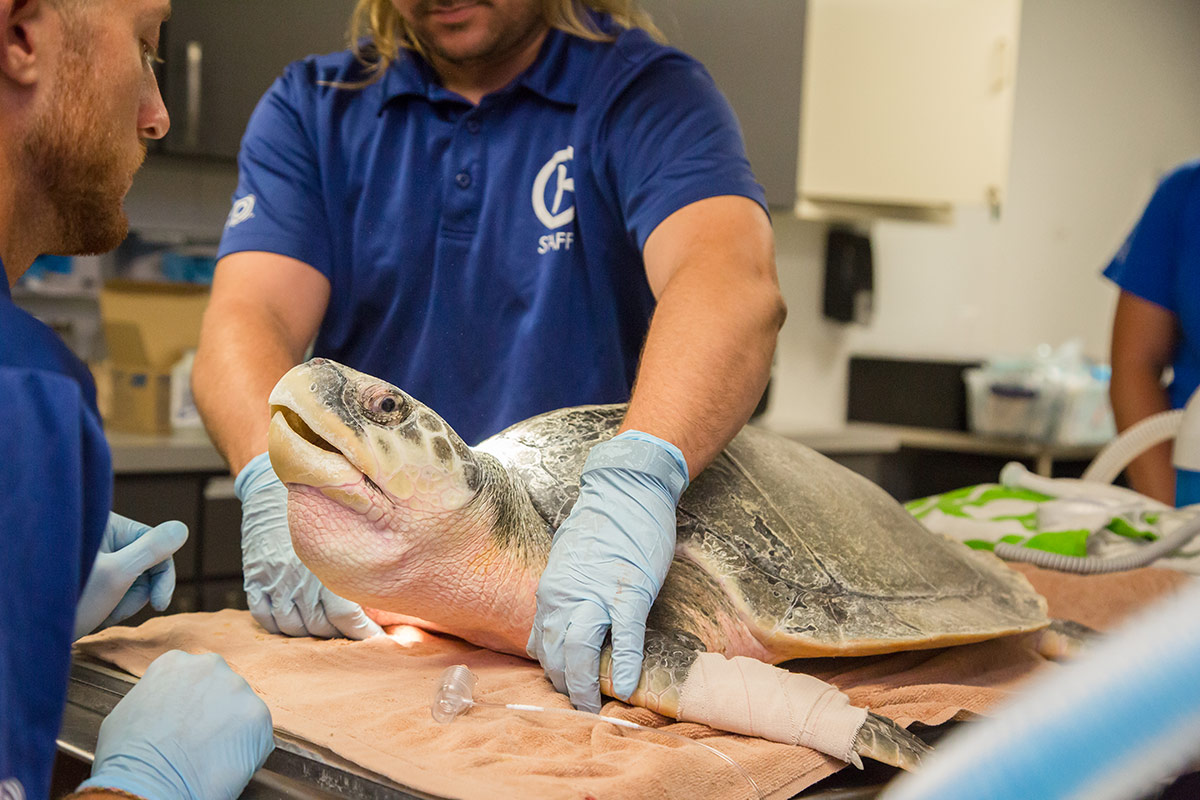 Special K
Sub-adult, Kemp's ridley
(Lepidochelys kempii)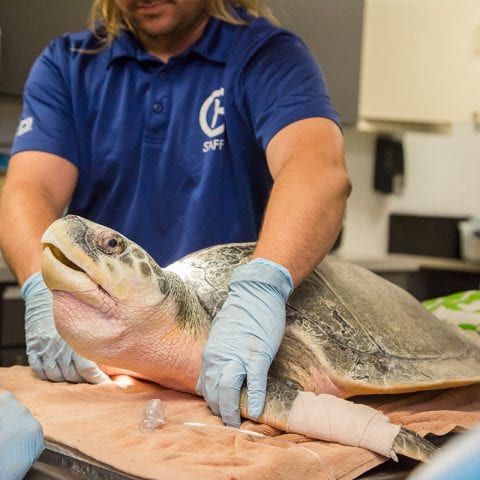 Patient Status

Date Found

May 19, 2017

Location Found

Half mile offshore west of Anclote Park, Pinellas County, FL

Reason for Rescue

Fibropapilloma tumors
---
TRIAGE
WEIGHT

19.8 kg (43.65 lbs)

SCL (STRAIGHT CARAPACE LENGTH)

52.6 cm (20.71 in)

EXAM FINDINGS

Alert and active, with a decent body condition. Large fibropapilloma tumors on both front flippers, and smaller tumors on all flippers.

INITIAL TREATMENT

Received vitamins, antibiotics, and fluids.
---
SPECIAL K'S STORY
Special K was brought into Clearwater Marine Aquarium on May 19, 2017. She had been found offshore of the Dunedin Causeway in Pinellas County, floating with some epibiota (barnacles and algae) on her carapace, but also with numerous fibropapilloma tumors on all of her flippers.
Fibropapillomatosis is a virus that is most common in juvenile green sea turtles and is rarely seen in other sea turtle species. The virus causes cauliflower-like tumors to grow on the turtle's soft tissues. This virus is very contagious so once a turtle with this virus comes into our facility, it is quarantined in our Intensive Care Unit. Although the cause of this virus is still unknown, you can help by keeping our oceans clean of trash and chemical pollutants.
Naming Theme

Cereal

Did You Know

This is the first Kemp's ridley that CMA has ever treated with fibropapilloma tumors. Tumors like these are most commonly seen on green sea turtles, but have been known to affect other species of sea turtles.
---
TREATMENT UPDATES
5.20.17

Started on a daily regimen of antibiotics, fluids, and glucose checks.

5.26.17

Swim tested in deep water, increased deep water time each day.

6.3.17

Offered and ate food. Slowly began increasing diet and discontinued injectable meds. Began oral meds.

6.6.17

Discontinued glucose checks and fluids.

6.28.17

Successful surgical removal of all fibropapilloma tumors.

8.1.17

Started on daily nebulizer treatments.

9.15.17

ontinuing to nebulize and tube feed if Special K won't eat on her own.

10.4.17

Returning to injectable antibiotics along with regular oral medications.

11.16.17

Bronchoscopies performed to analyze health of Special K's trachea and lungs.

12.17.17

Nebulizer, antibiotic injections, and oral medications discontinued.

12.20.17

Bronchoscopies performed to analyze health of Special K's trachea and lungs.

12.20.17

Special K was cleared for release!

12.21.17

After 217 days in rehab at Clearwater Marine Aquarium, Special K was released at Honeymoon Island State Park, Pinellas County, Florida. Best of luck out there, Special K!
---
All marine turtle footage taken in Florida was obtained with the approval of the U.S. Fish and Wildlife Service and the Florida Fish and Wildlife Conservation Commission (FWC) under conditions not harmful to marine turtles. Footage was acquired while conducting authorized conservation activities pursuant to FWC MTP-17-172.