Many of the marine animals that we rescue and recover have signs of boat strike injuries. The animals that are most susceptible to boat strike injuries are those animals that often come up to the surface to breathe air. These include sea turtles, dolphins and manatees. Manatees are especially vulnerable to boat strikes with their larger body size and around sea grass beds where they may be feeding.
The Effects of Boat Strikes
122 manatees died in Florida in 2018 due to watercraft-related injuries, the cause of approximately 15% of all manatee deaths statewide, according to preliminary reports from the Florida Fish and Wildlife Conservation Commission (FWC).
Boat strikes can include blunt-force trauma, a big hit to part of the body, or interaction with the propeller itself. This can lead to the loss of a limb or fin, amputation or a cracked shell. Sea turtles often get air trapped in their body cavity or carapace (shell) after a boat strike, which can lead to buoyancy or flotation problems. Sea turtles that are already suffering with buoyancy disorders or other illness and issues causing them to float are also more likely to be hit by boats.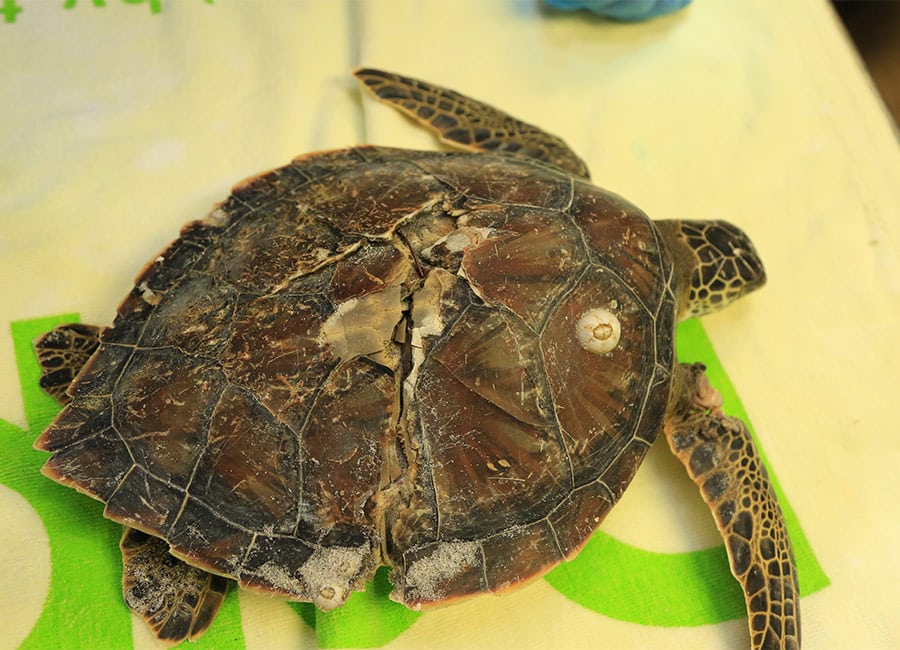 There were approximately 88 reported cases of sea turtles with suspected boat strike injuries in the Florida Gulf Coast area alone in 2017, according to data from the Sea Turtle Stranding and Salvage Network.
Ula, Titus, Rob and Cocoa, four of the resident sea turtles receiving care here at Clearwater Marine Aquarium had boat strike injuries when they were rescued. Olivia is another recent sea turtle hospital patient that arrived with severe injuries to her carapace and rear flipper, most likely from a watercraft collision.
How You Can Help Protect Marine Life
One big way that you can help protect marine life when you're out enjoying the waterways is to have a designated marine animal spotter on board. Somebody that is looking out constantly for the dolphins, manatees and sea turtles that may be found in our waterways. Additionally, make sure you're following slow speed and now wake signs.
If you happen to encounter an injured marine animal while you're enjoying your boating time or out on the beach, please give our rescue hotline a call! You can help protect marine animals. Be alert, be aware and report anything you see.
---
CMA Rescue Hotline: 727-441-1790 Ext. 1
Marine Life Boating Safety Tips:
Designate a spotter when boating to look out for marine life and signs
Observe and follow all slow speed or no wake signs and zones
Try to stay in deep-water channels whenever possible.
Avoid boating over seagrass beds and shallow areas
Be alert and aware of sea turtle nesting times when boating near beaches
Wear polarized sunglasses to reduce glare on the surface of the water, which will enable you to see marine animals more easily.
All marine turtle footage taken in Florida was obtained with the approval of the U.S. Fish and Wildlife Service and the Florida Fish and Wildlife Conservation Commission (FWC) under conditions not harmful to marine turtles. Footage was acquired while conducting authorized conservation activities pursuant to FWC MTP-17-172.