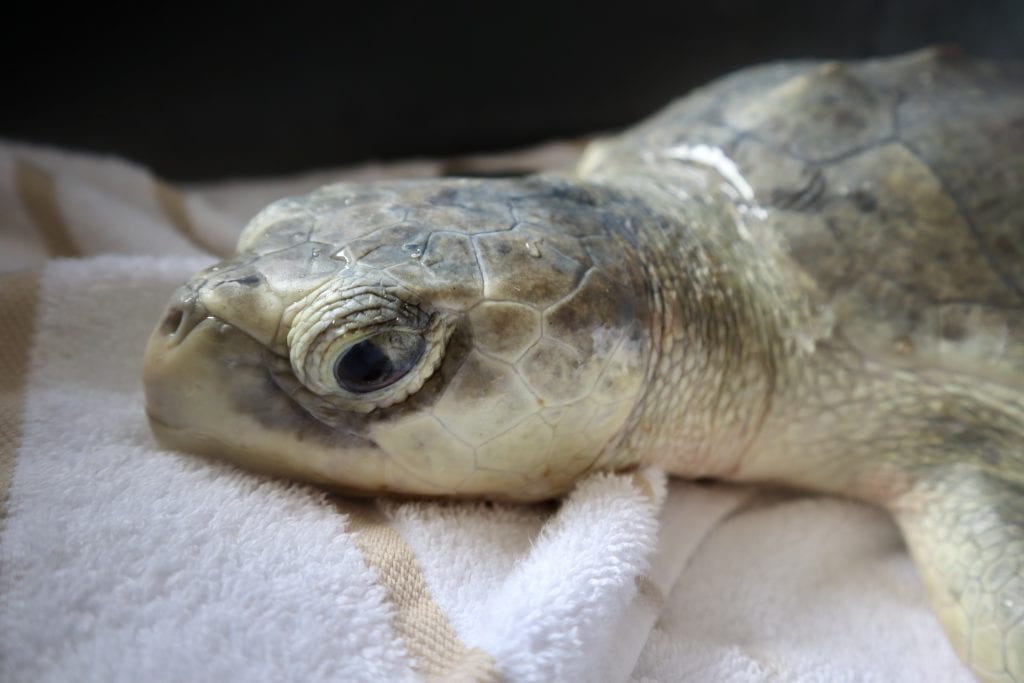 Vernon
Juvenile, Kemp's ridley
(Lepidochelys kempii)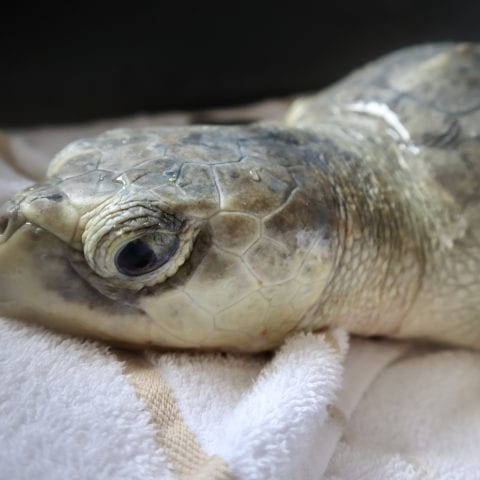 Patient Status

Released August 18, 2021

Date Found

June 21, 2021
Location

Offshore St. Pete; Pinellas County
Reason for Rescue

Caught by a fisherman; hook ingestion
Initial Assessment
Weight

4.45 kg (9.8 lbs)

SCL (Straight Carapace Length)

30.6 cm

Exam Findings

Active and good body condition.

Initial Treatment

Received vitamins, antibiotics & fluids.
Vernon's Story
Vernon is a juvenile, Kemp's ridley sea turtle who was accidentally caught by a fisherman offshore of St. Pete on June 21, 2021. It was confirmed with radiographs at intake that Vernon had ingested a fish hook. Unfortunately due to the location of the hook, and an esophageal injury caused by the hook, Vernon needed to have surgery to remove the hook and to repair injury. Vernon's recovery is expected to be lengthly due to the nature of the surgery, but our team is optimistic for a successful outcome!
Treatment Updates
6.23.21

Vernon is recovering well from surgery. He will not be placed in water for several days to help the surgical site heal.

We are continuing to do glucose checks and are giving him fluids. Vernon is also receiving IV nutrition to help with recovery.

6.30.21

Vernon went for a CT scan. He has been cleared to be put in water!

Over the next few days, we will be increasing his swim time and offering food as he improves!

7.4.21

Vernon is able to be in deep water all day and overnight! He is showing normal swimming behaviors and is resting on the bottom.

Vernon is also showing interest in food.

7.8.21

Vernon is continuing to do well and is eating great!

7.19.21

His incision site was evaluated by our veterinarian and his surgical site is healing nicely.

He is eating well and gaining weight.

8.18.21

Vernon was released at Fred Howard Park!
Learn more about Vernon's release.
---
All marine turtle footage taken in Florida was obtained with the approval of the U.S. Fish and Wildlife Service and the Florida Fish and Wildlife Conservation Commission (FWC) under conditions not harmful to marine turtles. Footage was acquired while conducting authorized conservation activities pursuant to FWC MTP-19-172.